All-IP Solution for medium, large and very large-sized companies
OmniPCX Enterprise with LANCOM SBC
OmniPCX Enterprise enables users to communicate in real time, anytime, anywhere.
OmniPCX Enterprise delivers high-quality business communications. No calls are lost. Powerful communication tools ensure that the caller is connected directly to the right person. Your phone bills will be lower thanks to free Voice over IP (VoIP) at all locations, integrated least-cost routing and centralized trunks to SIP providers and traditional service providers. High availability options provide the essential business continuity in the event of network or server failures. Combined with the LANCOM ALL-IP Router, it equips you with the full functionality of a Session Border Controller. Among other things, this guarantees the reliable separation of internal and external networks, and it provides professional management tools along with the secure encryption of the signaling and the voice data.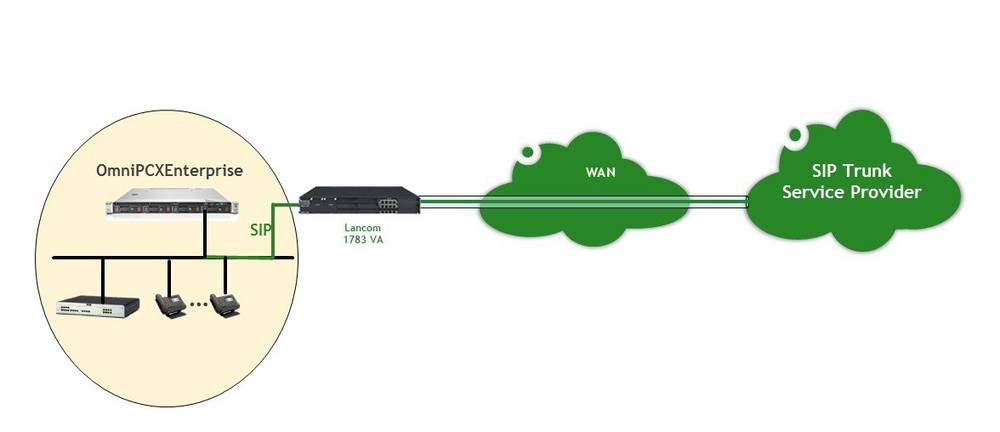 Advantages
Ensure availability of telephony functions at any location and on any end device
Integration of users at different locations including guaranteed high availability
Operates with DTAG SIP Trunk, using a LANCOM Session Border Controller, SBC
Value
Providing excellent voice communication for your customers and colleagues
Integration into business processes via open interfaces
Components
OmniPCX Enterprise
LANCOM 1783VA
LANCOM 1784VA
Would you like to learn more about the solutions from LANCOM?
We would be happy to advise you.