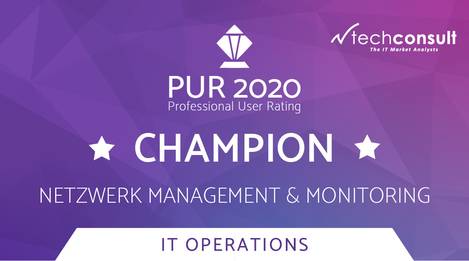 Users give top marks for network management
LMC convincing in PUR IT Operations
As part of the individual user survey "Professional User Rating IT Operation (PUR IT operation)", the LANCOM Management Cloud achieved an outstanding result. When the user survey is conducted for the first time, the LMC is named "Champion" in the solution area "Network Management & Monitoring".
LANCOM Management Cloud secured a place among the "Champions"
In the "Professional User Rating IT Operations" study published for the first time by analysts techconsult, right from the start it was LANCOM Systems who successfully jumped to the front row. More than 1,400 user companies rated their experiences of "Network Management & Monitoring" solutions. The LANCOM Management Cloud secured a place among the "Champions" with an overall rating that was well above average.
Users particularly valued the solution's capabilities. Respondents gave high marks for the organization, optimization and control of the network architecture as well as the system's ability to dynamically adapt to changing requirements. The most valued aspect of the LANCOM Management Cloud is its high availability. The LMC also achieved top marks for its user-friendliness. The majority of the user companies claim to be highly satisfied with the solution.
The solution's consistently above-average ratings are matched by an equally outstanding manufacturer rating. The majority of the companies surveyed would source a solution from LANCOM again.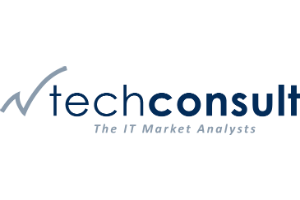 About techconsult
Research and analyst firm techconsult has been the partner for suppliers and consumers of digital technologies and services for 25 years. Conducting analyses at businesses provides an insight into their problems and their future visions regarding the use of information technologies. More than 20,000 interviews conducted with business and IT decision makers each year provide an accurate impression. Additionally, techconsult continuously screens suppliers' products and services to provide strategic and implementational consulting to the IT industry and business users. For a number of years techconsult has been providing specialized assessment tools to business and IT decision-makers for the identification of problem areas and conducting positioning analysis. techconsult GmbH is headed by managing partner and founder Peter Burghardt with offices located in Kassel and Munich. The company is part of the Heise Group.