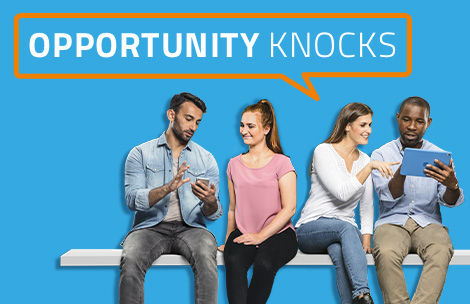 LANCOM is more than just an employer
Working at LANCOM
Are you looking for exciting assignments, space for creative ideas and an open, inspiring working atmosphere? Then this is the right place for you. We are a leading European manufacturer that inspires enter­prises, public authorities and institutions with innovative, premium-quality and custom-fit network solutions. Based on this strategy, we have had a successful growth trajectory since our start in 2002, making us an attractive employer with excellent opportunities for you.
What do we do?
You encounter wireless networks at university, in government offices, or at business enterprises day in, day out: you use Wi-Fi hotspots in hotels, hospitals, or your favourite café. Even your supermarket around the corner is networked beyond its individual site these days. The chances are great that you will be using a network from LANCOM Systems. Our hardware and software solutions provide the right drive and momentum. We ensure smooth communication at companies and public institutions and make sure that networks are secure.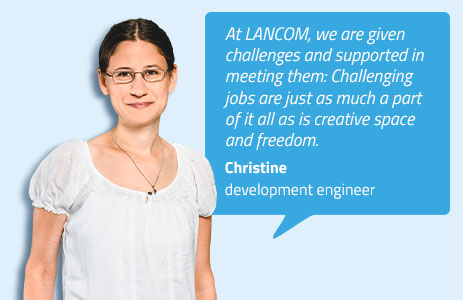 Develop together with us!
With our innovative, reliable solutions, be it Wi-Fi, network connectivity or security, we enable thousands of people in Germany and around the world to realise their visions of digitalization and digital transformation every day. As a member of our team, you will contribute valuable ideas and make important decisions shaping the digital evolution of our society. And we are keenly aware: creative, committed and visionary action can only flourish and succeed in an inspiring environment. We provide you impetus and stimulation, added value and opportunities for individual growth and development. So we can develop together - from one success to another. That's what makes us more than just an employer.
MORE IS MORE - exciting challenges and a multitude of benefits
We expect a lot from our employees, but we also offer a lot to make them feel at home:

Flexible working hours, home office, childcare allowance - for everyone who wants to have a healthy work-life balance

A mentoring program - to make it easier for everyone to get started and to offer optimum support for cross-departmental networking of new colleagues at the company

LANlounge for creative breaks, JobBike, running club, fitness room, mobile relaxation massage - for anyone and everyone who wants to recharge their batteries and "log off"

Capital-forming benefits, company pension plan, bonus programs, special employee conditions and social coun­selling - for all those interested in solid social benefits for solid work

Individual support and targeted further training right from day one - for all those who want to get off to a flying start

Award-winning company health management with regular voluntary health and ergonomics check-ups - for everyone who cares about their health
Yet another reason why we are more than just an employer. Learn more
We want YOU!
Are you a creative thinker? Then you are just the person we are looking for! Whether you are a trainee, student, alumni or specialist, working from our locations in Würselen near Aachen, Karlsruhe or Hamburg, or from your home office - we are not just an employer, but a source of inspiration and opportunities. As a member of our team, you will be given challenges and supported in meeting them, always with the aim of proactively shaping the growth of LANCOM through the further development of innovative solutions. Gain new experience and set yourself exciting goals! We will give you the best possible support at the start of your career and provide you individual training opportunities. We are looking forward to your fresh and creative ideas.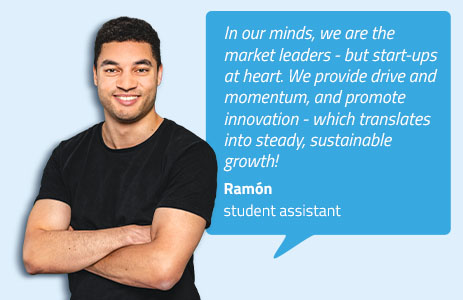 We offer creative space for talents and specialists
No matter whether your expertise is in hardware or software develop­ment, product or quality management, technical support or training, or in business administration - every position at LANCOM has its own unique appeal and offers you a wide range of creative space. In the area of Inside Sales you apply your sales & marketing skills to pinpoint and exploit market opportunities, while in Software Development you design and develop web- and cloud-based solutions for our extensive product portfolio. Working at an IT company that operates with its finger on the pulse of the times, you are also given a wide range of freedom on our large marketing team to present our brand in a perfect light with your inspirations and ideas.
Your contact
Do you have any questions about jobs we have advertized, the company`s divisions or simply LANCOM as an employer? Let`s get together over a cup of coffee. Feel free to suggest an appointment for a chat using a media of your choice or for meeting us at our office.
Svenja Lenzen
HR Recruiting