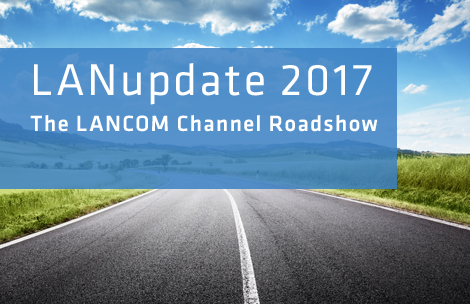 LANupdate – the LANCOM Channel Roadshow
It's time once again to submit your free registration for the LANCOM channel roadshow LANupdate
The event is aimed at LANCOM partners, ICT specialist resellers, system vendors, and interested LANCOM users. Please feel free to register your colleagues and customers for the event.
Benefit from insider information straight from our networking experts. We look forward to seeing you!
Agenda
1. LANCOM Systems GmbH in brief
The LANCOM core values
The LANCOM sales model
2. Market trends
SDN vs NVF
Radio equipment directive, or: Quo vadis WLAN?
3. LANCOM wireless LAN solutions
IEEE 802.11ac Wave 2
LANCOM LN-1700 series
LANCOM LN-860 series
4. LANCOM switches
LANCOM range of switches extended
LANCOM Switch OS 3.30
5. LANCOM routers / VPN gateways
LANCOM vRouters
LANCOM LTE/4G routers
6. Software-defined networking with the LANCOM Management Cloud
Network orchestration with SD-WAN, SD-LAN and SD-WLAN
The LANCOM Management Cloud – live demo
Licensing, business models, value added
7. LCOS – the operating system "Made in Germany"
Maximum transparency: LANCOM lifecycle management
LCOS 10.0 – highlights and features
Note: By popular demand, we have moved the start of the event half an hour back to allow a more relaxed arrival after the morning rush hour. Registration starts from 9:30 AM. The event starts at 10:00 AM and ends about 1:00 PM.
Contact us
You have further questions about this product or want a personal contact?
Your LANCOM Team
Phone: +49 2405 / 49 93 60