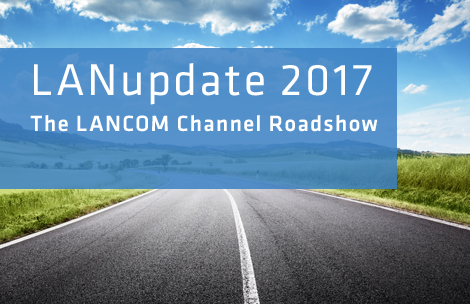 LANupdate – the LANCOM Channel Roadshow
Join us at this year's annual Roadshow and find out why the LANCOM Management Cloud is the world's first hyper-integrated management system that will put you on the fastest lane to the best network!
Register now to witness the power of SDN.
We look forward to welcoming you soon!
More Information
What would you do if you could save more than 75% of your time? ... because the configuration of your network would only take minutes instead of hours or even days, regardless of what kind of network you have!
Harnessed with the power of Software-Defined Networking (SDN), the LANCOM Management Cloud will boost your business through state-of-the-art technology
making it irrelevant what kind of network you have - WAN, LAN or WLAN,
allowing an easy and efficient administration of your entire network,
significantly reducing your expenditures of time and cost,
offering you limitless scalability of your networks, and
granting you complete flexibility in your choice of hosting
In short: hyper integration puts you on the fastest lane to the best network!
Aimed at ICT specialist resellers, system vendors, existing and new LANCOM partners, our roadshow host will share our expert insights with you as well as introduce you to all our new product highlights. And as you know: "the proof of the pudding is in the eating", so we will give you a live demonstration of our Cloud solution.
Agenda
1. LANCOM Systems GmbH in brief
The LANCOM core values
The LANCOM sales model
2. Market trends
SDN vs NVF
Radio equipment directive, or: Quo vadis WLAN?
3. LANCOM wireless LAN solutions
IEEE 802.11ac Wave 2
LANCOM LN-1700 series
LANCOM LN-860 series
4. LANCOM switches
LANCOM range of switches extended
LANCOM Switch OS 3.30
5. LANCOM routers / VPN gateways
LANCOM vRouters
LANCOM LTE/4G routers
6. Software-defined networking with the LANCOM Management Cloud
Network orchestration with SD-WAN, SD-LAN and SD-WLAN
The LANCOM Management Cloud – live demo
Licensing, business models, value added
7. LCOS – the operating system "Made in Germany"
Maximum transparency: LANCOM lifecycle management
LCOS 10.0 – highlights and features
Note: By popular demand, we have moved the start of the event half an hour back to allow a more relaxed arrival after the morning rush hour. Registration starts from 9:30 AM. The event starts at 10:00 AM and ends about 1:00 PM.
Registration
Following, please find the next stops on our international roadshow for this year.
We look forward to meeting you, your colleagues and maybe even your customers, and introducing you to the world's first hyper-integrated network management system.
There are currently no roadshows available.
However, events in German are available.
You can find them on our German website
Contact us
You have further questions about this product or want a personal contact?
Your LANCOM Team
Phone: +49 2405 / 49 93 60