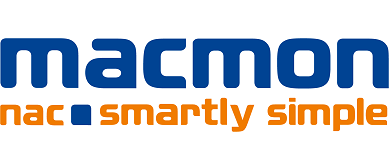 macmon Network Access Control (NAC)
Security for your entire network
With macmon Network Access Control (NAC) you always know which devices are connected to your network and control all accesses.
macmon NAC provides you with a complete overview of your entire network environment at all times, performs a large number of essential network configurations automatically (via switchport-specific rules) and thereby guarantees that all of the devices in your network are protected against unauthorised access and network attacks. For this excellent protection, macmon offers two product bundles as well as specific Add-Ons:
Network Bundle:
macmon NAC, Advanced Security, VLAN Manager, Guest Service, IEEE 802.1X, Graphical Topology
Premium Bundle:
Modules of Network Bundle + extensive mechanisms to proof the compliance/security status of end devices.
The compatibility between macmon NAC and LANCOM Infrastructure components is jointly assured. Because of that, you profit from the guaranty to be able to build up your network with LANCOM components and secure it with macmon NAC. A direct touch between LANCOM and macmon in addition assures optimal operation now and in the future.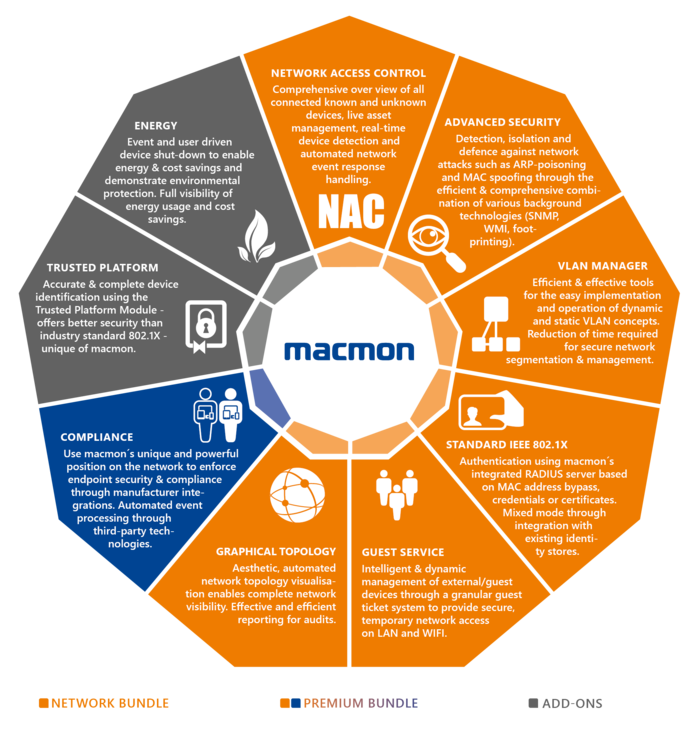 Advantages
Mixed operation with and without 802.1X
Fast implementation & simple day-to-day operation
Graphical Visualization of the whole network
Intelligent AD integration & dynamic rule creation
Value
macmon NAC is CC (EAL2+) certified by the German government (BSI)
German Engineering and excellent vendor support
Components
Network Bundle: macmon NAC, Advanced Security, VLAN Manager, Guest Service, IEEE 802.1X, Graphical Topologie
Premium Bundle: Modules of the Network Bundle + Compliance

macmon secure has been focusing on in the development of network security software since 2003 and is situated in the centre of Berlin. The Network Access Control (NAC) solution macmon is completely developed in Germany and used worldwide in order to protect networks against unauthorised access.
Would you like to learn more about the solutions from LANCOM?
We would be happy to advise you.