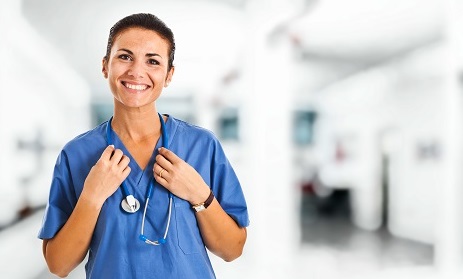 Smart Healthcare with The Ascom Healthcare Platform
Data and voice services for integrated workflow intelligence
Ascom devices and Unite applications provide both data and voice services utilizing the LANCOM WLAN. This integrated solution is turning the promise of digitalization into real, measurable benefits. The Ascom Healthcare Platform allows clinicians to more efficiently input and access the mission-critical information needed to make prioritizations, provide patient-centric care, using fewer steps and less time searching for information.
This compound solution consists of the Ascom Myco smartphone, Ascom Unite applications and an Enterprise grade VoWLAN handset operating on a LANCOM WLAN infrastructure.
Ascom Myco is a truly purpose-built smartphone inspired by nurses. Its design is based on years of research resulting in a deep understanding of the on-the-job reality and the methods of working of clinicians and the demanding working environment. The Ascom Myco incorporates an enterprise-grade VoWiFi telephony, secure messaging, and personal alarm. It also provides access to clinical information at the point of care, whilst facilitating collaboration. Ascom Myco is encased in a durable and drop-resistant shell with a wearable clip to securely fasten the handset to actually prevent dropping. Every detail is carefully designed to help make every shift more pleasant, efficient, and rewarding.
The Ascom i62 VoWiFi handset offers wireless telephony with high voice quality, interactive messaging and personal alarm functionality. It includes push button alarm and automated man-down/no-movement alarms i.e., features that contribute to personnel safety. The Ascom i62 combines long range operation with high data throughput, without hindering network performance for other applications.
Leveraging these devices and Ascom Unite applications can benefit on-the-job communication and help clinical management to better view, manage and deploy resources—leading to improved cost-efficiency and patient satisfaction. Additionally making sure that patient requests and medical notifications are communicated to the right person at the right time, it can contribute to a calmer environment and faster responses to individual patient events.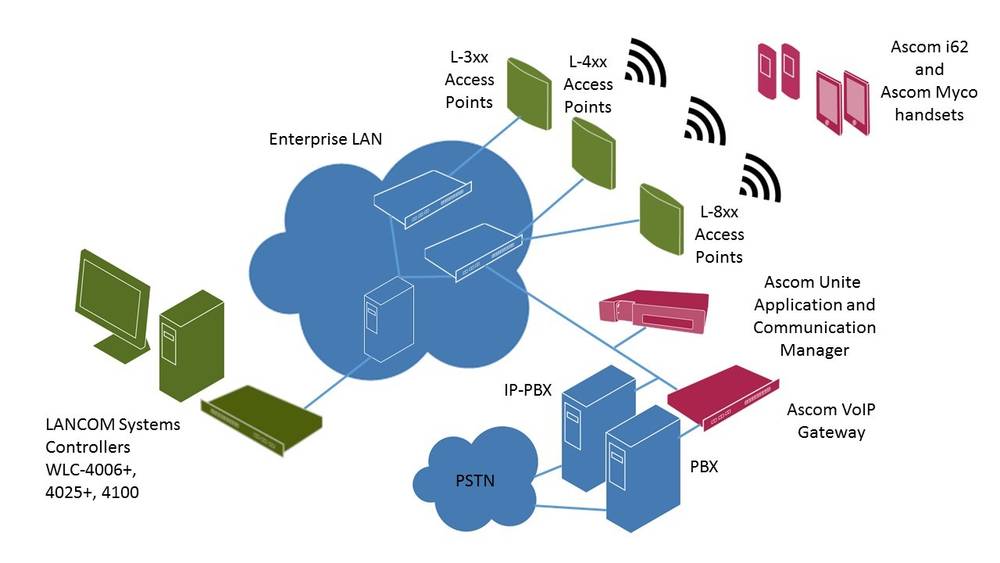 Advantages
Ascom is an established and experienced provider (has been operating since 1955) of wireless devices
Ascom's healthcare solutions consisting of support for the patient, mobility for the staff and a middleware platform that links mission-critical systems combined with LANCOM advanced and cost-efficient WLAN infrastructure is a winning solution
By partnering, LANCOM and Ascom together can provide the sales partners and finally the customers with a more complete solution
Value
Ascom Myco, a fully capable Android smartphone that supports 3rd party Android apps, with dual-mode WiFi/3G cellular (optional)
Ascom i62, a durable handset
Enterprise-grade voice quality
Prioritized mission-critical services
Smart notifications & Personal alarm
Secure messaging
Barcode reading capabilities
Easy deployment
Certified interoperability
Centralized management
Seamless Wi-Fi handover for true mobility
Components
Ascom Myco - Purpose-built smartphone for mission-critical solutions
Ascom i62 - Enterprise grade VoWLAN handset with seamless handover for true mobility
Ascom Unite Application and Connectivity Manager - Provides a messaging platform for two-way messaging, personal alarm and wireless device management as well as integrations to external systems and equipment.
LANCOM Wireless Controllers - Offer consistent control over your network, scalability, security, and reliability from a central location.
LANCOM Wireless Access Points - High quality access points with excellent interoperability level with the Ascom handsets.

Ascom is a global solutions provider focused on healthcare ICT and mobile workflow solutions. Ascom uses its unique product and solutions portfolio and software architecture capabilities to provide truly smooth, complete and efficient workflows for healthcare as well as for other sectors.
Would you like to learn more about the solutions from LANCOM?
We would be happy to advise you.