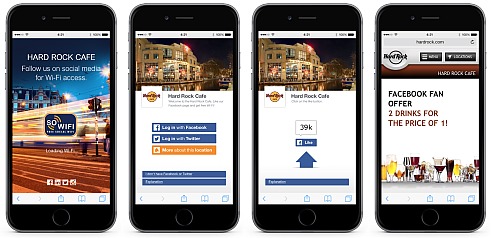 More clients thanks to social WiFi: Your clients like your Facebook page and get WIFI access. Monitor visitor statistics and reach out to them with targeted messages.
Turn your clients into Facebook Likes! In just a few simple steps your SO WIFI Hotspot, including free promotion material, will be ready to boost your social media pages. From that moment on the word-of-mouth advertising by your WIFI users will take off.
Offers, discounts and events, you advertise effortlessly and straight to the people that really matter. You clients login on your WIFI with their Facebook, Twitter, Instagram, LinkedIn accounts or email address.
The hotspot owner has access to the online dashboard that collects client details, such as gender and age and a lot more. This data can be used for statistics and analyses. This, in turn, can help further your focus advertising campaigns and offers and ensures you are always up to date. Last but not least you can send WIFI users targeted messages based on different filters.
Benefits/USPs
Increase in Facebook Likes and all other Social media solutions
Online dashboard for real-time display of information
Send vouchers / coupons / email offers to Wi-Fi users
Free use of the content and advertising team
Properly Secured Internet environment
Solution Components
Online real-time dashboard
Free unlimited promotion material
Instant support line
Free use of the content team
Social Media start-up service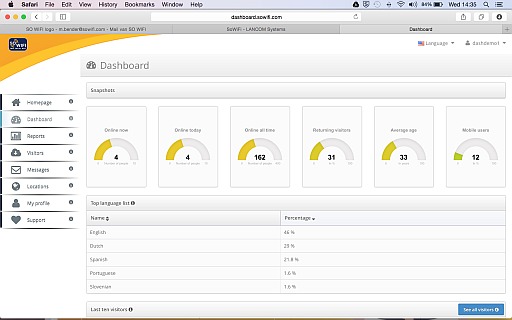 Available
Netherlands
Belgium
Luxembourg
Germany
United Kingdom
Spain
Switzerland
Austria
Poland
Slovenia

SO WIFI introduced its marketing tool in August 2012 and mainly focuses on the food service industry and the retail branch.
SO WIFI started in Amsterdam and is now active in 18 countries. The company has sold over 10.000 hotspots worldwide. The number of hotspots is still growing rapidly and this growth is expected to continue at - at least the same rate.
Would you like to learn more about the solutions from LANCOM?
We would be happy to advise you.