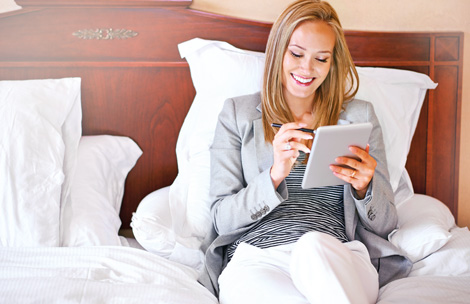 Intelligent network solutions for the hospitality industry
Are you planning to offer your guests a user-friendly hotspot, use mobile handhelds for taking orders in the restaurant, or provide secure connectivity for your internal administrative network – or even your entire hotel chain? The Smart Hospitality solutions from LANCOM implement multiple possible applications in a single network infrastructure.
More than just standard – a WLAN hotspot that delights
Easy-to-use Internet access is taken for granted these days. Even on vacation or on business trips, your guests want to go online. For many operators, however, setting up a user-friendly and secure hotspot remains difficult to realize. Hotspot solutions by LANCOM are secure, easy to use, and they come with an extensive range of features. You can make Wireless LAN for your guests into a plus – with the best available service for your guests.
Optimal utilization thanks to the secure connection of hotels
A colleague at the exhibition-center hotel needs to know if there is a room free at the city hotel. The head of accounting requires the figures from a number of different branches. The information they need can be accessed from any computer -even when mobile- because LANCOM solutions allow your hotels to be networked via secure VPN connections. The LANCOM solution serves as the foundation for your central hotel management system, which greatly simplifies your processes and increases your productivity as a result.
LANCOM Wireless ePaper Displays – innovative signage for your conference rooms
Signage made easy: Display the booking status of your conference rooms or table reservations in the restaurant with the Wireless ePaper displays from LANCOM. The electronic signs not only look good, they cut your workload as well. The current entries are conveniently managed centrally either via your existing calendar system or by software. Changes are transferred within seconds via radio. Ingeniously simple and simply ingenious, because your signs are always up to date. Learn more about LANCOM ePaper Displays in the hospitality industry: Infopaper (PDF)
Optimum service for your guests
For many potential guests, the availability of Wireless LAN has become an essential criterion when choosing a hotel. Unfortunately, only very few hotspots offer fast, secure and user-friendly access to the Internet. Solutions from LANCOM do all this and much more: With the Smart Ticket function, your guests receive their access data simply via SMS or e-mail – this saves your guests having to go to reception, and it saves work for your front-desk staff, who can get on with other tasks instead.
Premium access – particularly attractive for your business guests
Guests take free WLAN at the hotel pretty much for granted, and mostly they will settle for standard speeds. Business guests, however, depend on high-speed Internet and are willing to pay an extra fee for more speed. LANCOM hotspots make it possible to provide different bandwidths. While the standard speed is available for free, guests pay a fee for premium access – which is a source of additional income for you and the best possible service for your business guests.
Multiple devices, just one access code
Fans of multimedia like to go online not only with their laptops, but also with their smartphones or tablet PCs. LANCOM hotspots provide a multiple-login feature, which allows them to use the same credentials to login with multiple devices. Yet more convenience comes with the automatic re-login. Here, the hotspot recognizes devices it knows already and authenticates them automatically. For a time period configured by you, guests do not need to enter their access data again – they will appreciate that.
Smart Ticket – convenient self-registration at the hotspot
Internet access by voucher is history – these days your guests can login to the hotspot themselves without external assistance. The access data is sent conveniently via e-mail or SMS. As the hotspot operator, you no longer have to worry about a printer for the vouchers, and you take the load off your employees as well. Of course, your guests benefit, too. Guests wanting to access the Internet no longer have to visit the reception first. All they do is make their request directly from their device, be it in their room, on the patio, or in the restaurant.
New marketing opportunities with a customized login page
It takes just a few clicks to adapt the hotspot login page to your corporate design. It is easy to integrate your own banners and greetings, or even to create your own, fully customized login page. Additionaly you can specify free websites that guests can visit without having to login. You could, for example, provide news about activities in your hotel or place your restaurant's menu online. By means of the Content Filter, you can block access to undesirable or illegal websites and minimize your liability risk.
Gaining time for what's really important – your guests
LANCOM solutions optimize your work processes. As a result, you win back precious time for even better service for your guests. For example, mobile handheld devices speed up the ordering processes in the restaurant to offer an even slicker service. You can also give your mobile workforce exclusive access to your internal network and the vital information that they need.
Mobile handhelds streamline your service
The days are gone when room-service personnel or restaurant waiters took orders by hand. Now they can use mobile WLAN handhelds instead. Orders are transferred directly to the POS system, the kitchen or the bar. The advantages are clear: Handheld devices simplify and speed up the work, and faster service improves customer satisfaction. Additional convenience for your guests comes with secure card payment directly at the table.
Easy hotspot login with the room number
Your hotel-management system is easily integrated into the LANCOM network, which further improves your internal processes – for example, with your guest WLAN: Your guests simply login to the hotspot with their room number and/or name – there is no need to request any access data. If a guest opts for a paid premium account, the costs can be booked directly to the guest's account. A separate payment is no longer required. Not only do solutions from LANCOM offer your guests even more convenience, they make your work easier, too.
On the road at the customer – mobile working made easy
Before the next customer visit, your sales representative wants to quickly view the room reservation plan for the upcoming occupancy rates. This is just one example of location-independent work, which is taking on increasing importance. To this end, LANCOM VPN solutions provide secure access to critical data and resources from the outside, so supporting the mobility and efficiency of your work processes. Wherever they may be, employees have secure access to the central system and their e-mail – even by smartphone.
Hotspot 2.0 – WLAN as simple as Cellular Networking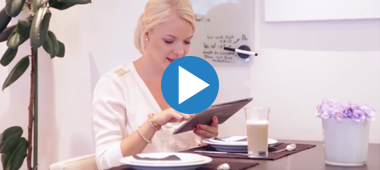 Hotspot 2.0 introduces the latest in WLAN modernity. These new-generation hotspots require neither a browser nor a login - they connect all by themselves. The switch from the mobile network to WLAN is also automatic - naturally without any disconnection and with absolute security, because all traffic is encrypted with WPA2. Your regular guests in particular will appreciate the user-friendly Internet access via Hotspot 2.0. In your hotel, they will feel right at home. Learn more about the Hotspot 2.0 technology with the free Hotspot 2.0 Whitepaper
WLAN is a competitive advantage and not a random product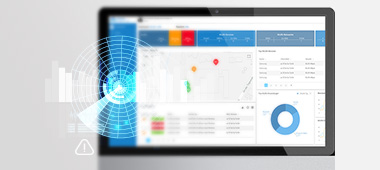 In hotels many tourists, especially business travellers, come together. Nowadays, it is naturally expected of the host establishment to offer WiFi or a hotspot for visitors, which they usually access simultaneously with their own (bring your own device, BYOD) diverse devices - smartphones, laptos, tablets. Therefore, a fast and reliably functioning WLAN is an important prerequisite for satisfied customers. In the event of a problem, LANCOM WLAN anomaly detection allows for accurate troubleshooting, immediately alerting the customer to any abnormalities and thus allowing problems to be detected before they become fully manifest.
Maximum security & reliability
Our core portfolio is developed and manufactured in Germany, which is why you can trust in our award-winning product portfolio of security-oriented communications solutions "Made in Germany". LANCOM supplies numerous security mechanisms to protect you from unauthorized access and to prevent the interception of WLAN data traffic.
Everything from a single source
LANCOM gives you a holistic solution from a single source. Services include the professional WLAN planning for radio coverage without dead zones, the provision of complete network infrastructures along with roll-out and management tools, and also in-house support. Whatever you need – be it routers, access points, WLAN controllers, switches, antennas or cables – we provide you a comprehensive solution which is customized to meet your needs.
Best value for money
Your guests would like Internet access, and we offer the right solution for large chains and brand hotels as well as for small private hotels. For the campsite, the stadium, the golf course or the restaurant. You benefit not only from the best price-to-performance ratio on the market, but also from our quality standards and the highest level of security. LANCOM solutions adapt to your individual needs and budget – there is no need for any restrictive provider agreements or ongoing costs.
Strong together
Our network of experts guarantees that you can rely on local support from certified LANCOM partners. You can rest assured that you have a competent contact person close by. We also cooperate with numerous strategic partners, who provide tools and solutions that perfectly complement our portfolio. Your benefit: Tailor-made solutions and great service.
Reliable and individual service
For technical questions or problems of any kind, we offer support straight from the manufacturer. We provide fast help and information even at the pre-sales stage. A specially trained team of field application engineers takes care of your problems on-site. Whatever kind of support you need – we are there for you.
Investment protection and sustainability
As a LANCOM customer, you benefit from regular, free updates of our operating system LCOS. This ensures that your network is always secure and up-to-date. If you are changing your business premises or you plan to connect additional stores, network infrastructures are easy and flexible to expand because all components are compatible with one another. Emerging technologies are easily integrated into your infrastructure.
Satisfied customers & their solutions
Wireless LAN and network connectivity by LANCOM optimize processes, improve flexibility, ensure security, and cut costs. A modern network makes you ready for the future. Read here the success stories and brief reference cases from satisfied customers.
In Zusammenarbeit mit unserem Partner m3connect wurden folgende Hotels mit WLAN­Hotspots ausgestattet:
MERCURE
NOVOTEL
IBIS
ARCOTEL Hotels
pullmann hotels
Digital up to the roof

In the sports and family hotel ADAPURA in Wagrain, Austria, Wi-Fi is at the heart of an innovative service concept: it is an elementary part of the customer experience.

Read more (PDF)

Powerful Wi-Fi for the Hapimag Bodrum Sea Garden

The holiday resort Bodrum Sea Garden in Turkey is the largest Hapimag resort. Nearly 500 access points have been installed to ensure optimal Wi-Fi coverage for the whole holiday complex.

Read more (PDF)

Fast ac-Wi-Fi for the GDI, Switzerland

The Swiss Gottlieb Duttweiler Institute offers secure and fast ac-Wi-Fi to its guests and participants of during conferences and events.

Read more (PDF)

WLAN hotspot at a holiday resort, Switzerland

To provide their members with the perfect holiday experience, Hapimag decided in 2014 to switch to a modern and efficient wireless network.

Read more (PDF)

Wirless LAN at the Henri-Chapelle Golf Club, Belgium

A WLAN hotspot in the restaurant and the indoor training facilities improves the golf club´s customer satisfaction.

Read more (PDF)

Wireless LAN in Cable Cars at the Hochkönig

The cable-car operator company Hochkönig Bergbahnen GmbH offers a fast and convenient WLAN for vacationers in the "King's Cab" gondola.

Read more (PDF)

Hotel Mirabell Munich combinates wlan hotspot and accounting system

The Hotel integrates their hotspot solution into the hotel accounting systems. This results in an easy-to-operate mobile Internet access for guests.

Read more (PDF)

Landhotel Rittersgrün, Germany: providing area wide WLAN

Guests of the 4-star country hotel benefit from a free wireless LAN hotspot available all over the approximately 4,000m² grounds.

Read more (PDF)

Salles Hotels Spain uses independent WLANs

Sallés Hotels uses a wireless network for their guests and administration. The two groups are separated from one another by means of VLAN. Management and configuration of the network are handled by a controller.

Read more (PDF)

Le Bois Fleuri, France: WLAN at 5-star-camping-site

Fast 300-Mbps Wireless LAN ensures mobility and user convenience at the five-star campsite "Le Bois Fleuri". The Public Spot solution services up to 2,200 guests across the entire site.

Read more (PDF)

Schlosshotel Steinburg provides a safety WLAN network

The Schlosshotel Steinburg in Wurzburg offers guests free WLAN at their newly built "Refugium". Picture: EYDOS Walter Schiesswohl.

Read more (PDF)

Highland Wi-Fi UK offer high-performance public WLAN

Highland Wi-Fi offers business clients and tourists in the Scottish Highlands and elsewhere fast, secure Internet access via Wireless LAN.

Read more (PDF)

Austria Trend Hotels & Resorts provides Wireless LAN

The modern Park Royal Palace Hotel in Vienna operates an advanced wireless network with a WLAN controller and Public Spot.

Read more (PDF)

Golfresort Gut Heckenhof extend WLAN architecture

The golf course Gut Heckenhof used a new WLAN infrastructure to improve its offerings for guests and optimized its internal business processes at the same time.

Read more (PDF)

Attersee-Schifffahrt, Germany: WLAN on cruise vessels

LANCOM underpins the new ordering and billing system operated by the Lake Attersee Shipping Company with the necessary network infrastructure.

Read more (PDF)

Wintereder, Germany: Mobile Internet in luxury tour buses

The coach tourism company has equipped its fleet with modern entertainment and communications. Travelers can use WLAN to access the Internet.

Read more (PDF)

Camping Hopfensee Germany provides WLAN on campsite

The 5-star campsite on the shores of lake Hopfensee exclusively offer luxury plots featuring individual Internet access via WLAN.

Read more (PDF)

Sportschule Hennef in Germany upgraded its hotspot offering

The Sportschule Hennef upgraded its hotspot offerings to include its guests. 8,000 m2 of space are covered by 58 access points, which are installed in addition to controllers and content filters.

Read more (PDF)

Hopper Hotel St. Josef, Germany: WLAN in a conference Hotel

The walls of the listed building that is the Hopper Hotel in St. Josef conceal the very latest in wireless communications technology.

Read more (PDF)
Inquiry
Would you like to learn more about the Smart Retail solutions from LANCOM?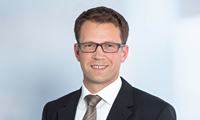 Your contact
Robert Beckmann
Inside Sales International
Phone: +49 2405 49936 276