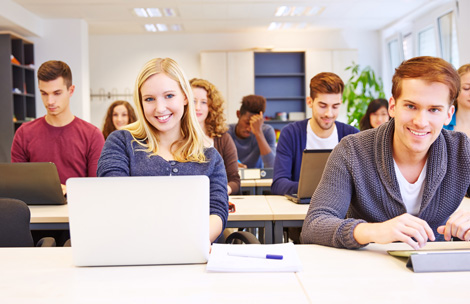 Network solutions for educational institutions
Internet-based research, online collaboration, interactive learning methods, access to resources from any location - universities have to offer more than just a well stocked library to attract the best students.
Students learn faster when they work with digital media. This was the result of a representative survey in 2011. A prerequisite for using digital media in the classroom is broadband Internet access, if possible by wireless.
A number of projects in the education sector are based on VPN and wireless-LAN solutions from LANCOM, including:
Secure Internet access
Wireless LAN for education, research and administration
Mobile access via eduroam
Site connectivity with VPN
LANCOM offers:
Internet access & VPN routers and VPN gateways for secure Internet access and site-to-site connectivity
LANCOM Content Filter, e.g. to block illegal contents (for Access Points, Router, Gateways & Controller)
Hotspot solutions for public access accounts
Hyper-integrated network management with LANCOM Management Cloud for highest automation and security
Smart WLAN controllers for central, automatic management of access points, including those at remote sites
Sophisticated redundancy concepts for highest availability of the WLAN, the Internet, and of VPN connections
Security & Stability
A large number of users with different access rights work with the networks at schools and universities. LANCOM provides comprehensive security mechanisms to protect your internal resources from unauthorized access and to prevent the interception of WLAN data traffic. These mechanisms include:
Complete protection of the WLAN with WPA3/802.11i encryption and authentication as per 802.1X/EAP
Support of Multi-SSID and dynamic VLAN allocation to securely divide the network into multiple logical networks (network virtualization)
Protection of internet access against misuse by content-control software
Inter-site 24/7 monitoring of WLAN security policies by the LANCOM WLAN controller, including certificate-based authentication of access points
State-of-the-art network security with LANCOM R&S®Unified Firewalls (Antivirus/Malware Protection, Sandboxing, IDS/IPS)
Advantages
Several universities at home and abroad are working with wireless-LAN and VPN solutions from LANCOM. They benefit from performance products that offer numerous advantages, including:
The complete infrastructure (Router, Switches, WLAN, Access Points, Firewalls) from a single source
Secure separation and authentication of the different user groups in the network (Multi-SSID, VLAN, RADIUS)
Lower operating costs due to central, standardized management of all access points, including those at remote sites
Highest investment protection thanks to free firmware updates throughout the entire product life cycle
Maximum investment protection with free lifetime updates
Active support in all phases of your planning: Conceptualization, installation & operation
NEW: LANCOM offers special conditions for schools, universities and research institutes.Find out more about our
"Education NOW!" program.
Inquiry
Would you like to learn more about the Smart Retail solutions from LANCOM?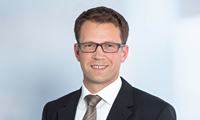 Your contact
Robert Beckmann
Inside Sales International
Phone: +49 2405 49936 276
Do you have any questions?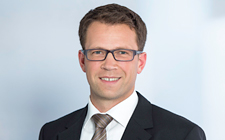 Robert Beckmann


will be glad to assist you.
Phone: +49 2405 49936 276
Inquiry