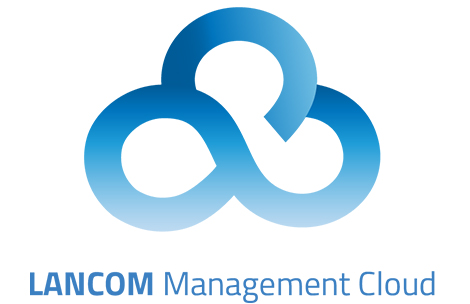 The New Dimension in Network Management
The Management Cloud from LANCOM sets new standards in the intelligent, application-oriented, and future-proof management and monitoring of networks. An intuitive user interface enables users to centrally design and manage any size of network based on software-defined technology: The manual configuration of network components is no longer required! The result: Full transparency and a clear overview of every device and activity on the network combined with maximum control and security.
Network management made easy
Features of the LANCOM Management Cloud
Professional & user-friendly management and monitoring
Easy and versatile deployment of WAN, LAN, and WLAN
24/7 network monitoring & alerting
Central policy rollout
For the smallest to the largest of projects
Multi-tenancy & multi-project capability
Public, Private & self-hosted Cloud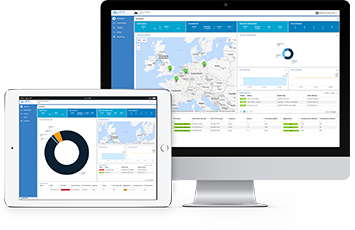 Software-defined Networking
Network orchestration and automation through software-defined technology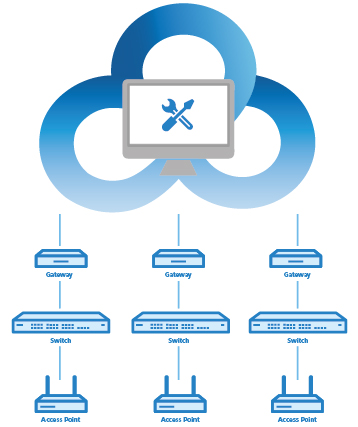 With software-defined networking the complexity of individual device configurations is handled by the software, which allows administrators to focus on the framework conditions for the network's overall design. The LANCOM Management Cloud as a solution makes even complex scenarios easy to understand and takes networks to a whole new level of performance.
Multi-tenancy and multi-project capabilities open-up new business models for specialist resellers, systems vendors, and integrators. Services such as IaaS are easily implemented and integrated into a range of offerings. You can find out more about SDN and the LANCOM Management Cloud in our FAQs
SD-WAN:
Automatic setup of VPN tunnels to connect remote workers, company sites, and home offices
SD-LAN:
Automatic VLAN configuration & central port profiles
SD-WLAN:
Automatic wireless LAN configuration for multiple networks (Multi-SSID) incl. separated networks, e.g. for visitors
A full range of solutions—tried and tested millions of times
All current LANCOM products are "Cloud-ready"—all it takes is a free firmware update.
By combining proven systems with innovative technologies, LANCOM offers a unique all-round solution for contemporary network architectures. By abstracting the management of any number of different devices into a single interface, network management is now efficient and transparent like never before. Companies benefit not only from unsurpassed flexibility and scalability, but also from the rapid implementation of changes or new requirements on their network.
Gateways / Routers
For VDSL, ADSL, fiber, LTE / 4G
IPSec VPN site connectivity
Secure network virtualization by ARF
Access Points
For indoor, industrial, and outdoor use
Highspeed IEEE 802.11ac support
Wireless ePaper & iBeacon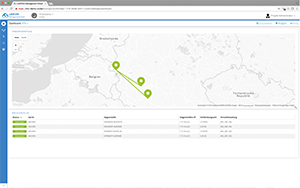 WAN scenarios
Auto-IPSec VPN
Stateful inspection firewall
Network virtualization (ARF, VLAN)
WAN load balancing
Traffic prioritization (QoS)
Web content filtering
IP ISDN gateway + SBC
Full IPv4/IPv6 support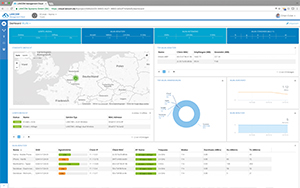 Wi-Fi scenarios
RF Optimization
Spectral Scan
Band Steering
Strong encryption (WPA, WPA2)
IEEE 802.1X access control (NAC)
Full hotspot integration
Multi-SSID & network virtualization
Fast Roaming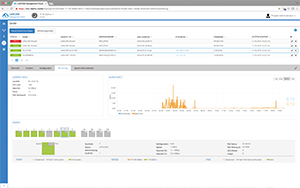 LAN scenarios
IEEE 802.1X access control (NAC)
Full IPv4/IPv6 support
PoE management & monitoring
Traffic prioritization (QoS)
Network virtualization (VLAN)
Link aggregation
Energy-efficient Ethernet
Scenarios - for networks any size
Single site – small businesses
If you run a small business at a single site, the LANCOM Management Cloud offers you top-class network management. In no time at all you integrate the whole of your LANCOM infrastructure, including access points, switches and routers, and the Public Cloud offers you the easy and central management of your network. Be it for high-speed Internet access, setting up WLAN profiles, or integrating new devices—the LANCOM Management Cloud meets all your needs. And best of all: the LMC grows with you, so there's always room to spare when you extend your infrastructure.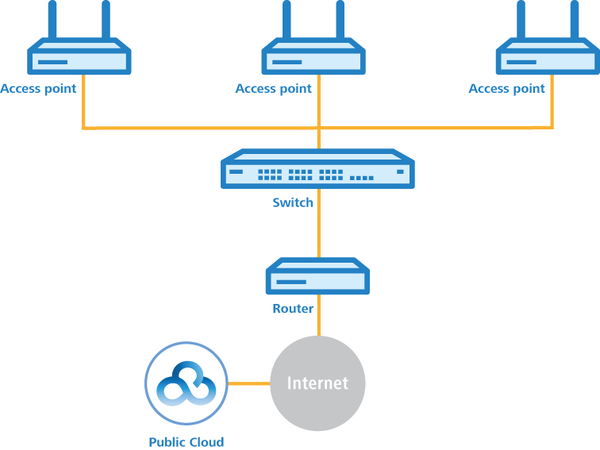 Multi site – medium-sized enterprises with several sites
Companies operating at several sites have high expectations of their network infrastructure. It should securely interconnect all of the sites, and its management should be efficient and centralized. The LANCOM Management Cloud meets these needs and offers an outstanding user experience. Be it for high-speed Internet access, setting up WLAN profiles, or integrating new devices—once configured, the processes are fully automated and sites are securely connected via auto-IPSec VPN. Centralized management is offered not only by the Public Cloud, but alternatively by the Private or self-hosted versions—it's up to you where you want to host your data.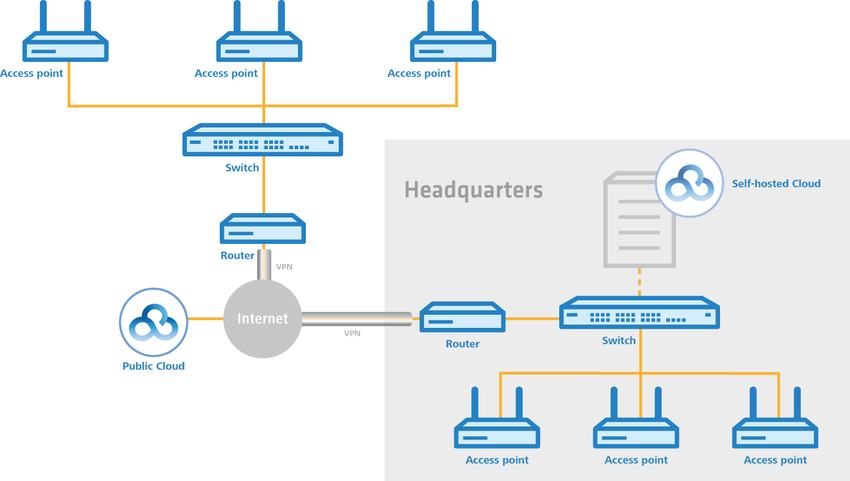 Large-scale enterprises – extensive distributed networks
For large companies with numerous dispersed sites, the LANCOM Management Cloud solution offers easy and efficient network management of the highest order. The LMC offers the central and user-friendly handling of complex networks. Be it multi-VPN site connectivity via the highly scalable LANCOM vRouters, high-speed Internet access for all connections, zero-touch integration of switches & access points, or the easy set-up of one or more WLAN profiles—the LANCOM Management Cloud adapts itself perfectly to your network infrastructure. Automated workflows and central management via the Private / self-hosted cloud in your own data center offer you maximum control, massive time savings, and flexible expansion options.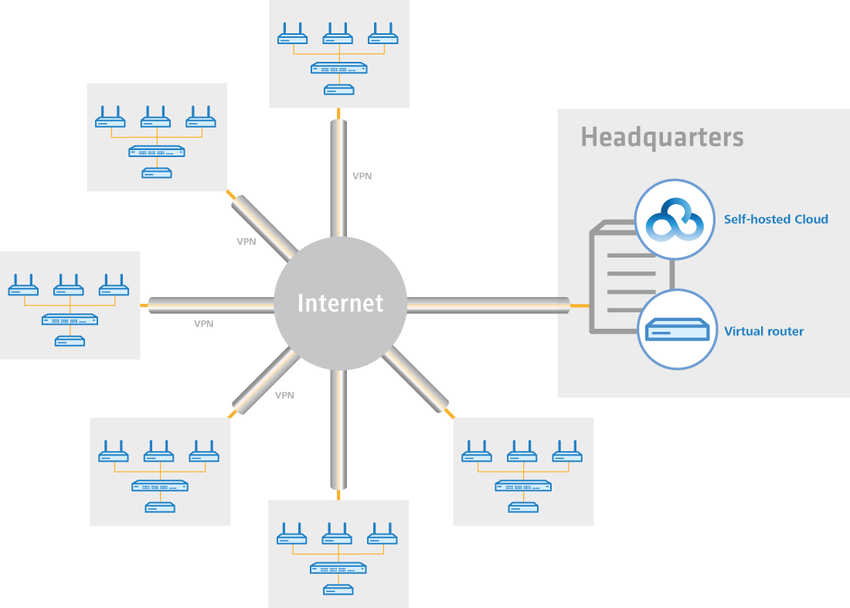 One system for all components
Centralized and consistent management of all LANCOM gateways, routers, switches, and access points in any LAN, WAN, and WLAN infrastructure.
Your operating model? Your choice!
The LMC is available now as a "Public Cloud" variant hosted in Germany, as a "Private Cloud" variant hosted by any system vendor, or as a self-hosting variant located at the end customer's own premises.
High security of investment
LANCOM devices currently in operation are made Cloud-ready by a firmware update—no hardware replacements required! They can at any time be reassigned to different projects, and you can even return them to conventional configuration and operation again!
Security Made in Germany
Gateways, routers, access points, the LCOS operating system, and the LANCOM Management Cloud are developed and manufactured in Germany. By hosting the Public Cloud in Germany, data security and legally compliant handling are guaranteed.
From SMB to large enterprise
For small networks, for companies with multiple sites, or even for large infrastructures with thousands of devices.
Channel in focus
LMC offers multi-tenancy and multi-project capabilities, which opens up new business models for specialist resellers, systems vendors, and integrators.
Presales request
Would you like to learn more about the LANCOM Management Cloud? We would be happy to advise you.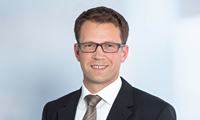 Your Contact
Robert Beckmann
Inside Sales International
Telephone: +49 (0)2405 49936 276