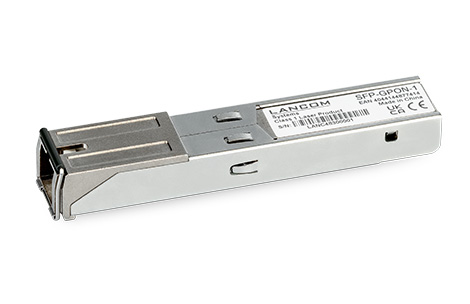 Direct high-speed connection to passive fiber optic lines (FFTH) via SFP
The expansion of fiber-optic lines directly into the home (fiber-to-the-home / FTTH) is growing steadily and with it the availability of this fast alternative to DSL lines. The LANCOM SFP-GPON-1 enables you to connect directly to a GPON network (Gigabit Passive Optical Network) via your LANCOM gateway - without the complex cabling and power supply of a separate provider modem.
Standard: GPON G.984.2 ONT
Simplex SC/APC Transceiver
Direct connection to GPON FTTH networks without separate provider modem
Constant transmission bandwidth and interference-free technology
Operating temperature -40 - 85°C
Easy integration into LANCOM devices 1790EF, 19xx series, ISG-8000, and LANCOM R&S®Unified Firewalls
Including 3m LC/APC to SC/APC cable
Reliable support for GPON technology
For fiber to the home (FTTH) data transmission, GPON technology is a future-proof solution: A GPON-based network architecture is characterized by flexible bandwidths as well as high transmission ranges. The components of the gigabit speed optical network reduce its maintenance and costs, making it reliable and scalable. An upgrade to GPON technology is, thus, easy to realize with the LANCOM SFP-GPON-1.*
* The compatibility of the LANCOM SFP-GPON-1 has been tested with the support of Deutsche Telekom for function on corresponding Telekom FTTH connections.
Direct connection to GPON FTTH networks without separate provider modem
While previously an additional fiber-optic modem had to connect the fiber-optic connection in the building to the router, the LANCOM SFP-GPON-1 now handles the necessary conversion of the incoming data signals. This eliminates the need for cabling and installation of a modem as well as the laying of an additional power supply.
Easy integration of the LANCOM SFP-GPON-1
The uncomplicated connection of a LANCOM SFP-GPON-1 module is realized via the SFP ports of the LANCOM 1790EF, the LANCOM 19xx series, the LANCOM ISG-8000, and all LANCOM R&S®Unified Firewalls.
Note: To use the LANCOM SFP-GPON-1, the LCOS versions LCOS 10.50 RU2 and LCOS FX 10.7 RU1 (soon available) for the Unified Firewalls are required on the device side.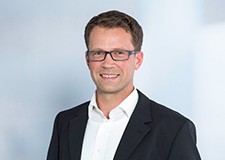 Inquiry
You have questions about our products or solutions, or are you looking for a LANCOM sales partner? Then let us know your wishes via contact form or feel free to contact us by phone.


Inside Sales International Team
Phone: +49 (0)2405 49936 122