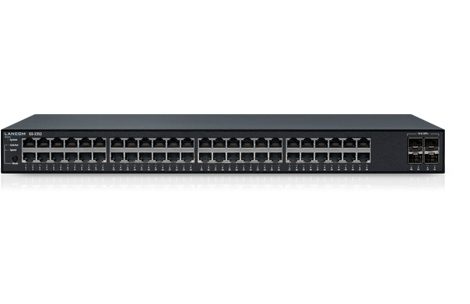 Managed 52-port Gigabit Ethernet switch for reliable networks
The LANCOM GS-2352 is a reliable component for modern network infrastructures for any industry or application. Equipped with 48 Gigabit Ethernet ports and 4 SFP+ ports that support transfer rates of up to 10 Gbps, the LANCOM GS-2352 is the ideal solution for networking up to 52 devices. The numerous security features along with the high-performance hardware platform make this an indispensable device for your network, as it is the ideal choice for secure and reliable large-scale networks.

High power output on 52 ports
The LANCOM GS-2352 is equipped with 48 Gigabit Ethernet ports and 4 SFP+ ports. With a data throughput of 176 Gbps on the backplane, it offers full performance even under load. This makes the switch a high-performance basis for modern network infrastructures in any industry or field of application.
IPv6 and IPv4 support
Thanks to the dual-stack implementation, the LANCOM GS-2352 operates in pure IPv4, pure IPv6, or in mixed networks. Applications such as SSL, SSH, Telnet, and TFTP can continue to be operated on IPv6 networks. Supported IPv6 features include stateless auto-configuration, the discovery of neighboring devices, and MLD snooping.
Configurable access control
The LANCOM GS-2352 excludes rogue clients from gaining unauthorized access to the network. This is ensured by secured access control on all ports as per IEEE 802.1X (port-based, single, multi, and MAC-based).
Secure remote management
Secure communication protocols such as SSH, SSL and SNMPv3 mean that the LANCOM GS-2352 is ideal for professional remote network management. The switch also supports the TACACS+ protocol for authentication, authorization, and accounting. This optimized solution promises maximum security for multi-site network management and monitoring.
Integration into LANCOM monitoring systems
The LANCOM GS-2352 integrates seamlessly into existing LANCOM network infrastructures. Network events are easy to monitor with the LANCOM monitoring systems LANCOM Large Scale Monitor and LANmonitor.
Days become minutes
Optimally alligned, the LANCOM switch portfolio is suitable and applicable for complex, distributed networking scenarios. Thanks to SD-LAN over the Management Cloud, formerly manual device configuration is replaced by automated network orchestration. Each and every switch and access point at the various sites operates with a fine-tuned configuration.
Easy switch configuration
SD-LAN orchestrates the port profiles for each switch and automatically assigns the necessary VLANs to the desired switch ports. Configurations can can be synchronized across locations with regard to the network architecture and rolled-out or updated simultaneously at the click of a mouse.
48x Gigabit Ethernet-Ports and 4x GE SFP+
Security with configurable access control on all ports as per IEEE 802.1X
Secure remote management through TACACS+, SSH, SSL, and SNMPv3
Convenient integration into LANCOM monitoring systems
IPv6 and IPv4 support for modern enterprise networks
5-year warranty on all components
Do you have further questions about this product or want a personal contact?
LANCOM Presales Team
Phone: +49 2405 / 49 93 6-260


Do you need help with the configuration of our products?
In our Knowledge Base you can find help and precise instructions on how to use all LANCOM products. For more professional assistance visit our Support portal: