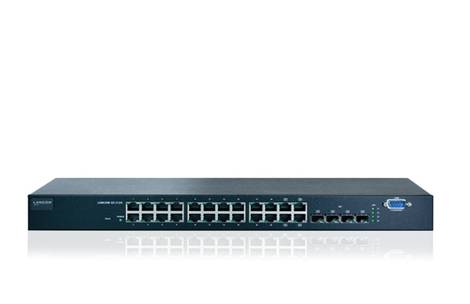 End of life: LANCOM GS-2124
Fully managed layer-2 switch with 24 Gigabit Ethernet ports for high-performance
This switch makes bandwidth bottlenecks a thing of the past for company networks: The LANCOM GS-2124 is a managed Gigabit Ethernet switch with 20 x 10/100/1000 Mbps Gigabit Ethernet ports and four combo ports for fiber-optic cable connections.
More Efficiency.
Intelligent switches like the LANCOM GS-2124 can re- route data packets when network glitches occur. The rapid spanning tree algorithm takes care of this so fast that users do not notice any delay. Just as important as the rapid spanning tree algorithm is the efficient control of bandwidth. This ensures that important applications such as IP telephony are constantly provided with ample bandwidth to avoid interruptions to conversations. When conducting bandwidth control, the LANCOM GS-2124 prioritizes the data traffic according to predefined criteria (e.g. voice data or certain ports). The LANCOM GS-2124 has four- level prioritization to control the sequence of incoming and outgoing data traffic.
More Security.
The LANCOM GS-2124 gives you the assurance that rogue clients cannot access your network via this switch. Configuring 802.1x access control for all ports ensures that unauthorized devices plugged into a switch port cannot gain access to the network. The LANCOM GS-2124 also features rigorous defenses against attacks such as MAC flooding: The MAC address learning limit can be set individually and provides reliable protection from attacks that would otherwise turn this switch into a dysfunctional bottle-neck.
More Management.
The LANCOM GS-2124 stands for easy operability without compromising on security. Managing the switch is easy with the clearly structured, user- friendly WEBconfig. Port mirroring allows the close observation of network traffic. And there's yet more you can do: With the free LANCOM Management Tools including LANconfig and LANmonitor, we offer not only direct access to the devices via WEBconfig but also the direct observation of the GS-2124's performance in the network. The GS-2124 also features virtual stacking management (VSM) that allows you to manage up to 16 switches at one IP address.
Inquiry
You have questions about our products or solutions, or are you looking for a LANCOM sales partner? Then let us know your wishes via contact form or feel free to contact us by phone.