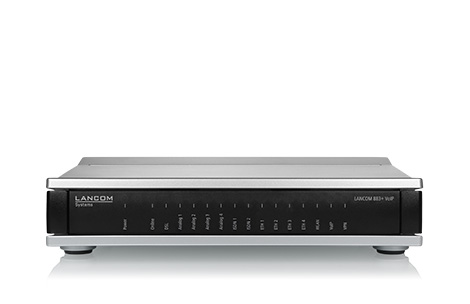 All-in-one: Telephony, high-speed Internet, and Wi-Fi for offices
Secure networking, fast Internet, and the reliable operation of com­munication equipment are essential for a efficient workflow. With this router you can rely on easy All-IP Migration and fast wireless LAN (Wi-Fi 4). The router supports VDSL Supervectoring for up to 300 Mbps. Designed for the combined operation of ISDN/analog and VoIP tele­phony components, it is the ideal device for single sites with lower setup requirements.
Integrated VDSL Super Vectoring modem for up to 300 Mbps (backwards compatible with VDSL2 / ADSL2+)
Professional integration of wireless clients thanks to the Wi-Fi radio module as per IEEE 802.11n (Wi-Fi 4)
Continued use of existing ISDN and analog components after migrating to All-IP
Professional telephony features thanks to integrated LANCOM VCM (Voice Call Manager) & SBC (session border controller)
SD-WAN – automatic VPN and VLAN configuration via the LANCOM Management Cloud
2 x ISDN S0 (TE/NT + NT) for point-to-point or multipoint line configuration, 2 x analog (internal) / fax
Extension to 4 x analog with LANCOM Analog Adapter Set
3 IPSec VPN channels for secure connection of external employees
Extension from 3 to 5 VPN channels with the LANCOM Enterprise Option and, if required, from 5 to 25 VPN channels with the LANCOM VPN Option possible
Support of VDSL Supervectoring
VDSL Supervectoring achieves higher data rates on existing copper lines. Speeds of up to 300 Mbps are possible. The LANCOM 883+ VoIP offers full Supervectoring support while remaining backwards compatible with VDSL2 and ADSL2+.
Continued use of existing ISDN and analog components
The LANCOM 883+ VoIP translates between ISDN, analog, and VoIP. Along with the latest VoIP equipment, you can continue to operate your existing ISDN and analog components without having to replace them. Even after switching to the new All-IP connection, this cost-saving solution conveniently and professionally integrates your ISDN and analog components. Operating a combination of analog, ISDN, and VoIP PBX devices directly at the LANCOM router is also an option.
Professional telephony with the LANCOM VCM (Voice Call Manager)
The LANCOM Voice Call Manager is already integrated into the LANCOM 883+ VoIP and provides advanced telephony support. It manages all aspects of the telephony and controls all of the PBX components connected to the router. Furthermore, it enables the easy integration of DECT telephones by autoprovisioning with the LANCOM DECT 510 IP base station.
Integrated Session Border Controller
The LANCOM Voice Call Manager provides the functions of a Session Border Controller (SBC): This ensures that external (unsecure) and internal (secure) networks are kept separate. Also, voice packets are given preference (Quality of Service) thanks to bandwidth reservation, which ensures a high call quality. In addition, the VCM as a SIP proxy enables the professional management of signaling and voice data for high security in the set up, implementation and teardown of telephone conversations, including any protocol conversion by means of transcoding.
Professional integration of wireless clients
The LANCOM 883+ VoIP is equipped with a Wi-Fi module as per IEEE 802.11n (Wi-Fi 4). This allows wireless clients to be professionally integrated into the network at up to 300 Mbps – ideal for home offices and small businesses, because the router provides professional WLAN coverage without the need for additional costly hardware.
Radical simplification of the configuration with SD-WAN
In combination with the LANCOM Management Cloud, the LANCOM 883+ VoIP opens the way for automated management. The software-defined WAN (SD-WAN) enables the automatic setup of secure VPN connections between sites, including network virtualization and backup across the wide-area network: A few mouse clicks is all it takes to enable the VPN function and select the required VLANs for each site. The laborious configuration of individual tunnel endpoints is no longer required at all.
Security Made in Germany
Software development, hardware development and production take place primarily in Germany, as does the hosting of the network management. Special attention is given to providing trusted solutions with outstanding security features. Another important security characteristic of the prod­ucts is that they are free from backdoors, as awarded by the German Federal Ministry of Economy with the quality seal "IT Security made in Germany".
Maximum future-proofing
LANCOM products are based on professional expertise, years of experience in IT, and high-quality materials. All of our devices are equipped with hardware that is dimensioned for the future and, even reaching back to older product generations, updates to the LANCOM Operating System family are available several times a year, free of charge. This guarantees a long service life while staying technically up to date, which represents a true protection of your investment. Furthermore, LANCOM infrastructures are easily scalable. Maximum compatibility means that networks are easily extended with additional LANCOM components.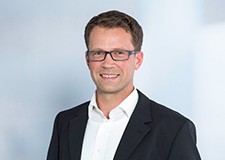 Inquiry
You have questions about our products or solutions, or are you looking for a LANCOM sales partner? Then let us know your wishes via contact form or feel free to contact us by phone.


Inside Sales International Team
Phone: +49 (0)2405 49936 122