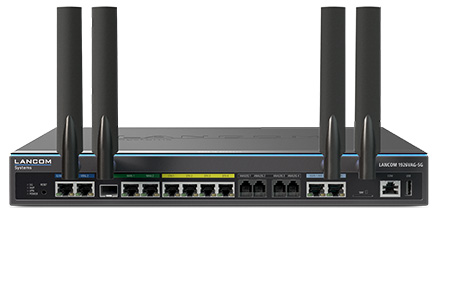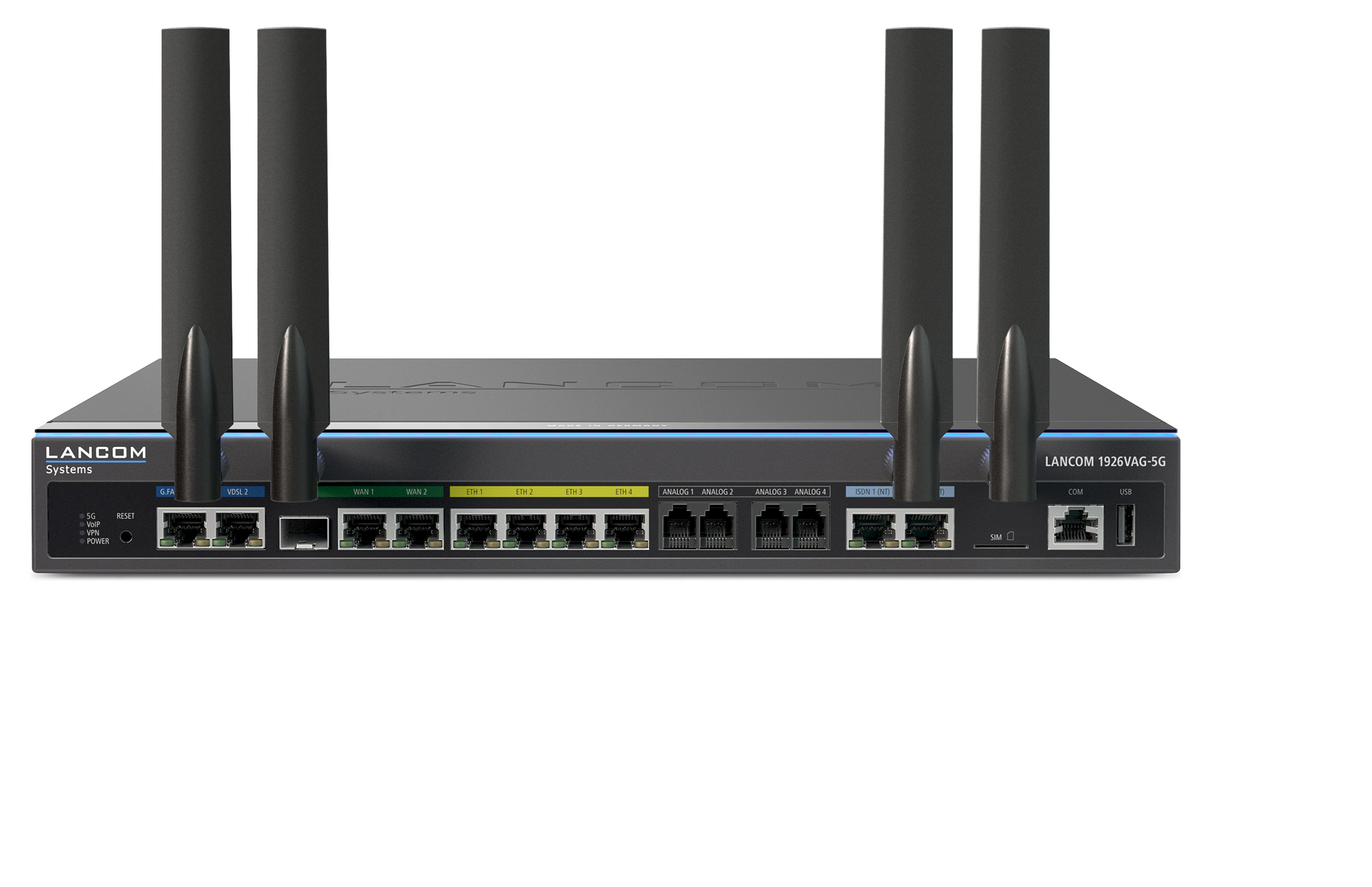 Preview: LANCOM 1926VAG-5G
Full SD-WAN power with 5G
This high-end router supports the high-performance 5G cellular standard. It guarantees the highest availability and the best bandwidths on every line: Be it with 5G as the primary access, in active/active mode with VDSL Super Vectoring, or via G.fast. State-of-the-art SD-WAN technology for secure, automated VPN site connectivity and the advantage of 5G technology, the LANCOM 1926VAG-5G is the top-class solution for mission-critical applications in medium-sized and large branch infrastructures.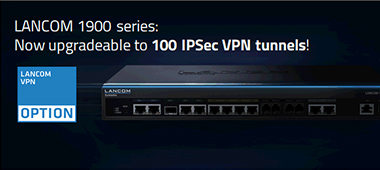 Upgrade to up to 100 VPN tunnels
Ideal for fast and secure LANCOM home-office solutions: Upgrade the VPN capacities of your LANCOM router of the 19xx series now in a sustainable and resource-saving way! With the LANCOM VPN 100 Option you can simultaneously and securely connect up to 100 sites or remote employees to the corporate network!
Two integrated VDSL Super Vectoring modems (operable in parallel), alternative use of a modem at a G.fast connection, 1x SFP/TP, 1x WAN Ethernet and 5G offering high performance
Low latencies and high bandwidth for real-time applications (4K/8K video streaming, telephony or AR) thanks to integrated 5G modem
Mobile primary operation or in parallel with other access technologies
Load balancing for the active/active operation of several Internet access connections and maximization of the available bandwidth
25 simultaneous IPsec VPN connections (100 optional)
Network virtualization with up to 64 networks on one device (ARF)
SD-WAN – automatic VPN and VLAN configuration via the LANCOM Management Cloud
2x ISDN S0, 4x analog (internal) / fax
Professional telephony features thanks to integrated LANCOM VCM (Voice Call Manager) / SBC (session border controller)
Full-metal housing for mounting in a 19" rack and integrated 230V power supply
Full future viability with 5G
As the primary connection when on the move, or in active/active mode with other access technologies, the LANCOM 1926VAG-5G provides all of the advantages of 5G technology, such as the low-latency and high-performance use of real-time applications such as telephony, video chat, video streaming in 4K or 8K, or augmented reality—especially where there is a high density of users. The backwards compatible 5G module works seamlessly with the 4G LTE network and thus guarantees maximum future viability.
Multi-WAN & backup
The LANCOM 1926 series are the first routers on the market with two integrated VDSL Super Vectoring modems for a total of 2x 300 Mbps. Alternatively, one of the two modems can be used to connect via G.fast at up to 1,000 Mbps. Also, their SFP port allows them to operate directly at high-speed fiber-optic connections. They can also operate with any external DSL or cable modem via WAN Ethernet. The 5G modem integrated into the LANCOM 1926VAG-5G ensures high-performance cellular access. It is ideally suited for intelligent backup scenarios in 4G and at the same time offers future viability.
Active/active (Load Balancing)
The LANCOM 1926VAG-5G allows multiple Internet access connections to be operated in parallel, with load balancing to ensure that the available bandwidth is used to maximum effect. With the combined operation of 5G and VDSL Super Vectoring, fiber optic and cellular communications, it provides unsurpassed availability and bandwidth. The LANCOM 1926VAG-5G thus offers the ultimate in future proofing for performance-hungry SD-WAN scenarios in mission-critical environments.
Award-winnig LANCOM VPN
The LANCOM 1926VAG-5G offers high levels of security. The standard equipment of 25 IPsec VPN channels guarantees strong encryption, secure connections for mobile employees, and protection of corporate data. The LANCOM VPN option upgrades the router to support up to 100 VPN channels.
Advanced Routing & Forwarding
The LANCOM 1926VAG-5G provides up to 64 securely isolated IP contexts, each of which has its own separate routing. This is an elegant way of operating IP applications with one central router and keeping the different communication channels securely isolated from one another.
Next-generation SD-WAN: High Scalability VPN (HSVPN)
The LANCOM 1926VAG-5G supports High Scalability VPN (HSVPN). The ongoing rise of digitalization, greater diversity of applications, and higher data volumes demand powerful, state-of-the-art networks. High Scalability VPN significantly improves the extensibility and efficiency of your architecture. Where previously each individual application required a separate VPN tunnel, HSVPN bundles any number of networks into a single VPN tunnel and transports them collectively to the remote site—with each network remaining secure and strictly separated from the others. The advantage for your business: Considerably fewer VPN tunnels are required, and recovery times are much faster in a failover event.
Radically simplified configuration with LANCOM SD-WAN
In combination with the LANCOM Management Cloud, the LANCOM 1926VAG-5G opens the way for automated management. The software-defined WAN (SD-WAN) enables the automatic setup of secure VPN connections between sites, including network virtualization and backup across the wide-area network: A few mouse clicks is all it takes to enable the VPN function and select the required VLANs for each site. The laborious configuration of individual tunnel endpoints is no longer necessary.
Professional telephony with the LANCOM VCM (Voice Call Manager)
The LANCOM Voice Call Manager is already integrated into the LANCOM 1926VAG-5G and provides a wide range of telephony functions. It manages all aspects of the telephony and controls all of the router-based PBX functions for SIP, ISDN and analog components. Furthermore, it enables the easy integration of DECT telephones by auto provisioning with the LANCOM DECT 510 IP base station.
Integrated session border controller
The LANCOM Voice Call Manager acts as a session border controller: This ensures that external (unsecure) and internal (secure) networks are kept separate. Also, voice packets are given priority (Quality of Service) thanks to bandwidth reservation, which ensures a higher quality of calls. In addition, the VCM as a SIP proxy enables the professional management of signaling and voice data for high security in the setup, implementation and teardown of telephone conversations, including any protocol conversion by means of transcoding.
Premium full-metal housing
The LANCOM 1926VAG-5G comes in a high-quality full-metal housing with integrated 230V power supply. Thanks to the mounting system, it is easy to install in a 19" rack—with connection ports redirected to the front, it is quick and easy to work with.
Typical application scenarios
Active/active mode (load balancing)
Active/active distributes network data traffic evenly between Internet connections that are operated in parallel. Data connections are divided evenly between at least two lines, and the individual bandwidths of the lines are combined. Even if one line fails, the connection is always secured via the other line.
Application scenario one client with VDSL and 5G
A client is connected via the 1926VAG-5G router to the Internet (1x 5G connection + 1x Supervectoring). Depending on the load, the load balancer integrated in the router decides for Internet line 1 (VDSL) or Internet line 2 (VDSL).
Application scenario one client with 5G and G.Fast
A client is connected via the 1926VAG-5G router to the Internet (1x 5G connection + 1x G.Fast). Depending on the load, the load balancer integrated in the router decides for Internet line 1 (VDSL) or Internet line 2 (VDSL).
Application scenario primary access via 5G
Application scenario VPN load balancing
The integrated load balancer makes it easy to bundle multiple IKEv2 VPN connections into a load-balancing cluster. Be it in combination with a LANCOM router, a central-site VPN gateway, or the innovative LANCOM vRouter: The load of data traffic is more evenly balanced and the system has redundancy. The combination significantly increases the VPN bandwidth available for multiple clients.
Application scenario Load balancing with two All-IP lines
Thanks to the integrated VCM and SBC, the LANCOM 1926VAG-5G is ideal for seamless migration from ISDN/analog to All-IP. SIP lines can be bound to any of the Internet connections (All-IP line 1 or 2). The load balancer is used to distribute the Internet traffic.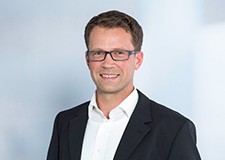 Inquiry
You have questions about our products or solutions, or are you looking for a LANCOM sales partner? Then let us know your wishes via contact form or feel free to contact us by phone.


Inside Sales International Team
Phone: +49 (0)2405 49936 122