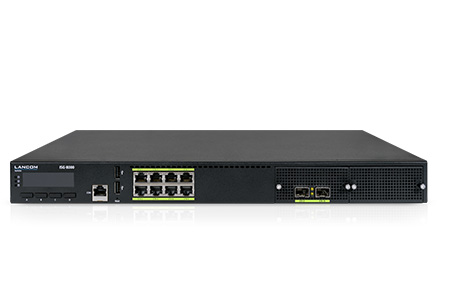 Central-site security for large SD-WAN scenarios
A key aspect for very large-scale multi-service IP networks is perfor­mance and reliability at the central site. At the heart of your SD-WAN, the LANCOM ISG-8000 multi-Gigabit gateway provides security and high performance. A powerful platform with state-of-the-art encryption technologies, high-scalability VPN and extensive redundancy features delivers a Software-Defined Wide Area Network (SD-WAN) that greatly simplifies your work in administration. It networks numerous locations, branches and external employees by means of the LANCOM Manage­ment Cloud. You can also upgrade this integrated services gateway with additional features such as a hotspot, clustering, or up to 3,000 VPN channels.
Central multi-Gigabit gateway for SD-WAN
250 concurrent IPSec VPN connections (3,000 optional)
Support for up to 4096 VLANs / 256 ARF contexts
SD-WAN support with High Scalability VPN (HSVPN)
2x 10G SFP+ ports, 8x GE-ETH ports, RJ45 config port
Optional expansion slot for additional interfaces
Powerful SD-WAN for large-scale, distributed network infrastructures in conjunction with the LANCOM Management Cloud
Optionally upgradeable with hotspot, content filtering or clustering features
Your SD-WAN-ready LANCOM device is just the beginning on your path to highly scalable, efficient and secure networking of distributed corporate sites. Let yourself be inspired by our unique solution on the market!
Secure site connectivity for large-scale SD-WAN enterprise scenarios
The LANCOM ISG-8000 is the central instance for your high-performance SD-WAN in large enterprise infrastructures. 250 integrated VPN channels based on state-of-the-art encryption technologies and demand-oriented ports (2x 10 Gigabit SFP+, 8x Gigabit Ethernet and 2x USB) deliver the best possible conditions for networking mobile employees, protecting internal company data, and taking high-performance IPSec connectivity to sensi­tive network segments or branches. The LANCOM VPN option upgrades the gateway to support up to 3,000 VPN channels. This ensures that your network is perfectly scalable and can grow on demand—without needing additional hardware.
Powerful SD-WAN greatly simplifies the management of enterprise structures
In combination with the LANCOM Management Cloud, the LANCOM ISG-8000 provides the ideal basis for establishing a high-performance SD-WAN. For instance, it enables the highly automated configuration of a wide area network and an automatic rollout of device configurations to your indi­vidual locations. You benefit from highest levels of scalability, save on personnel costs, and keep track of the status of your network 24/7—ideal for large and complex enterprise scenarios with multiple locations.
Next-generation SD-WAN: High Scalability VPN (HSVPN)
The LANCOM ISG-8000 supports High Scalability VPN (HSVPN). The ongoing rise of digitalization, greater diversity of applications, and higher data volumes demand powerful, state-of-the-art networks. High Scalability VPN significantly improves the extensibility and efficiency of your architec­ture. Where previously each individual application required a separate VPN tunnel, HSVPN bundles any number of networks into a single VPN tunnel and transports them collectively to the remote site—with each network remaining secure and strictly separated from the others. The advantage for your business: Considerably fewer VPN tunnels are required, and recovery times are much faster in a failover event.
Maximum port versatility
From fiber-optic to Ethernet and USB ports: At the heart of the network, this integrated services gateway with 8x Gigabit Ethernet ports and 2x USB enables a variety of applications. 2x 10 Gigabit SFP+ ports also increase the capacity of your data transfers to servers, network storage or switches. An expansion slot enables the retrofitting of additional ports.
Integrated display for maximum network control
The LANCOM ISG-8000 comes in a high-quality all-metal housing with 2 redundant power supply units. The mounting system allows installation in 19" racks, and front-mounted connection ports make it quick and easy to work with. The display on the front of the device provides a continuous overview of various information including the temperature, CPU load, and the active VPN tunnels. You can see in an instant if your network is operating properly or if you need to act.
Security Made in Germany
Development of the software and hardware at LANCOM Systems, as well as the manufacturing, are predominantly based in Germany, as is the network-management hosting. There is a strong focus on trustworthiness and security. The company is committed to products that are free from backdoors and is a holder of the quality seal "IT Security Made in Germany" as initiated by the German Ministry of Economics.
Systematic networking solutions
LANCOM integrated service gateways are the basis for secure encrypted site connectivity and high-speed Internet access. As professional system components, they are fully compatible to all LANCOM network devices and they facilitate flexible scaling and expansion when combined with further LANCOM components. The result is a secure and flexible all-round solution that you can rely on. The overall network, right down to each individual device, can be managed and monitored from one central instance—for a solution that is systematic. You can also upgrade this integrated services gateway with additional features such as a hotspot, clustering, or additional VPN channels.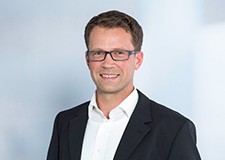 Inquiry
You have questions about our products or solutions, or are you looking for a LANCOM sales partner? Then let us know your wishes via contact form or feel free to contact us by phone.


Inside Sales International Team
Phone: +49 (0)2405 49936 122