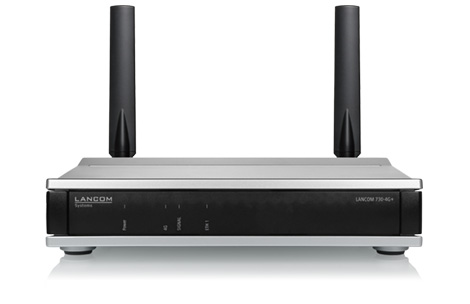 The versatile LTE/4G network extension
The easy way to extend your network infrastructure with LTE-Advanced for fast Internet at up to 300 Mbps. The device is ideally suited for the application as modem or "external LTE antenna" for backup purposes. Applied as a router it easily integrates into networks and, thanks to Power over Ethernet, it can operate without an extra power supply unit. So you can position the device wherever the 4G signal is strongest.
4G router with integrated LTE-Advanced modem for data rates of up to 300 Mbps
VRRP support ("external LTE antenna")
Professional backup function in combination with a LANCOM router
Easily connects to a LANCOM router or PoE switch
Gigabit Ethernet
Full integration into the LANCOM Management Cloud
Powered by PoE or power supply unit
Also operates as a stand-alone LTE/4G router
4G networking at up to 300 Mbps
With an integrated cellular modem that supports LTE-Advanced, the LANCOM 730-4G+ supports wireless broadband connectivity with speeds up to 300 Mbps. It is also ideal for intelligent backup scenarios.
VRRP support
By supporting VRRP, the LANCOM 730-4G+ provides LTE/4G connectivity to other network gateways as "external LTE antenna" within seconds.
Gigabit Ethernet with PoE
The LANCOM 730-4G+ features a PoE-enabled Gigabit Ethernet port. This makes it quick and easy to integrate into the network and the device can be freely positioned wherever the 4G signal is strongest.
Full integration into the LANCOM Management Cloud
The LANCOM 730-4G+ is effortlessly managed and monitored by the LANCOM Management Cloud. The LANCOM Management Cloud is the world's first management system for the intelligent organization, optimization, and control of your entire network. This radically simplifies the management of installations, from small to very large scenarios.
Security Made in Germany
Software development, hardware development and production take place primarily in Germany, as does the hosting of the network management. Special attention is given to providing trusted solutions with outstanding security features. Another important security characteristic of the products is that they are free from backdoors, as awarded by the German Federal Ministry of Economy with the quality seal "IT Security made in Germany".
Maximum future-proofing
LANCOM products are based on professional expertise, years of experience in IT, and high-quality materials. All of our devices are equipped with hardware that is dimensioned for the future and, even reaching back to older product generations, updates to the LANCOM Operating System family are available several times a year, free of charge. This guarantees a long service life while staying technically up to date, which represents a true protection of your investment.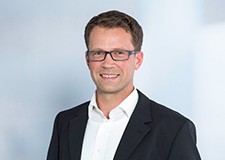 Inquiry
You have questions about our products or solutions, or are you looking for a LANCOM sales partner? Then let us know your wishes via contact form or feel free to contact us by phone.


Inside Sales International Team
Phone: +49 (0)2405 49936 122