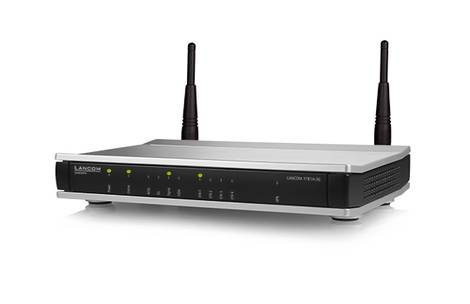 End of sale: LANCOM 1781A-3G
Universal business VPN router with ADSL2+, ISDN and 3G modem
The professional VPN router LANCOM 1781A-3G features two built-in modems for assured secure Internet access for your company: As well as an ADSL2+ modem, the router has an integrated cellular modem for wireless data connections at speeds of up to 21 Mbps. With its extensive VPN capabilities and Gigabit Ethernet, the device provides secure, high-performance connectivity to branch offices and remote workers, and it supports a high-speed local network.
Does your company rely on stable Internet connectivity for your business to run smoothly? The LANCOM 1781A-3G offers unparalleled dependability with its two built-in modems: Whether you operate an ERP system, cashless payment or security systems—if the ADSL connection should fail, this high-availability router automatically activates the built-in cellular modem offering HSPA+ data rates of up to 21 Mbps. Even in backup mode, your high-performance Internet connectivity remains guaranteed.
More Performance.
The LANCOM 1781A-3G provides a balanced and modern hardware platform for reliable operation of enterprise networks around the clock. As a professional business router, the device meets with high standards in the areas of network virtualization, security and VPN networking. At the same time its computing power, storage capacity and the high-speed interfaces ensure excellent network performance even with heavy data traffic.
More security.
For connecting to home offices or setting up multi-national branch networks: VPN specialist LANCOM stands for fast, secure and cost-effective communications. The LANCOM 1781A-3G is ideal for offices or small businesses that want to set up a secure VPN: The router's VPN gateway supports five simultaneous IPsec channels, with support for 25 channels as an optional extra. Business-critical applications remain reliably operational thanks to the integrated cellular modem, even if the primary connection should fail. Additionally, an object-oriented stateful-inspection firewall protects the network with intrusion prevention and Denial of Service protection. Optionally available is the LANCOM Content Filter for effective Web protection for up to 100 users. Flexible bandwidth management guarantees the availability of all applications (also in local networks) as these can be prioritized with a comprehensive range of Quality-of-Service features.
More management.
LCMS, the LANCOM Management System, is a free software package for the LANCOM 1781A-3G. It caters for the configuration of the device, remote maintenance and network monitoring. The central component of LCMS, LANconfig, is used to configure the LANCOM 1781A-3G and other LANCOM devices on the network. The extensive range of features and the configuration wizards make the router quick to set up. LANmonitor offers detailed, real-time monitoring of parameters, it provides access to log files and statistics, and it can carry out a detailed trace-protocol analysis. Other functions in LCMS include the GUI for firewall setup, automatic backup of configurations and scripts, and the intuitive folder structure with convenient search function.
More virtualization.
The LANCOM 1781A-3G helps you to use your IT resources more effectively and to save costs. The device simultaneously supports multiple independent networks. This is made possible by the powerful technology Advanced Routing and Forwarding (ARF). The ARF function on the LANCOM 1781A-3G provides up to sixteen virtual networks, each with its own settings for DHCP, DNS, routing and firewall. ARF allows multiple separate networks for different groups and applications to be operated on a single physical infrastructure.
More reliability for the future.
LANCOM products are designed for a product life of several years and are equipped with hardware dimensioned for the future. Even reaching back to older product generations, updates to the LANCOM Operating System—LCOS—are available several times a year, free of charge and offering major features. LANCOM offers unbeatable safeguarding of your investment.
Fast Internet access and professional networking for smaller companies and branch offices
Integrated multi-mode ADSL2+ modem and cellular modem (HSPA +, HSxPA, UMTS, EDGE, GPRS)
Energy-saving 4-port Gigabit Ethernet switch as per IEEE 802.3az
VPN site connectivity with 5 simultaneous IPsec VPN channels (25 channels optional)
Network virtualization with up to 16 virtual networks on one device (ARF)
Stateful-inspection firewall with intrusion detection/denial-of-service protection
High availability: Integrated HSPA+ modem, an ideal high-performance DSL backup
Inquiry
You have questions about our products or solutions, or are you looking for a LANCOM sales partner? Then let us know your wishes via contact form or feel free to contact us by phone.