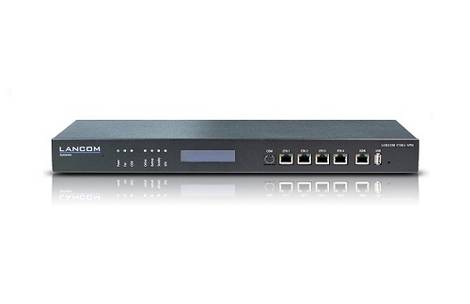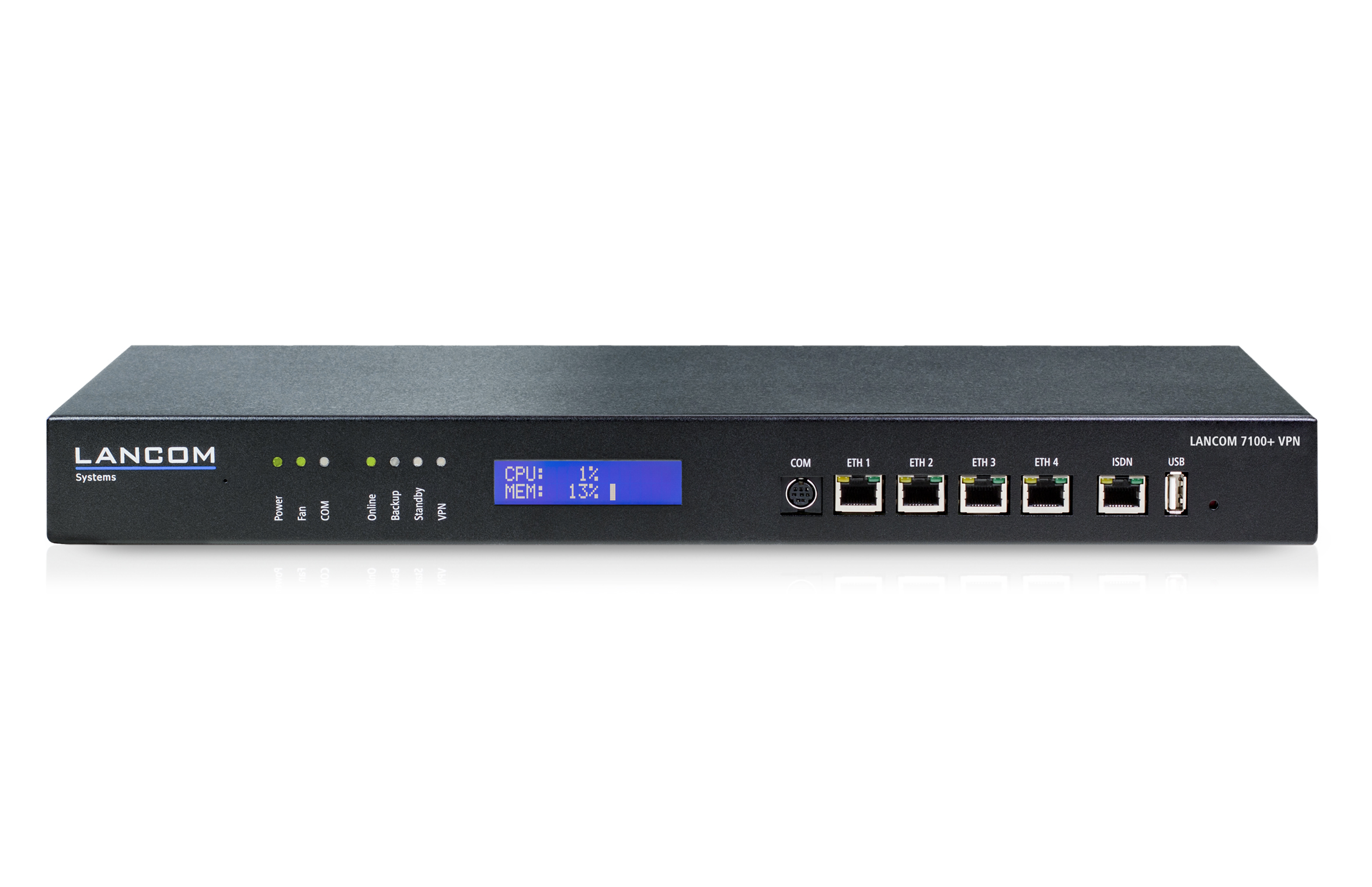 End of sale: LANCOM 7100+ VPN
High-performance central site VPN gateway for securely networking up to 200 sites
The LANCOM 7100+ VPN is a central site VPN gateway that provides VPN connections for up to 100 sites as standard, which is upgradeable to 200 with the LANCOM VPN Option. The LANCOM 7100+ VPN implements large multi-service IP network structures with the highest levels of security, reliability and performance. The right choice for secure, reliable and sustainable networking solutions "Made in Germany".
Secure connectivity for large networks
The LANCOM 7100+ VPN is a central site VPN gateway that provides VPN connections for up to 100 sites as standard and upgrades to support up to 200 VPN connections. This connects numerous branch offices and mobile employees to your company network, with other benefits including high performance and future viability.
Secure site connectivity via VPN
The LANCOM 7100+ VPN offers high levels of security. The standard equipment of 100 IPSec VPN channels guarantees strongest encryption of the communications between your sites, secure connections for mobile employees, and protection of corporate data. The LANCOM VPN option upgrades the central site gateway to support 200 VPN channels. This ensures that your network is perfectly scalable and can grow on demand - without needing additional hardware.
Advanced Routing & Forwarding
The LANCOM 7100+ VPN provides up to 256 securely isolated IP contexts, each of which has its own separate routing. This is an elegant way of operating IP applications with one central router while keeping the different communication channels securely separated from one another.
Continuous status monitoring
A display on the front of the device provides a continuous overview of various information including the temperature, CPU load, and active VPNs. Without even starting your computer, you can see in an instant if your network is operating properly or if you need to act.
Upgrade options
With the LANCOM 7100+ VPN, your network can do even more. The LANCOM Public Spot option upgrades the device to a hotspot gateway for deploying a user-friendly but secure hotspot. Even more security for the network comes with the LANCOM Content Filter, which blocks access to undesirable Internet content.
Security Made in Germany
In a market with a strong presence of American and Asian products, LANCOM offers maximum security "Made in Germany". The entire LANCOM core product range is developed and manufactured in Germany and tested according to the highest standards of security, data protection and quality. The company's own "closed-source" operating system LCOS is developed at the company headquarters in Germany. Our in-house team of developers works in a highly secure environment as certified by the BSI (German Federal Office for Information Security) - all of which is subject to the highest standards of security, encryption, and quality.
Systematic networking solutions
LANCOM central site VPN gateways are the basis for secure encrypted site connectivity and high-speed Internet access. As professional system components, they are fully compatible to all LANCOM network devices and they facilitate flexible scaling and expansion when combined with further LANCOM components. The result is a secure and flexible all-round solution that you can rely on. The overall network down to each individual device can be managed and monitored from one central instance - for a solution that is systematic.

Maximum agility with LANCOM SD-WAN
Get set with SD-WAN! Benefit from LANCOM SD-WAN and our holistic approach to gain even more agility in handling your site connectivity. Replace your traditional, static and manually configured network infrastructure by an automated, software-defined WAN.
VPN site connectivity for large network infrastructures with large numbers of external sites
Provides 100 VPN channels, upgradable to 200 per device
Advanced Routing & Forwarding with 256 VLAN/IP contexts
Status monitoring with the front-mounted display
Optional upgrades as a Public Spot gateway and Content Filter
Security Made in Germany
Maximum future compatibility, reliability and security
Inquiry
You have questions about our products or solutions, or are you looking for a LANCOM sales partner? Then let us know your wishes via contact form or feel free to contact us by phone.