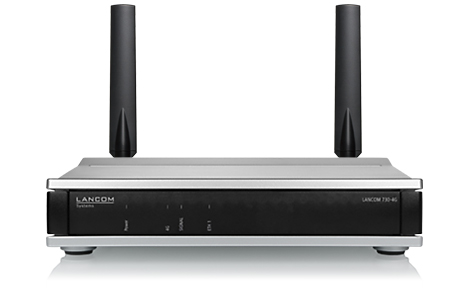 End of sale: LANCOM 730-4G
The versatile cellular router
The easy way to enhance your network infrastructure with LTE/4G for fast Internet at up to 100 Mbps. Whether it is used as a backup or even as the primary connection for small and medium-sized companies: This router easily integrates into networks and, thanks to Power over Ethernet, it can operate without an extra power supply unit. So you can position the device wherever the 4G signal is strongest.
Integrated LTE/4G modem for up to 100 Mbps
With an integrated cellular modem that supports LTE/4G, the LANCOM 730-4G supports wireless broadband connectivity with speeds up to 100 Mbps. It is also ideally suited for intelligent backup scenarios.
Support of VRRP
Thanks to VRRP support, the LANCOM 730-4G supplies an LTE connection to other gateways within the network within seconds.
Gigabit Ethernet with PoE
The LANCOM 730-4G has a PoE-enabled Gigabit Ethernet port. This makes it quick and easy to integrate into the network and the device can be freely positioned wherever the 4G signal is strongest.
Full integration into the LANCOM Management Cloud
The LANCOM 730-4G is effortlessly managed and monitored by the LANCOM Management Cloud. The LANCOM Management Cloud is the world's first management system for the intelligent organization, optimization and control of your entire network. This radically simplifies the management of installations, from small to very large scenarios.
Security Made in Germany
In a market with a strong presence of American and Asian products, LANCOM offers maximum security "Made in Germany". The entire LANCOM core product range is developed and manufactured in Germany and tested according to the highest standards of security, data protection and quality.
The company's own "closed-source" operating system LCOS is developed at the company headquarters in Germany. Our own team of developers works in a highly secure environment as certified by the BSI (German Federal Office for Information Security), all of which is subject to the highest standards of security, encryption, and quality.
Maximum future-proofing
LANCOM products are based on professional expertise, years of experience in IT, and high-quality materials. All of our devices are equipped with hardware that is dimensioned for the future and, even reaching back to older product generations, updates to the LANCOM Operating System family are available several times a year, free of charge. This guarantees a long service life while staying technically up to date, which represents a true protection of your investment.
Standalone 4G router
With the LANCOM 730-4G you supplement your local network with a wireless LTE/4G Internet connection offering up to 100 Mbps. Operated as a standalone Internet access router, it is ideal for sites without a wired Internet connection.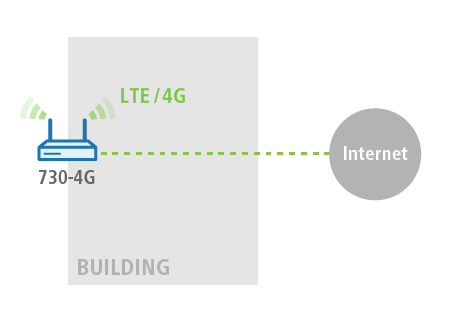 Backup via 4G with IPoE
PoE allows the LANCOM 730-4G to be positioned exactly where the best LTE/4G signal is available—without any need for costly cabling for a power supply or external LTE/4G antennas. Should your primary connection via DSL go down, the gateway falls back on the up to 100 Mbps provided by the LTE/4G of the LANCOM 730-4G until the DSL connection is available again. Data is exchanged via the transparent network connection (IPoE) between the LANCOM router and the LANCOM 730-4G.
Do you need help with the configuration?
Setting up Internet access via an IPoE (plain Ethernet) connection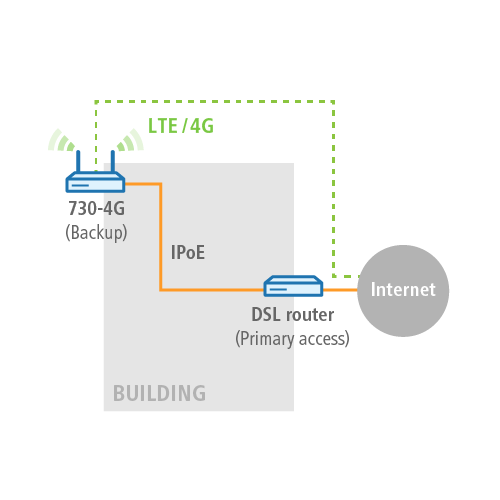 Backup via 4G by means of VRRP
Critical network infrastructures in particular benefit from a 4G backup by means of VRRP: In case of a failure of the main gateway (from any manufacturer) or of the primary Internet connection, the Virtual Router Redundancy Protocol (VRRP) immediately switches to the LTE/4G backup Internet access provided by the flexibly positioned LANCOM 730-4G.
What this means is: Maximum failover reliability, because within seconds your network provides a high-performance Internet connection via LTE/4G at up to 100 Mbps.
Do you need help with the configuration?

Maximum agility with LANCOM SD-WAN
Get set with SD-WAN! Benefit from LANCOM SD-WAN and our holistic approach to gain even more agility in handling your site connectivity. Replace your traditional, static and manually configured network infrastructure by an automated, software-defined WAN.
Freely positionable LTE/4G network extension with up to 100 Mbps
Professional backup function when combined with a LANCOM router
Easily connected to a LANCOM router or PoE switch
Gigabit Ethernet
Full integration into the LANCOM Management Cloud
Powered by PoE or power supply unit
Also operates as a stand-alone LTE/4G router
Backwards compatible to older cellular standards (3G/4G)
Inquiry
You have questions about our products or solutions, or are you looking for a LANCOM sales partner? Then let us know your wishes via contact form or feel free to contact us by phone.