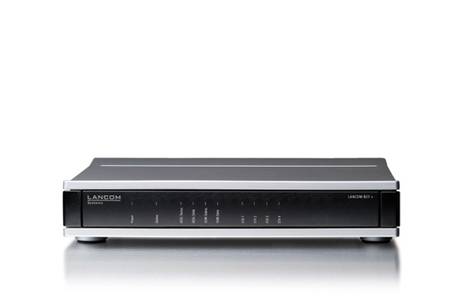 Small business internet access router for ADSL2+
LANCOM 821+ is the ADSL2+ router that opens up broadband Internet access for entire networks. The highly integrated networking components for small businesses and managed networks offer all of the functions necessary for connecting sites or smaller subsidiaries to the Internet—in one compact device.
More Security.
The integrated firewall with the latest security functions such as stateful inspection, Intrusion Detection and Denial- of-Service protection will screen your network safely and reliably from attacks from the Internet. A comprehensive range of backup options and high-availability functions over ISDN and VRRP are supplemented by bandwidth management, all of which guarantees trouble- free operations around the clock.
More Professionalism.
The management systems LANconfig and LANmonitor are included and offer not only cost- effective remote maintenance of entire installations and highly convenient setup wizards, but also full real- time monitoring and logging. Further, service providers benefit from the broad range of scripting methods and professional access for administrators via SSH, HTTPS, TFTP and ISDN dial- in.
More Benefits.
Comprehensive installation wizards with preset input masks offer rapid installation of the various functions. LANconfig and LANmonitor are management systems included to allow professional administration and convenient monitoring of all relevant parameters. For larger projects, rollout mechanisms and multiple individual administration accounts are available.
More Certainty for the Future.
From the very start, LANCOM products are designed for a product life of several years. They are equipped with hardware dimensioned for the future. Even reaching back to older product generations, updates to the LANCOM Operating System—LCOS—are available several times a year, free of charge and offering major features. LANCOM offers unbeatable protection of your investment!
Integrated ADSL2+ modem
Stateful- inspection firewall with intrusion detection/denial-of- service protection
Integrated ADSL2+ modem for speeds of up to 24 Mbps
Central management of configuration and administration of large installations
Load balancing with up to two WAN connections
ISDN interface for remote access, remote configuration and dial-backup
4 separable switch ports
Inquiry
You have questions about our products or solutions, or are you looking for a LANCOM sales partner? Then let us know your wishes via contact form or feel free to contact us by phone.