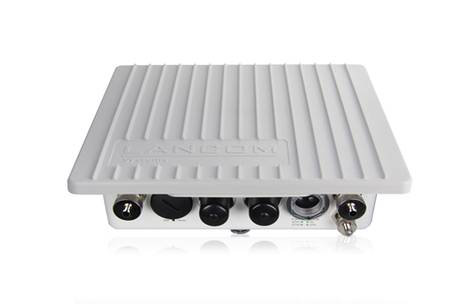 End of sale: LANCOM OAP-321-3G
Outdoor 3G router with WLAN for mobile broadband connectivity under extreme conditions
The outdoor router LANCOM OAP-321-3G has a built-in HSPA+ module and 802.11n wireless LAN. On cellular networks the router achieves data rates of up to 21 Mbps downstream and 5.76 Mbps upstream. Its rugged outdoor housing makes the device ideal for connecting outdoor applications where wired broadband access is not available: Applications include the video surveillance of open areas by IP video camera, or the provision of network connectivity to remote locations such as wind turbines or construction sites. The built-in GPS function makes the LANCOM OAP-321-3G ideal for mobile applications. The device features a Gigabit Ethernet port and numerous features such as IPSec VPN, Multi-SSID and VLAN support.
The LANCOM OAP-321-3G uses cellular networking to integrate stationary and mobile applications into networks. Thanks to its robust housing, it withstands even extreme weather conditions. For example, the device enables a standalone video surveillance system to be implemented with HSPA+ and VPN, whereby the solar-panel powered cellular router transmits the data from the IP camera. The device is also ideal for mobile applications where emergency services require a fast VPN connection to the control center.
More flexibility.
The LANCOM OAP-321-3G offers exceptional flexibility for providing connectivity to remote areas. Thanks to the high coverage of cellular networks, the device guarantees Internet connectivity almost everywhere. Where HSPA+ is not available, the cellular modem is backwards compatible to the standard UMTS, EDGE and GPRS. The wireless LAN radio module can operate in the 2.4- and 5-GHz frequency ranges.
More security.
The stateful- inspection firewall in the LANCOM OAP-321-3G protects the network with intrusion prevention, denial-of-service protection, and access control by means of MAC or IP address. Flexible bandwidth management guarantees the availability of all network applications as these can be prioritized with a comprehensive range of Quality-of-Service features. The VPN gateway in the LANCOM OAP-321-3G with its 5 simultaneous IPSec channels and high-security encryption by 3-DES or AES provides optimal security for VPN connections. Thanks to IPSec-over-HTTPS (based on the NCP VPN Path Finder technology) secure VPN connections are also available through firewalls and in cellular networks. For mobile applications and installation in public places, the LANCOM OAP-321-3G features an integrated GPS module to determine the position of the device. This can function as an anti- theft measure: for example, the router can transmit its current position via email or stop operating if its location is changed.
More management.
LCMS, the LANCOM Management System, is a free software package for the LANCOM OAP-321-3G. It caters for the configuration of the device, remote maintenance and network monitoring. The central component of LCMS, LANconfig, is used to configure the LANCOM OAP-321-3G and other LANCOM devices on the network. LANmonitor offers detailed, real-time monitoring of parameters, it provides access to log files and statistics, and it can carry out a detailed trace-protocol analysis. Other functions in LCMS include the firewall GUI for object-oriented setup of the firewall, automatic backup of configurations and scripts, and the intuitive folder structure with convenient search function.
More reliability for the future.
From the very start, LANCOM products are designed for a product life of several years. They are equipped with hardware dimensioned for the future. Even reaching back to older product generations, updates to the LANCOM Operating System—LCOS—are available several times a year, free of charge and offering major features. LANCOM offers unbeatable safeguarding of your investment.
Connection of stationary and temporary outdoor applications via HSPA+ (UMTS/EDGE/GPRS)
GPS positioning secures the device even for mobile applications
IP-66 housing and extended temperature range from -33°C to +70°C
For highest performance networks: 802.11n WLAN, Multi SSID, Gigabit Ethernet and VLAN
VPN site-to-site connectivity with 5 simultaneous IPSec VPN channels (25 channels optional)
IPSec-over-HTTPS for secure VPN connections via cellular networks
Power supply LANCOM OAP-320 PSU optionally available
Inquiry
You have questions about our products or solutions, or are you looking for a LANCOM sales partner? Then let us know your wishes via contact form or feel free to contact us by phone.