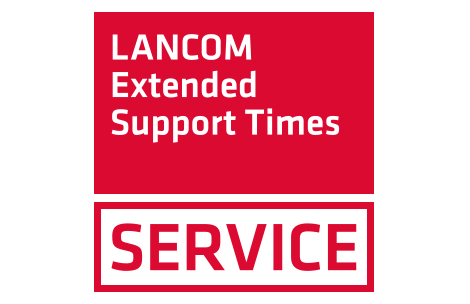 LANCOM Extended Support Times
Availability to you for longer – exclusive standby support outside of regular business hours
The LANCOM Extended Support Times are our assurance to you that LANCOM Support is on standby for you outside of normal business hours. Whether it's after work, over the weekend, or on public holidays—you can service your network infrastructure secure in the knowledge that LANCOM Support is at your side.
Maintenance with peace of mind
Maintenance is often conducted outside of business hours, and it don't always run smoothly. Give yourself peace of mind for your planned network upgrades with the LANCOM Extended Support Times voucher.
Exclusive standby support
With the Extended Support Times voucher, you benefit from LANCOM Standby Support on weekdays from 5:00 PM until midnight, and on weekends and holidays from 10:00 AM to 6:00 PM (all times CET). A LANCOM employee will exclusively take care of your needs throughout this period.
Minimum response times
By booking Extended Support Times you are guaranteed a fast response, because a colleague from LANCOM Support is on standby and available for your support case throughout the time you booked.
Working free of customer and visitor traffic
If you need to adjust your network settings or integrate new devices, the best time to do this is when there is no customer and visitor traffic. Even at these unusual times, a voucher gives you access to LANCOM Support, so enabling you to avoid any potential network outages or loss of revenues during your core business hours.
Conditions
Pre-registration of at least 2 days in advance
Minimum purchase: 1 hour
One voucher corresponds to an availability period of 1 hour. Please contact us for a detailed arrangement via e-mail or telephone.
Appointment arrangement via telephone
The LANCOM service hotline can be contacted via:
+49 (0)2405 49936-210
Appointment arrangement via e-mail
Please include your voucher number in the subject line of your e-mail to: services@lancom.de
LANCOM service hours
The extended service times are available:
Weekdays between 5pm and 12pm (CET)
On weekends and holidays from 10am to 6pm (CET)
Are you interested in one of our service and support products? Order here*:
If you need any help do not hesitate to contact our support team:
LANCOM Support Team
Telefone: +49 (0) 2405 / 49 93 6-210


*Please note that the form is currently only available in german