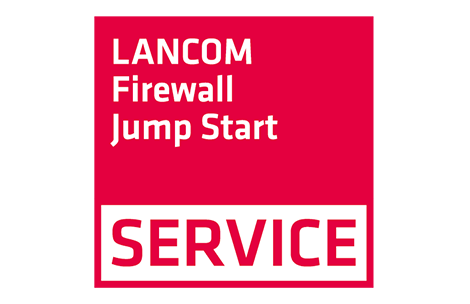 LANCOM Firewall Jump Start
Remote support for the initial setup of your firewall
The LANCOM Firewall Jump Start gives you competent support when you set up your LANCOM R&S®Unified Firewall for the first time. An experienced technician is "at your side" while you set up your firewall—no experience with firewalls on your part is required. In a joint remote session, the technician guides you through the initial setup process for a predefined LANCOM scenario, so you get first-hand experience of best practices with the demonstration of, among other things, how to activate UTM features such as the application filter and anti-virus.
Initial setup by remote session
The LANCOM Firewall Jump Start gives you competent support when you set up your LANCOM R&S®Unified Firewall for the first time. Using remote access, an experienced technician joins you to help you step-by-step to commission your firewall.
Operational firewall
On completion of the LANCOM Firewall Jump Start session, your firewall is operational. From then on, you will be able to fine-tune the configuration of the LANCOM R&S®Unified Firewall by making additional settings that meet your individual needs.
Discovering the essential elements of your firewall
Be it the intuitive setup wizard, user-friendly web interface or vital functions such as Unified Threat Management (UTM), monitoring & statistics, license manager or the update function of the firewall: You will gain a first impression of the menu navigation and the operating concept behind your firewall.
Setting up a scenario predefined by LANCOM
LANCOM provides you with the main scenarios that meet the needs of a wide range of users. You benefit directly from established best practice. Furthermore, you will gain an overview of the firewall's advanced capabilities and derive your own individual adjustments.
Cloud-managed firewall
LANCOM R&S®Unified Firewalls have been cloud-ready since the release of the firewall operating system LCOS FX 10.4. Is your network infrastructure already based in the LANCOM Management Cloud (LMC)? If so, the technician will help you to integrate your firewall into your LMC project (provided the device has the necessary license).
Final report
You will receive a final report about the completed configuration along with a shared backup.
Product features
Remote session for the initial setup of a LANCOM R&S®Unified Firewall (equivalent to approx. 1/2 working day)
Setting up a suggested scenario as predefined by LANCOM
Sharing of best practices and important firewall elements such as the setup wizard, user interface, UTM functions, monitoring & statistics
Demonstration of the license manager and the update function of the firewall
Integration of the firewall into your existing LANCOM Management Cloud project or Command Center installation (optional)
Final report on completed configurations
Provision of a backup configuration file
Services provided by LANCOM or a qualified subcontractor (subject to availability)
Appointment arrangements via telephone
The LANCOM service hotline can be contacted via: +49 (0)2405 49936-210
Appointment arrangement via e-mail
Please include your voucher number in the subject line of your e-mail to: services@lancom.de
LANCOM service hours
The LANCOM service hotline is available Mondays to Fridays from 9 am to 5 pm CET (except local holidays Würselen, Germany).
LANCOM Config Service On-Site vouchers are valid in the following countries: DE/AT/CH/BE/NL/LU
Are you interested in one of our service and support products? Order here:
If you need any help do not hesitate to contact our support team:
LANCOM Support Team
Phone: +49 (0) 2405 / 49 93 6-210