LANCOM OAP VPN Option
The LANCOM OAP VPN Option upgrades the LANCOM OAP-1702B with VPN functionality. This way, up to 5 secure IPSec VPN tunnels can be used for a safe remote management of the outdoor access points - especially ideal for providers and hotspot operators who want to manage their devices from a distance. In addition to that, a reliable WLAN can be established via a securely encrypted VPN tunnel to the headquarters.
Software upgrade for the LANCOM OAP-1702B with VPN functionality
Setup of up to 5 encrypted IPSec VPN channels
Enables a secure maintenance and a professional remote management of outdoor access points
Enables a confidential data transfer via unencrypted networks between outdoor access point and gateway
LANCOM OAP-1702B
Dual Concurrent 11ac-WiFi Access Point with eight antennas for an excellent outdoor Wi-Fi experience with a high number of wireless clients.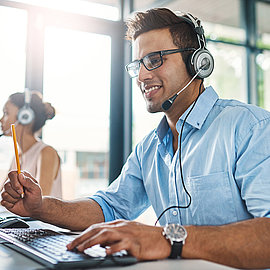 Most questions can be resolved best in direct contact: We look forward to answering your questions and requests by phone or via the contact form.
Inside Sales International Team
+49 (0)2405 49936 122