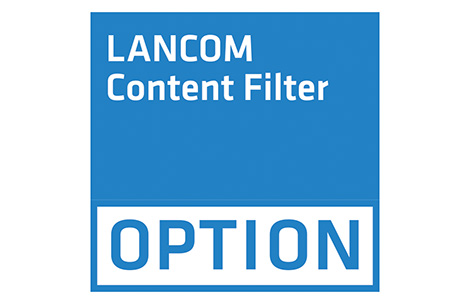 LANCOM Content Filter Option
Optimal protection against network abuse
The LANCOM Content Filter provides an effective solution that protects networks from abuse, prevents the inappropriate use of bandwidth, and blocks malware downloads. Blocking undesirable and illegal Internet content protects business integrity and it minimizes liability risks at the same time.
Note: The LANCOM Content Filter is an upgrade option for LANCOM VPN routers, central-site VPN gateways, and WLAN controllers.
Category-based web filter
Time- and profile-based configuration
Extensive usage statistics
Category-based overrides for web pages and sites
Additive licenses for 10, 25 or 100 users
Available for LANCOM VPN routers, central-site VPN gateways, and WLAN controllers
Simply upgrade your existing device and save on hardware components
Protection against network abuse
The LANCOM Content Filter ensures that network bandwidth is completely reserved for business operations, while websites with spyware, phishing, viruses, etc., are securely blocked. The Content Filter uses a database-driven web-filter technology, with an external evaluation server that checks the requested sites online and rates the actual content. The administrator is free to configure which thematic categories are blocked and which are accessible. Three default security profiles—basic, company, protection of minors—make it quick and easy for you to introduce this solution.
Customized time- and profile-based configuration
Using the LANCOM Content Filter, the permission to access websites from within a network can be freely configured according to the time and user. An individual configuration is defined for each workstation. For example, content that is blocked during core business hours can be free to access during the lunch break. It is also possible to create profiles for individual users based on the IP or MAC addresses so that, for example, Internet content that is relevant to their work is unlocked for the persons concerned.
Comprehensive statistics for a clear overview
The LANCOM Content Filter provides an extensive range of statistics. For example, you can create top-10 lists for any period of time to indicate the access statistics for allowed sites, blocked sites, and override URLs. Ratings can be carried out according to categories. Statistics are not related to individual persons, which is important for the adherence to strict privacy guidelines.
Category-based overrides for websites
The override button permits temporary access to blocked websites. This enables access to blocked URLs for a limited period of time without having to make changes to the configuration. Overrides can be activated for each category and are optionally logged by e-mail, SYSLOG and SNMP. This is a useful feature when users have justifiable reasons to want or need to access certain websites.
Effective protection for large and small
The Content Filter is licensed by the number of users. The LANCOM device determines the number of users by counting the IP addresses that receive filtered content. By licensing according to size you can adjust precisely to your actual network and, if necessary, you can conveniently handle a growth in demand.
Easy upgrades
The LANCOM software options turn a simple network into a customized and cost-efficient solution that meets your individual needs. Simply install them on your existing hardware and you upgrade your network with the desired feature. The advantage: No additional hardware components are required. The costs and the administration overhead of the entire network are reduced. Genuine added value comes in terms of the system's future viability, because the options transform a network into a customized and scalable networking solution.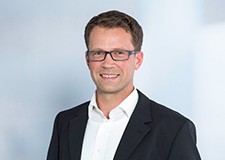 Inquiry
You have questions about our products or solutions, or are you looking for a LANCOM sales partner? Then let us know your wishes via contact form or feel free to contact us by phone.


Inside Sales International Team
Phone: +49 (0)2405 49936 122