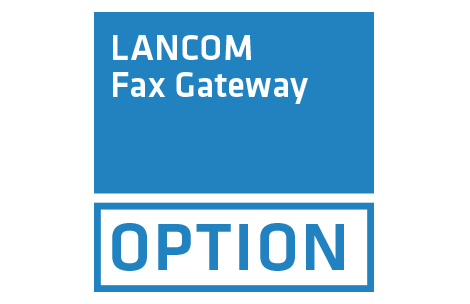 LANCOM Fax Gateway Option
The professional solution for fax servers
Receive and send fax via the LANCOM router
Send 2 – 8 faxes in parallel depending on the router model
"Hard fax" in the router—no problems with server updates or system maintenance
Significantly more stable fax transmission in the LAN
Ideal for server virtualization, migration and backup
Unified Communications (UC) promises a revolution by providing us with communications media wherever we are. And yet many UC-solution providers are strangely quiet about a core element of business communications: Fax support. The seamless integration of fax into everyday business provides considerable benefits:
Employees receive faxes directly in their e-mail inbox, and documents can be sent by fax immediately after writing—there's no need for printing out or archiving. Fax messages can be received at mobile devices and at the home office. There is no need for you to dial a fax number; you simply select a contact from your address book. Incoming faxes are automatically forwarded to the relevant contact person.
The LANCOM Fax Gateway Option enables up to eight faxes to be sent and received simultaneously via the LANCOM router. No ISDN boards, no fax modems—thanks to this robust hard-fax solution for fax servers, your LANCOM with its Fax Gateway Option makes it convenient, efficient and reliable to send and receive fax in the whole of your network.
Do you have further questions about this product or want a personal contact?
LANCOM Presales Team
Phone: +49 2405 / 49 93 6-260


Do you need help with the configuration of our products?
In our Knowledge Base you can find help and precise instructions on how to use all LANCOM products. For more professional assistance visit our Support portal: