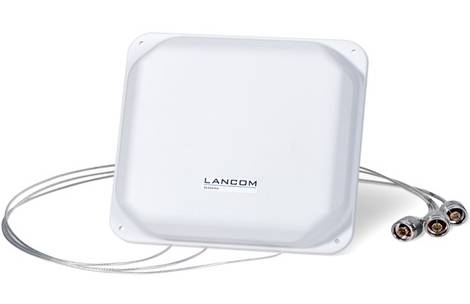 Dual-band WLAN sector antenna with 90° beam angle and 3x3 MIMO
The weatherproof AirLancer ON-T90ag sector antenna is ideal for WLAN coverage over larger areas, including warehouses and factories. With a beam angle of approx. 90° it is also suitable for connections to several surrounding buildings (point-to-multipoint). With 3x3 MIMO support, it ensures maximum performance for reliable WLAN client connectivity in difficult environments, especially where reflections and scattering occur. It is ideal in combination with dual-radio access points to offer parallel operation at 5 GHz with 2x2 MIMO and 2.4 GHz with 1x1 MIMO.
WLAN sector antenna with approx. 90° beam angle and +6 dBi at 2.4 GHz and +5 dBi gain at 5 GHz
3x3 MIMO technology for reliable WLAN coverage in harsh environments with up to 1,300 Mbps
2x2 + 1x1 MIMO operation with LANCOM dual-radio access points for parallel operation at 2.4 and 5 GHz
Which antenna fits to which access point?
This system diagram shows the various connection option of our new antenna and accessory portfolio with LANCOM access points.


What´s special: The different LANCOM outdoor antennas can also be connected to LANCOM indoor access points with the adapter AirLancer AN-RPSMA-NJ.
Do you have further questions about this product or want a personal contact?
LANCOM Presales Team
Phone: +49 2405 / 49 93 6-260


Do you need help with the configuration of our products?
In our Knowledge Base you can find help and precise instructions on how to use all LANCOM products. For more professional assistance visit our Support portal: