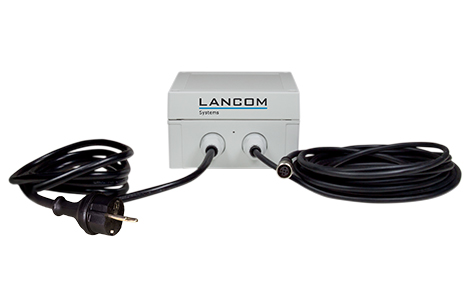 End of Sale: LANCOM OAP-320 PSU
Outdoor power supply kit for LANCOM OAP-3G and LANCOM OAP-321-3G
Where no 10-28V power supply is available, the LANCOM OAP-320 PSU makes an easy installation of LANCOM OAP-3G and LANCOM OAP-321-3G possible. The power supply kit consists of an 24 V power unit in an outdoor IP66 housing and weather-proof cables. A practical wall mount is integrated in the housing.
24V power supply in an weather-proof IP66 housing
For the connection to the 230 V power supply
Including water-proof cables: M12 cable (15 m) for the connection to the router and 3 m power supply cable
Integrated wall mount
Temperature range from -20 °C to +40 °C
The LANCOM OAP-320 PSU can be used with the following devices:
LANCOM OAP-322
LANCOM OAP-3G
LANCOM OAP-321-3G
Inquiry
You have questions about our products or solutions, or are you looking for a LANCOM sales partner? Then let us know your wishes via contact form or feel free to contact us by phone.