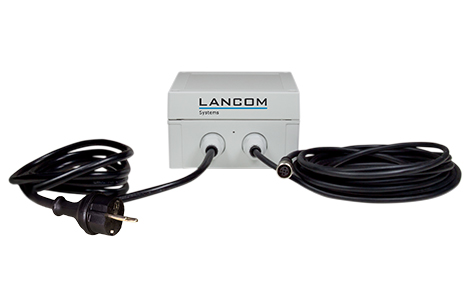 Outdoor power supply kit for LANCOM OAP-3G and LANCOM OAP-321-3G
Where no 10-28V power supply is available, the LANCOM OAP-320 PSU makes an easy installation of LANCOM OAP-3G and LANCOM OAP-321-3G possible. The power supply kit consists of an 24 V power unit in an outdoor IP66 housing and weather-proof cables. A practical wall mount is integrated in the housing.
24V power supply in an weather-proof IP66 housing
For the connection to the 230 V power supply
Including water-proof cables: M12 cable (15 m) for the connection to the router and 3 m power supply cable
Integrated wall mount
Temperature range from -20 °C to +40 °C
The LANCOM OAP-320 PSU can be used with the following devices:
LANCOM OAP-322
LANCOM OAP-3G
LANCOM OAP-321-3G
Do you have further questions about this product or want a personal contact?
LANCOM Presales Team
Phone: +49 2405 / 49 93 6-260


Do you need help with the configuration of our products?
In our Knowledge Base you can find help and precise instructions on how to use all LANCOM products. For more professional assistance visit our Support portal: