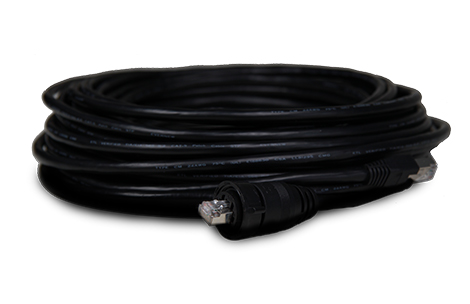 LANCOM OAP Ethernet Cable
Weatherproof Ethernet cable for outdoor use
This 30m-long LANCOM OAP Ethernet cable reliably connects outdoor access points to the network. The cable has a waterproof connector that enables PoE-enabled access points to be reliably powered by a PoE switch, even far away from the nearest power outlet—without any loss of performance. The UV-resistant coating protects the cable from weathering.
Professional networking even outdoors
The LANCOM OAP Ethernet cable is ideal for reliably connecting outdoor access points to the network. At 30 meters in length the cable is long enough to allow the device to be positioned for optimal WLAN coverage, and yet there is no loss in performance.
PoE connections outdoors
Even away from power sockets, this Ethernet cable ensures an optimal supply of power to outdoor networks. The cable has waterproof connectors and powers the LANCOM outdoor access points from a Power over Ethernet-enabled switch.
Waterproof cable material
The weather-resistant coating ensures that the LANCOM OAP Ethernet cable has a long service life. It stands up to the toughest weather conditions thanks to a temperature range from -40 to +75°C and the UV-resistant PVC sheath.
Prevents short-circuits
The waterproof RJ45 connector effectively protects the cable and the outdoor access point from the wet.
Do you have further questions about this product or want a personal contact?
LANCOM Presales Team
Phone: +49 2405 / 49 93 6-260


Do you need help with the configuration of our products?
In our Knowledge Base you can find help and precise instructions on how to use all LANCOM products. For more professional assistance visit our Support portal: