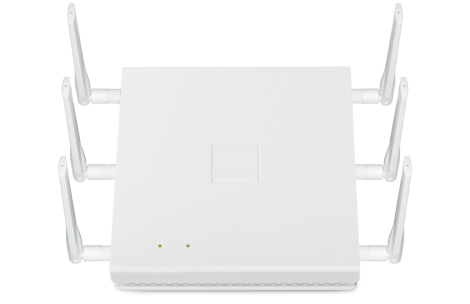 End of Sale: LANCOM LN-1702
The access point for exacting requirements
Go for future-proof planning and outstanding Wi-Fi with Wave 2 technology (Wi-Fi 5). Especially in large-scale infrastructures where numerous concurrent users demand stable and high-speed Wi-Fi, this high-performance access point offers optimal signal coverage. Even winding corridors are supplied with high data rates, made possible by external, directional antennas. Reliable wireless networking even in high-density environments is an essential factor for keeping customers and visitors satisfied. Reason enough for you to trust in reliable and secure Wi-Fi "Made in Germany".
Dual concurrent Wi-Fi – parallel operation at 2.4 and 5 GHz with up to 1733 Mbps with IEEE 802.11ac Wave 2 and 450 Mbps with IEEE 802.11n
4x4 Multi-User MIMO for simultaneous beam-steering for multiple Clients
Beamforming steers the signal towards the Wi-Fi clients
Supports 160-MHz channel width
Dynamic WLAN optimization thanks to LANCOM Active Radio Control (ARC)
Powerful WLAN diagnostics with Spectral Scan
Professional security features such as IEEE 802.1X
SD-WLAN – automatic WLAN configuration via the LANCOM Management Cloud
Integrated layer-7 application detection
Straight-lined design with external antennas
Dual concurrent Wi-Fi with up to 1733 Mbps
The LANCOM LN-1702 features two Wi-Fi radio modules, one offering IEEE 802.11ac Wave 2 and the other offering IEEE 802.11n. This provides fast Wi-Fi to 11n-clients in the 2.4-GHz frequency band and also the growing number of modern 11ac-enabled devices in the 5-GHz band.
4x4 Multi-User MIMO
Multi-User MIMO (MU-MIMO for short) simultaneously distributes all of the available spatial streams of the LANCOM LN-1702 between several different Wave 2 clients, rather than one after the other as was formerly the case. The available bandwidth is used efficiently and delays in the wireless network are substantially reduced.
Beamforming
The LANCOM LN-1702 uses beamforming to actively steer the signal to the clients and minimize interfering radio signals for other clients. In combination with MU-MIMO, the clients receive dedicated spatial streams with a minimum of interference, which positively influences the data rates for all of the clients.
160 MHz Bandwith
Increasing the channel width from 80 to 160 MHz doubles the performance for Wave 2 clients. By optimizing the use of the radio spectrum, a client can be supplied with a data rate of up to 1733 Mbps.
Active Radio Control for dynamic radio-field optimization
The LANCOM LN-1702 supports the WLAN optimization feature LANCOM Active Radio Control. This intelligent combination of innovative features included with the LCOS operating system - such as Band Steering, Adaptive Noise Immunity, Adaptive RF Optimization, Airtime Fairness and Client Steering - sustainably increases WLAN performance and supports administrators with professional tools for WLAN management.
Powerful WLAN diagnostics with Spectral Scan
The Spectral Scan function enables the LANCOM LN-1702 to search its radio field for interference sources, so providing a professional tool for efficient WLAN troubleshooting. By scanning the entire frequency spectrum, sources of interference in the radio field can be identified and displayed graphically.
Security for wireless networks
With numerous integrated security features, such as IEEE 802.1X, this enterprise-class access point provides optimal security for networks. Administrators and employees alike benefit from professional security policies on the network.
Operation via LANCOM Management Cloud, WLAN controller or stand-alone
The LANCOM LN-1702 can be versatilely operated: Managed via the LANCOM Management Cloud it is integrated into a comprehensive, automized network orchestration, based on Software-defined Networking technology. It can also be operated via a LANCOM WLAN controller or be applied in stand-alone oparation.
Layer-7 application detection
Knowing what the bandwidth in your network is actually being used for can be crucial in any industry. Layer-7 application detection gives you a completely transparent overview. This means that the user-friendly LANCOM Management Cloud delivers clear and professional insight into exactly which applications (such as YouTube, Netflix, etc.) are operating anywhere on the network - true added value for all-round network monitoring.
Straight-lined design with external antennas
The white LANCOM LN-1702 with external antennas has a fascinating, puristic elegance. Its modern design is ideal for operation in any industry as it blends seamlessly into any environment. It also has connectors for external antennas for maximum flexibility and tailor-made Wi-Fi coverage, whatever your needs.
Inquiry
You have questions about our products or solutions, or are you looking for a LANCOM sales partner? Then let us know your wishes via contact form or feel free to contact us by phone.