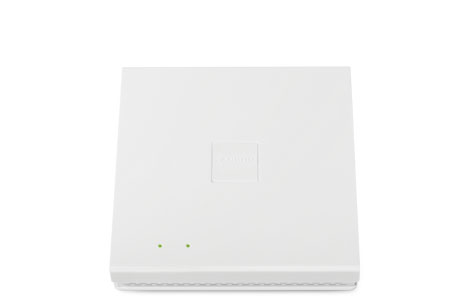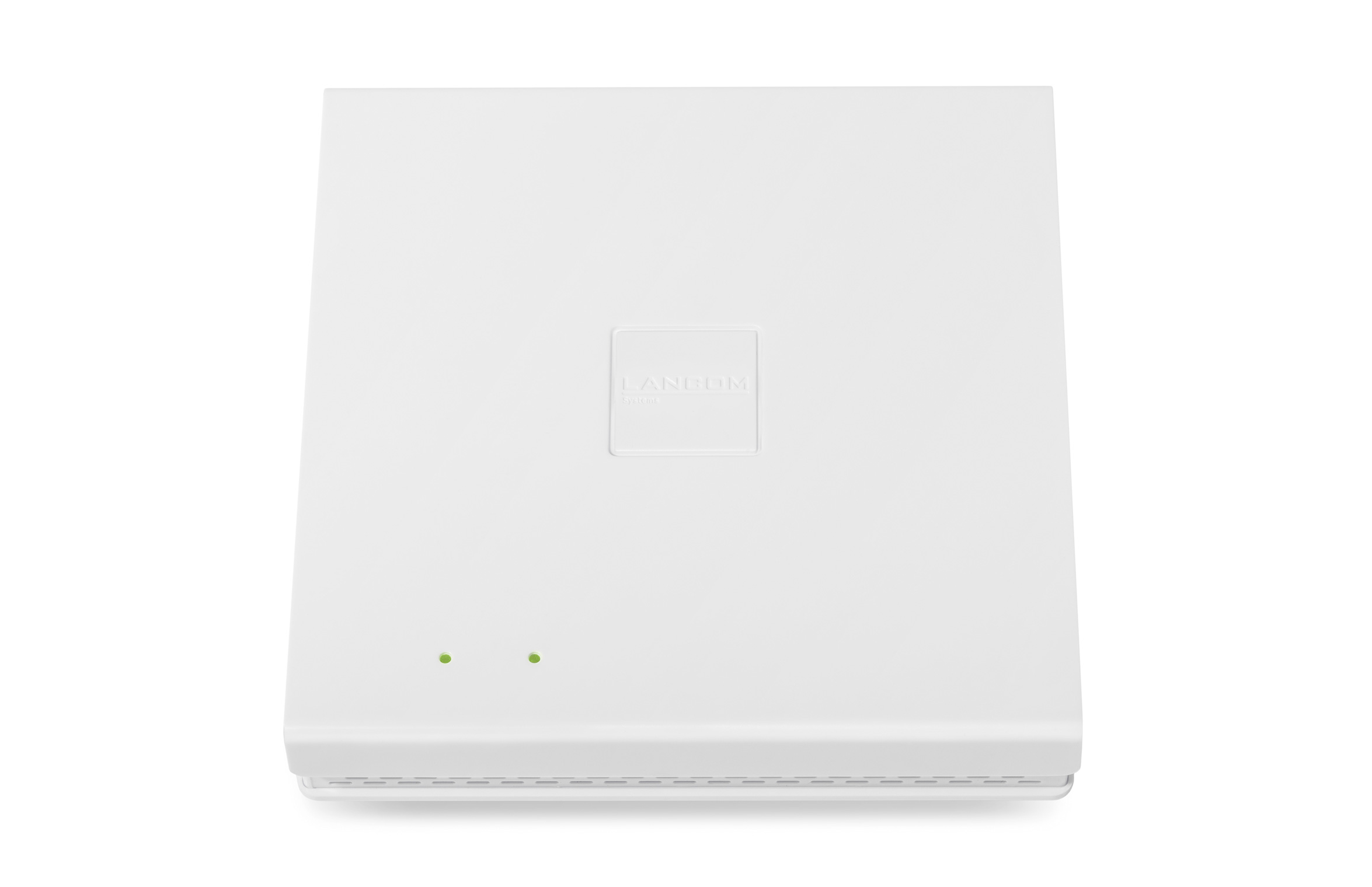 High efficiency Wi-Fi 6 for large numbers of clients
In high-density environments, wireless networks with many concurrent users—such as at schools, universities, sports stadiums, concert halls, open-plan offices, shopping centers, or environments with a high density of IoT devices—are guaranteed an excellent Wi-Fi experience when operating the LANCOM LX-6400. This Wi-Fi 6 access point offers low latency and high throughput for every client, even with large numbers of concurrent users. So put your trust in high-efficiency wireless—made by LANCOM, "Made in Germany".
Dual concurrent Wi-Fi – parallel operation at 2.4 GHz and 5 GHz with Wi-Fi 6 (IEEE 802.11ax)
4x4 multi-user MIMO for simultaneous beam-steering for multiple clients in down- an uplink mode
OFDMA for efficient Wi-Fi channel usage
Significantly longer battery life thanks to TWT
8 integrated 180° antennas
Automated operation via the LANCOM Management Cloud (LMC)
Power supply optionally by Power over Ethernet (IEEE 802.3at) or power-supply unit (included)
1x 2.5-Gigabit Ethernet PoE port ( IEEE 802.3at for up to 30 Watt), 1x Gigabit Ethernet port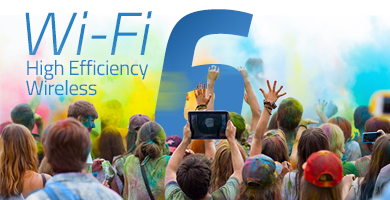 Explore the new Wi-Fi 6 standard!
Celebrate the solution to high-density environments and a growing Internet of things: Wi-Fi 6 ensures lower latency and increases the average throughput per Wi-Fi client by making more efficient use of the available bandwidths.
Dual concurrent Wi-Fi with up to 2400 Mbps
The LANCOM LX-6400 offers the Wi-Fi 6 standard (IEEE 802.11ax) for clients in the 2.4- and 5-GHz bands. Wi-Fi 6 technology features an 80-MHz channel width and a higher modulation density with QAM-1024 to achieve transmission rates of up to 2400 Mbps at 5 GHz and simultaneously up to 1200 Mbps at 2.4 GHz.
4x4 Multi-User MIMO for downlinks and uplinks
Multi-user MIMO (MU-MIMO for short) simultaneously distributes all of the available spatial streams of the LANCOM LX-6400 between several different Wave 2 clients, rather than one after the other as was formerly the case. The available bandwidth is used efficiently and delays in the wireless network are substantially reduced. With Wi-Fi 6, MU-MIMO operates not only for the downlink but for the uplink as well.
OFDMA – carpooling in the radio field
Orthogonal Frequency Division Multiple Access (OFDMA) divides the frequency range of a Wi-Fi channel into a number of frequency blocks per unit of time. This creates subcarriers, which can be as narrow as just 2 MHz. Small data packets, so typical of IoT devices, no longer block entire 20-, 40- or even 80-MHz channels all by themselves. On the other hand, the Wi-Fi 6 access point is able to bundle multiple subcarriers. This is bit like carpooling, which stops the traffic being blocked by cars with just one occupant: Instead, the streets are freed up with just a few cars carrying several occupants.
160 MHz channel width
The access point can handle channel bandwidths of 20, 40 and 80 MHz (with 4 streams) and 160 MHz (with 2 streams). The channel width of 160 MHz ensures a data throughput of up to 2400 Mbps on appropriate terminals with two antennas that support the reception of two streams at 160 MHz.
Longer battery life thanks to TWT
Previously, smartphones, tablets and notebooks had to be ready to receive all the time so as not to miss their data packets. This can quickly use up battery charge. Wi-Fi 6 delivers a new technology to counteract power consumption on the client side. Target Wake Time, TWT for short, reduces consumption by allowing the access point and the client to negotiate exactly when the receiver should wake up to hear the sender's call.
Band steering
Optimized load balancing in your Wi-Fi by actively redirecting clients to the less congested and higher performance 5-GHz frequency band.
Operates via the LANCOM Management Cloud
The LANCOM LX-6400 offers unsurpassed user-friendliness: Managed through the LANCOM Management Cloud, it integrates into a holistic, automated network orchestration system based on software-defined networking technology.
Operation via WLC is in preparation
The LANCOM LX-6400 access point is due to operate with WLAN controllers as of early 2020. The alternative for centralized management is the LANCOM Management Cloud.
LANCOM security for wireless networks
With numerous integrated security features such as IEEE 802.1X, this enterprise-class access point provides optimal security for networks. Administrators and employees alike benefit from professional security policies on the network.
Versatile power supply
Thanks to the power supply via power over Ethernet as per IEEE 802.3at, the LANCOM LX-6400 operates at any PoE-powered Ethernet port. Alternatively, the access point operates with a power supply unit supplied with various plug adapters (EU, UK, US, AU).
Inquiry
You have questions about our products or solutions, or are you looking for a LANCOM sales partner? Then let us know your wishes via contact form or feel free to contact us by phone.