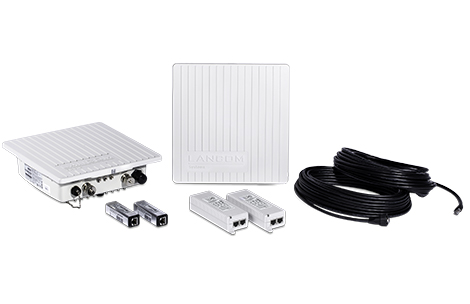 End of sale: LANCOM OAP-321 Bridge Kit
2x single operation outdoor 11n WLAN access points including accessories for reliable P2P connections
The practical LANCOM OAP-321 Bridge Kit enables the fast and efficient setup of reliable point-to-point links in the 5-GHz frequency range for networking remote buildings via WLAN.
Reliable outdoor P2P links
The two LANCOM OAP-321s supplied with the Bridge Kit enable the easy setup of reliable point-to-point links for linking extensive areas or for a secure connectivity of widely scattered buildings. Setting up a wireless network of this type needs no laborious cable installations or expensive leased lines.
Maximum reliability in all weathers
The LANCOM OAP-321 has a rugged IP66 protective housing, making it fully dust proof and water-jet resistant. It withstands temperatures between -33°C and +70°C to guarantee reliable operations even under extreme conditions.
Active Radio Control for dynamic radio-field optimization
The LANCOM OAP-321 supports the WLAN optimization concept LANCOM Active Radio Control. This intelligent combination of innovative features included with the LCOS operating system - such as Adaptive Noise Immunity, RF Optimization or Client Steering - sustainably increases WLAN performance and supports administrators with professional tools for WLAN management.
LANCOM security for wireless networks
With numerous integrated security features such as IEEE 802.1X, this outdoor access point provides optimal security for networks. Administrators and employees alike benefit from professional security policies on the network.
Support for zero-touch deployment
Quick and easy network integration of the outdoor access points as well as automatic assignment of the configuration - without manual configuration. For WLAN-controller or LSR-based installations, the access point receives the right configuration immediately after network authentication.
Maximum future-proofing
LANCOM products are designed for a service life of several years and are equipped with hardware dimensioned for the future. Even reaching back to older product generations, updates to the LANCOM Operating System - LCOS - are available several times a year, free of charge and offering major features.
Supplied: 2x OAP-321s, 2x PoE injectors, 2x 15m long outdoor Ethernet cables, 2x complete mounting kits for wall and pole mounting, as well as 2x LAN-side surge arrestors
Single operation WLAN – operation at 2.4 or 5 GHz with up to 300 Mbps
Integrated 5-GHz directional antenna and external antenna connectors for 2.4 GHz
Robust IP66 protective housing – reliable even at extreme temperatures (-33°C to +70°C)
Dynamic WLAN optimization thanks to LANCOM Active Radio Control (ARC)
Professional security features such as IEEE 802.1X
Zero-touch deployment with a LANCOM WLAN controller
Connectors for Gigabit Ethernet with Power over Ethernet as per IEEE 802.3af
Inquiry
You have questions about our products or solutions, or are you looking for a LANCOM sales partner? Then let us know your wishes via contact form or feel free to contact us by phone.