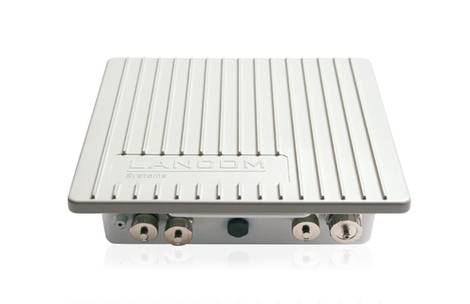 End of sale: LANCOM OAP-54-1 Wireless
Dual-band outdoor access point for bridging large distances, campus coverage or for establishing hotspots
The outdoor access point LANCOM OAP-54-1 Wireless has an integrated antenna and a strong protective housing to make it ideal for stable, high-performance wireless bridges. With transmission powers of up to 1000 mW EIRP in the 5-GHz band, point-to-point wireless links can operate over several kilometers.
54/108-Mbps radio module for IEEE 802.11a/h or 802.11b/g modes
Integrated directional antenna plus two external antenna connectors
Antenna gain: 2.4 GHz: 13.5 dBi, 5 GHz: 15 dBi
1000 mW EIRP permitted transmission power in the 5-GHz band
Professional management functions, Multi SSID, VLAN and QoS
Access point, bridge and client modes
Extremely robust protective housing
Temperature range -30°C to +70°C
Measures: 25.8 cm x 25 cm x 9.5 cm
Optional: Hotspot support
Inquiry
You have questions about our products or solutions, or are you looking for a LANCOM sales partner? Then let us know your wishes via contact form or feel free to contact us by phone.