LANCOM Wireless ePaper Premium Frame
Elegant rooms and modern environments have special requirements. That's why you can revalue our 7, 4 " LANCOM wireless ePaper displays with a matching stainless steel frame as quickly as effectively. Use the LANCOM wireless ePaper premium frame 7, 4 "as a design element and look forward to the quality finish of brushed stainless steel.Due to its material properties, the frames are light and resistant.
Digital Signage with LANCOM
Door signs, price labels, shelf labels, menu cards – information that used to have to be laboriously put on paper and continuously updated can now be transmitted quickly, standardized, and automated with digital signage. As electronic shelf labels, digital advertising posters or menus, and electronic door signs for meeting rooms, classrooms, and treatment rooms, the wireless ePaper displays from LANCOM can be effortlessly integrated into the WLAN and synchronized with calendar and merchandise management systems.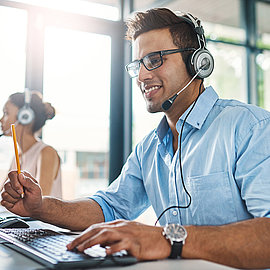 Most questions can be resolved best in direct contact: We look forward to answering your questions and requests by phone or via the contact form.
Inside Sales International Team
+49 (0)2405 49936 122