LANCOM Wireless ePaper Premium Mount 7.4"
The LANCOM Wireless ePaper Premium Mount 7.4" gives you greater freedom in the design of your digital room signage. It has a larger mounting surface, which makes it easy to attach the display even to smooth surfaces. Its gray coating is color-matched to the LANCOM Wireless ePaper Displays, so providing a uniform and discreet appearance from any angle.
A high standard of design and comfort is a must in modern workplaces and conference rooms. The use of glass design elements is on the increase, which can make the installation of digital signage more difficult. The display mount and the enclosed adhesive dots ensure that the LANCOM Wireless ePaper Displays 7.4" are securely mounted with a minimum of effort. The coordinated design means that the LANCOM Wireless ePaper Displays and the display mount blend in seamlessly from any angle.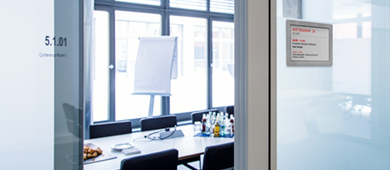 Digital Signage with LANCOM
Door signs, price labels, shelf labels, menu cards – information that used to have to be laboriously put on paper and continuously updated can now be transmitted quickly, standardized, and automated with digital signage. As electronic shelf labels, digital advertising posters or menus, and electronic door signs for meeting rooms, classrooms, and treatment rooms, the wireless ePaper displays from LANCOM can be effortlessly integrated into the WLAN and synchronized with calendar and merchandise management systems.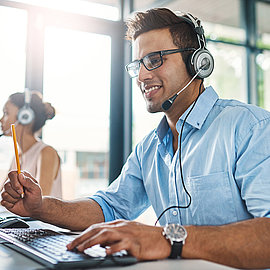 Most questions can be resolved best in direct contact: We look forward to answering your questions and requests by phone or via the contact form.
Inside Sales International Team
+49 (0)2405 49936 122