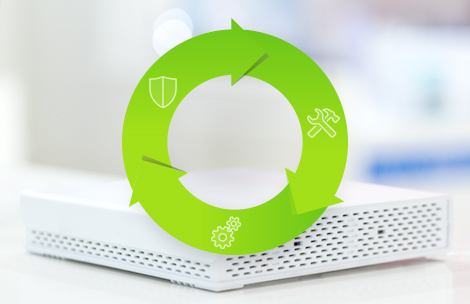 Software Lifecycle Management
Reliable planning for your network
Reliability and future-proofness – two vital elements for any administrator or controller when planning and setting-up a network. With LANCOM Systems you have a manufacturer at your side providing a matchless investment protection.
The LANCOM lifecycle policies (infopaper) provide full transparency and reliable planning with regard to the firmware updates and product support for your LANCOM infrastructure. As an aid to the strategic planning of your network, this website gives you an overview of our policies and the status of your devices.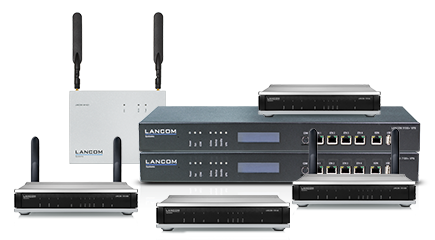 The latestest software status for your LANCOM device
We have drawn up a number of tables to provide you an overview of our current and end-of-sale products. These comprise all of our products with their end-of-sale date, the firmware version they support, and information about the time frames concerning further feature updates and technical manufacturer support.
For a 2-year period, following the official announcement of a product's discontinuation by means of the LANCOM price list, the device is immediately subject to:
free updates to the operating system, including new features (major releases) and other updates with general improvements
critical security fixes based on the last applicable firmware version
free technical manufacturer support
We also offer you free manufacturer technical support and critical security updates within the warranty period of your device.
Devices without warranty may receive fee-based support in the third to fifth year after EOS.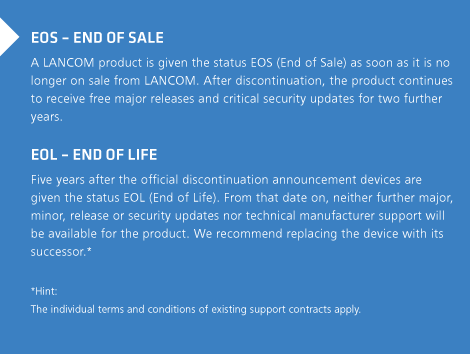 Glossary
Structure of the software name: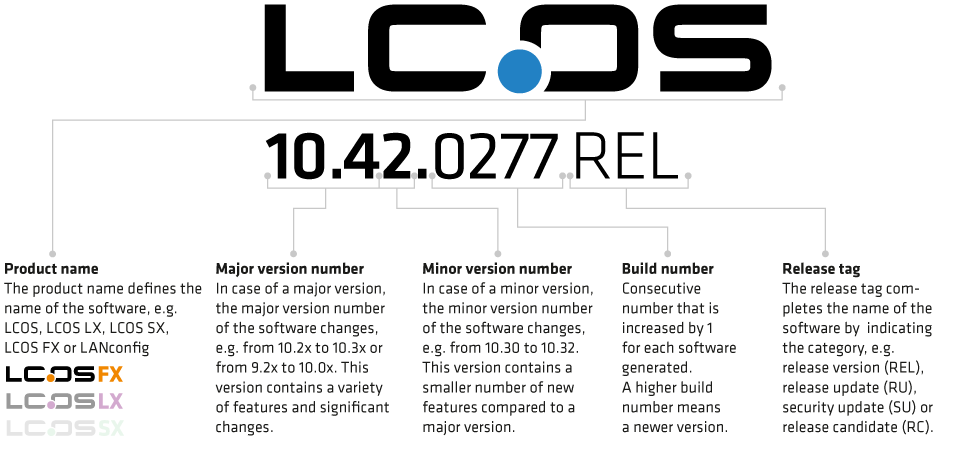 Our free operating systems LCOS, LCOS SX, LCOS LX, and LCOS FX are constantly undergoing further development. The following information explains our notation of the development status and version names.

Release Candidate (RC)
A Release Candidate has been extensively tested by LANCOM and includes new LCOS features. It is suitable for testing and is not recommended for use in productive environments.
Release-Version (REL)
The release has been extensively and successfully tested in practice. It contains new features and improvements over previous LANCOM operating system versions. Recommended for use in productive environments.
Release Update (RU)
This is a further development of an initial release version and contains minor improvements, bug fixes and smaller features.
Security Update (SU)
Contains important security fixes for the respective LANCOM operating system version and ensures that your security level remains very high on an ongoing basis.
LANCOM Warranty Options
LANCOM offers two warranty options allowing you to extend the warranty on your LANCOM products from 3 to 5 years. With the LANCOM Warranty Advanced Option you have the additional assurance that an advance replacement device is delivered by the next business day (applies for metropolitan areas within the EU (excluding islands)). This way, your critical network components are perfectly secured.
What's more: If the device has still a valid warranty, you automatically receive free technical manufacturer support – even longer than two years after the End of Sale date. Regardless of the operating time of the device, you also benefit from security updates even after the official product discontinuation by LANCOM for a further five years - that means until the End of Life status of the device.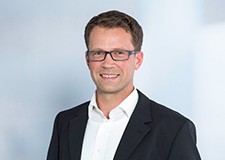 Inquiry
You have questions about our products or solutions, or are you looking for a LANCOM sales partner? Then let us know your wishes via contact form or feel free to contact us by phone.


Inside Sales International Team
Phone: +49 (0)2405 49936 122