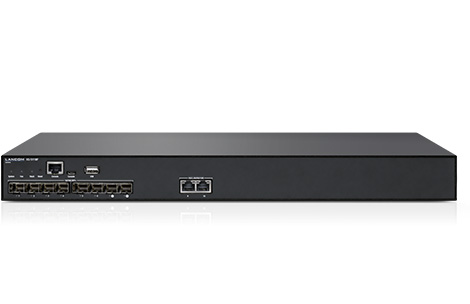 Managed 10G fiber aggregation switch for smaller distributed networks
Due to its 8 future-proof fiber-optics SFP+ ports this 10G aggregation switch acts as a superordinated instance for connecting further access switches in smaller distributed networks. Two further multi-Gigabit Ethernet ports (10/5/2,5/1G) enable a flexible and cost-efficient integra­tion of high-performance network components. Thanks to the holistic LANCOM network management the device can be configured dynami­cally and automatically via the LANCOM Management Cloud (SD-LAN) or via cloud-enabled web GUI as well as via cloud-enabled CLI.
Multi-gigabit aggregation switch with 8x SFP+ ports (10G) and 2x Multi-gigabit ethernet ports (10/ 5/2,5/1G)
Full layer 3 functionality through VRRP, DHCP, static and policy-based dynamic routing via OSPF v2/v3
Stacking support via downlink ports
Security with configurable access control on all ports as per IEEE 802.1X and access control lists
Secure remote management through TACACS+, SSH, SSL, and SNMPv3
SD-LAN – for quick and easy configuration via the LANCOM Management Cloud
5-year warranty on all components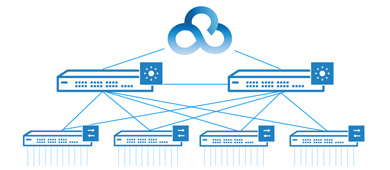 Flexible network topologies
The LANCOM XS-5110F is an ideal aggregation instance for the networking of access switches. Depending on the size of the installation, it integrates into the network topology either at the top level facing the WAN (2-tier design) or at the second level between a core switch and the access switches (3-tier design).
State-of-the-art 10G Multi-Gigabit performance on all ports
With its fiber-optics and multi-Gigabit Ethernet (mGbE) ports, the LANCOM XS-5110F offers future-proof port performance for networks that meet the increasing demands occuring from increasingly powerful clients, a growing number of IoT devices, and cloud applications. Equipped with 8 SFP+ ports (10G) and 2 further backward-compatible 10G mGbE ports, this powerful networking device is used to connect access switches and is ideal for smaller distributed networks.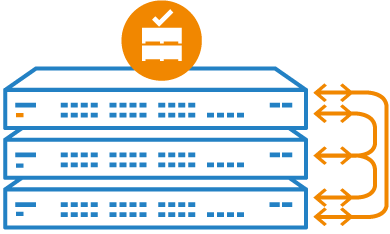 Flexibility and investment protection thanks to LANCOM fail-safe stacking
Stacking makes child's play of expanding your network, as several physical switches combine into a single logical unit for convenient maintenance and management. When you expand your network, the new switch automatically receives a configuration from the stack master and is ready to use within seconds. Furthermore, device or network redundancies can be implemented with stacking to ensure maximum reliability. The LANCOM XS-5110F allows 2 of the downlink ports to be specified as stacking ports to handle this task.
Full layer 3 functionality
The LANCOM XS-5110F is capable of performing layer 3 tasks such as DHCP server functionality, i.e. IP address management, or the predefinition of network routes across one or more network segments. Thanks to dynamic routing, the switch can also react quickly to network changes. The optimal route for data traffic within the network is thus constantly redefined by the LANCOM XS-5110F based on the load level. This results in a load reduction on the router, so that these capacities are then additionally available for handling external data traffic and increase the efficiency of the entire network.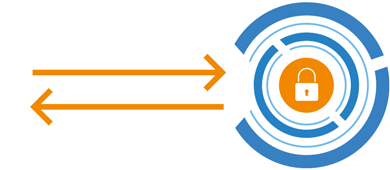 Configurable access control
The LANCOM XS-5110F stops rogue clients from gaining unauthorized access to the network. This is ensured by secured access control on all ports as per IEEE 802.1X (port-based, single, multi, and MAC-based) or by ACLs (access control lists).
Secure remote management
Secure communication protocols such as SSH, SSL and SNMPv3 mean that the LANCOM XS-5110F is ideal for the professional management of remote networks. The switch also supports the TACACS+ protocol for authentication, authorization and accounting. This optimized solution promises maximum security for multi-site network management and monitoring.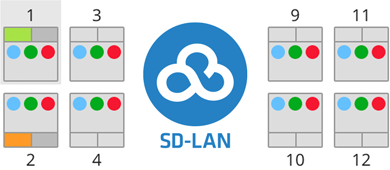 SD-LAN – easy management of complex networking scenarios
With the LANCOM Management Cloud, the LANCOM XS-5110F offers quick and easy network integration as well as automatic provision of the configuration. With SD-LAN, holistic network orchestration replaces the configuration of individual devices and allows the automatic assignment of VLANs to the required switch ports. Configurations are customized to the multi-site network architecture and, with a click of a mouse, they are rolled-out or updated simultaneously to every site.
Secure Terminal Access
This function provides access to the command line of the LANCOM switch ("CLI tunneling") or its web GUI ("GUI Tunneling") directly from the LANCOM Management Cloud—encrypted and without leaving the cloud interface. Be it trace or ping commands for rapid troubleshooting, access to low-level configuration parameters and detailed statistics in the LCOS SX operating system, or secure remote access to third-party devices in the local network via the integrated SSH client—Secure Terminal Access offers expert functions and extensive diagnostic and troubleshooting commands on your devices.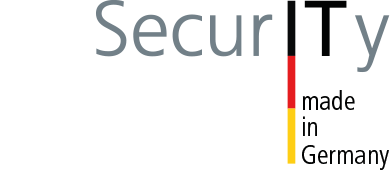 Security "Made in Germany"
As a holder of the "IT Security made in Germany" trust mark, LANCOM is committed to keeping its products free of secret backdoors. This makes the LANCOM switches ideal for operation in sensitive environments and always in accordance with General Data Protection Regulations (GDPR).
Software Lifecycle Management with update guarantee
LANCOM regularly offers free updates for maximum investment protection. Major releases with new features, release updates with minor improvements and bug fixes are available not only for the entire product life cycle, but also for a period of two years after the product's discontinuation. With a valid warranty, critical security fixes and associated supportare guaranteed for up to five years after the end-of-sales date.
Recommended access switches
For best possible performance in your distributed networks, we recommend the switch aggregation via SFP+ (10G). The LANCOM access switches listed here are equipped with SFP+ ports and are hence the ideal combination with the LANCOM XS-5110F.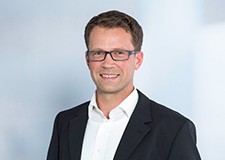 Inquiry
You have questions about our products or solutions, or are you looking for a LANCOM sales partner? Then let us know your wishes via contact form or feel free to contact us by phone.


Inside Sales International Team
Phone: +49 (0)2405 49936 122