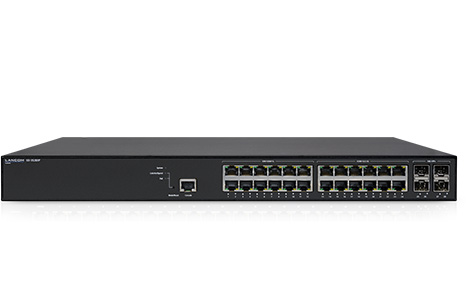 Multi-Gigabit Ethernet access switch with PoE for data-intensive networks
For scenarios that demand data-intensive network components without extensive electrical installations, this 28-port multi-Gigabit access switch with Power over Ethernet is the perfect choice. With 12 of its 24 ports supporting 2.5-Gigabit Ethernet, it provides the high-performance basis necessary for operating Wi-Fi 6 access points and other network components with high-performance requirements. A further 4x SFP+ ports and basic layer-3 features such as static routing and DHCP server make this the expert device for smart management with numerous security features for small and medium-sized networks.
Multi-Gigabit access switch with 12x 2.5-Gigabit Ethernet ports, 12x 1-Gigabit Ethernet ports, and 4x SFP+
Basic layer-3 features like static routing and DHCP server
PoE support as per IEEE 802.3af/at for the efficient and centralized supply of power (370 watt) to all devices connected to it
Security with configurable access control on all ports as per IEEE 802.1X
Secure remote management through TACACS+, SSH, SSL, and SNMPv3
SD-LAN – for quick and easy configuration via the LANCOM Management Cloud
Ideal in combination with Wi-Fi 6 access points like the LX-6400 and LX-6402
IPv6 and IPv4 support for modern enterprise networks
5-year warranty on all components
More throughput, lower latency. What exactly do these key words behind the new WLAN standard Wi-Fi 6 signify?How you can benefit from the new technology with the ax-enabled LANCOM devices is shown in our "Wi-Fi 6 Video" and on the technology page.
High power output on 28 ports
The LANCOM GS-3528XP is equipped with 12x 2.5-Gigabit Ethernet ports and 4 SFP+ ports that support transmission rates of up to 10 Gbps. With a data throughput of 164 Gbps on the backplane, it offers full performance even under load. This makes the multi-Gigabit access switch a high-performance basis for modern network infrastructures in any industry or field of application.
A high-performance basis for Wi-Fi 6
Thanks to 12 high-performance 2.5-Gigabit Ethernet ports, the LANCOM GS-3528XP is the ideal LAN-side basis for integrating the new Wi-Fi 6 standard into modern infrastructures. The increased data rates when using Wi-Fi 6 requires 2.5-Gigabit Ethernet, as the performance requirements exceed those of a 1-Gigabit Ethernet port. This switch enables the operation of up to 12 Wi-Fi 6 access points or other network components with high performance requirements
Static routing for fast data exchange
The LANCOM GS-3528XP supports the basic layer-3 feature static routing and thus the shift of certain routing tasks from the router to the switch. Administrator-predefined network routes, through one or multiple network segments, enable fast data transfer especially in scenarios with high data volumes and relieve the router accordingly. Newly available router capacities can then additionally be used to manage external data traffic. As a result, the entire network efficiency is increased.
DHCP server functionality
As a DHCP server, the switch is able to independently and automatically assign IP addresses to clients. The LANCOM GS-3528X supports this basic layer-3 function and thus takes over the IP management of the connected network.
Centralized power supply without additional electrical installations
The LANCOM GS-3528XP is a high-performance PoE switch that directly powers PoE devices connected to it: there is no need of additional power supply units or cabling. It supports the Power over Ethernet standards IEEE 802.3af and IEEE 802.3at (PoE+). Thanks to high power reserves with a total output of 370 watts, it is therefore ideal for efficient power supply of PoE terminals with high energy requirements.
Configurable access control
The LANCOM GS-3528XP excludes rogue clients from gaining unauthorized access to the network. This is ensured by secured access control on all ports as per IEEE 802.1X (port-based, single-based, multi-based, and MAC-based).
Secure remote management
Secure communication protocols such as SSH, SSL and SNMPv3 make the LANCOM GS-3528XP ideal for professional remote network management. The switch also support the TACACS+ protocol for authentication, authorization, and accounting. This optimized solution promises maximum security for multi-site network management and monitoring.
SD-LAN - days become minutes
The LANCOM GS-3528XP offers fast and easy network integration and automatic configuration assignment with the LANCOM Management Cloud - without manual configuration. In this way, even complex networking scenarios are easy to administer. SD-LAN eliminates the need for a single device configuration for holistic network orchestration. In addition, automatic VLAN assignment to the desired switch ports is possible. The configurations can be coordinated with each other across locations and network architectures, and at the same time rolled out or updated at the click of a mouse.
IPv6 and IPv4 support
Thanks to its dual-stack implementation, the LANCOM GS-3528XP operates in pure IPv4, pure IPv6 or in mixed networks. Applications such as SSL, SSH, Telnet or TFTP can continue to be operated on IPv6 networks. Supported IPv6 features includes stateless auto configuration, neighbor detection, and MLD snooping.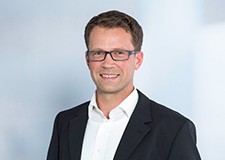 Inquiry
You have questions about our products or solutions, or are you looking for a LANCOM sales partner? Then let us know your wishes via contact form or feel free to contact us by phone.


Inside Sales International Team
Phone: +49 (0)2405 49936 122