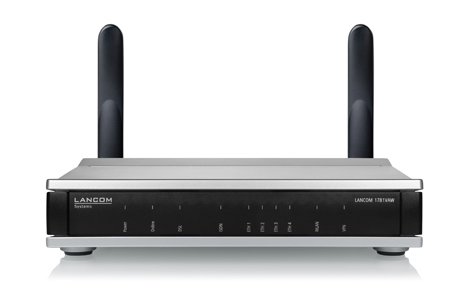 For secure site connectivity and integrating mobile devices
This router is the ideal choice for small and medium-sized businesses needing VPN networking and wireless connections for mobile clients. With its integrated VDSL2/ADSL2+ modem and VDSL2-Vectoring support, it offers high-speed VDSL connections for Internet at up to 100 Mbps. Working and surfing on mobile devices is flexible and fast with 11n wireless LAN (Wi-Fi 4) at up to 300 Mbps.

Professional VPN router with VDSL2 and ADSL2+ modem
Thanks to the VDSL2/ADSL2+ modem, the LANCOM 1781VAW uses VDSL2-Vectoring to support high-speed VDSL with up to 100 Mbps and offers maximum versatility for you move from ADSL to VDSL. The smart choice for the future viability of your network.
Wi-Fi based on IEEE 802.11n
Featuring IEEE 802.11n Wi-Fi, the LANCOM 1781VAW provides wireless networking to clients in the 2.4- or 5-GHz frequency range at speeds of up to 450 Mbps. Secure wireless LAN with the LANCOM 1781VAW is assured by its wide range of supported security standards, including IEEE 802.1i (WPA2) and IEEE 802.1X. Thanks to multi-SSID, the wireless LAN also supports multiple networks that are securely separated from one another.
Secure site connectivity via VPN
The LANCOM 1781VAW offers high levels of security. The standard equipment of 5 IPSec VPN channels guarantees strong encryption, secure connections for mobile employees, and protection of corporate data. The LANCOM VPN option upgrades the router to support 25 VPN channels. This ensures that your network is perfectly scalable and can grow on demand—without additional hardware components.
Stateful inspection firewall
Equipped with a stateful inspection firewall, the LANCOM 1781VAW protects the entire network. With features such as intrusion prevention and Denial-of-Service protection, this business VPN router provides optimal protection and secures all of the data on the network.
Advanced Routing & Forwarding
The LANCOM 1781VAW provides up to 16 securely isolated IP contexts, each of which has its own separate routing. This is an elegant way of operating IP applications with one central router and keeping the different communication channels securely separated from one another.
Security Made in Germany
In a market with a strong presence of American and Asian products, LANCOM offers maximum security "Made in Germany". The entire LANCOM core product range is developed and manufactured in Germany, and tested according to the highest standards of security, data protection and quality. The company's own "closed-source" operating system LCOS is developed at the company headquarters in Germany. Our in-house team of developers works in a highly secure environment as certified by the BSI (German Federal Office for Information Security), all of which is subject to the highest standards of security, encryption, and quality.
Maximum future-proofing
LANCOM products are based on professional expertise, years of experience in IT, and high-quality materials. All of our devices are equipped with hardware that is dimensioned for the future and, even reaching back to older product generations, updates to the LANCOM Operating System—LCOS—are available several times a year, free of charge. This guarantees a long service life while staying technically up to date, which represents a true protection of your investment.
Systematic networking solutions
LANCOM VPN routers are the basis for secure encrypted site connectivity and high-speed Internet access. As professional system components, they are fully compatible to all LANCOM network components and enable flexible scaling and expansion when using further LANCOM components. The result is a secure and flexible all-round solution that you can rely on. The overall network down to each individual device can be managed and monitored from a central instance—for a solution that is systematic.
Maximum agility with LANCOM SD-WAN
Get set with SD-WAN! Benefit from LANCOM SD-WAN and our holistic approach to gain even more agility in handling your site connectivity. Replace your traditional, static and manually configured network infrastructure by an automated, software-defined WAN.
Learn more here
Flexible business VPN routers for high-speed Internet access thanks to VDSL2/ADSL2+ modem
Wi-Fi based on IEEE 802.11n for up to 300 Mbps.
Secure site connectivity with 5 simultaneous IPSec VPN connections (25 channels optional)
Integrated stateful-inspection firewall with intrusion detection and Denial-of-Service protection
Network virtualization with up to 16 networks on one device (ARF)
Security Made in Germany
Maximum future compatibility, reliability, and security
Inquiry
You have questions about our products or solutions, or are you looking for a LANCOM sales partner? Then let us know your wishes via contact form or feel free to contact us by phone.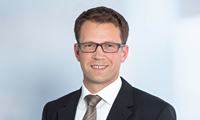 Your contact
Robert Beckmann
Inside Sales International
Telephone: +49 (0)2405 49936 276