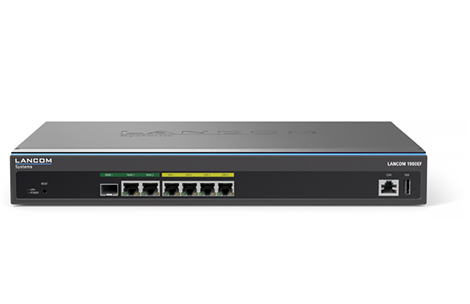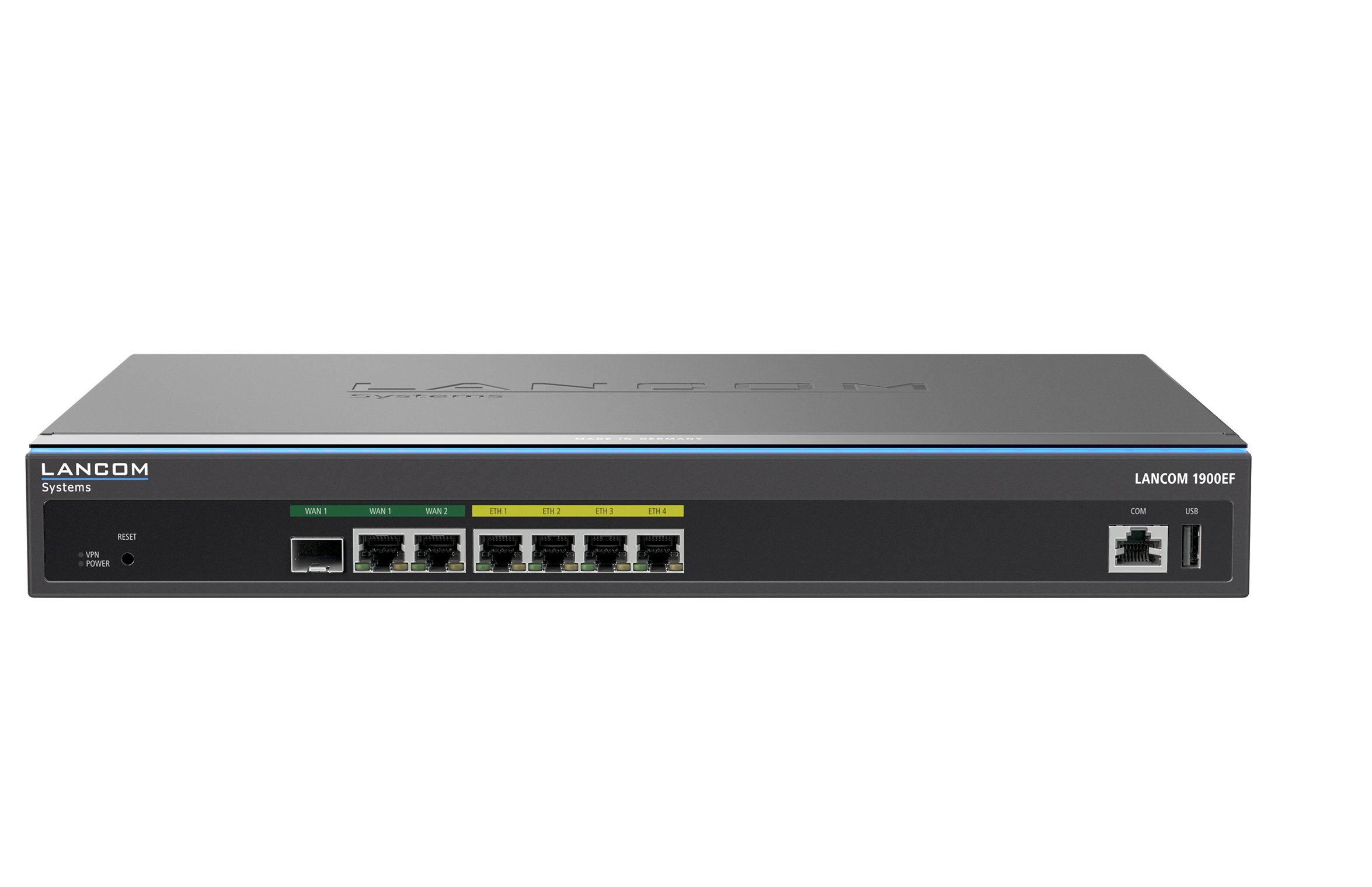 Multi-WAN VPN gateway for medium-sized VPN networking scenarios
The LANCOM 1900EF is the first choice for versatility when operating a variety of Internet connections on a single device. This extremely high-performance multi-WAN VPN gateway has two Gigabit Ethernet WAN ports that combine any external DSL or cable modems for the greatest possible flexibility, whatever Internet connections are available at the site. It also supports high-speed fiber-optic connections. With the outstanding LANCOM IPSec VPN, 25 (optionally 50) sites and mobile employees are securely networked.
Multi-WAN
The LANCOM 1900EF is a multi-WAN router with 1x SFP/TP combo port and 1x WAN Ethernet connection. It works with high-speed fiber-optic connections and any external DSL or cable modems to guarantee the greatest possible flexibility in the choice of Internet connection at the site.
Load Balancing
The LANCOM 1900EF allows the parallel operation of several Internet access connections for perfect load balancing and maximization of the available bandwidth. It is versatile enough to operate with any kind of wireline connection—be it Ethernet, fiber-optic or DSL/cable with an external modem. So the LANCOM 1900EF offers maximum versatility as it operates with any Internet connection.
Award-winning LANCOM VPN
The LANCOM 1900EF offers a high level of security. The standard equipment of 25 IPSec VPN channels guarantees strong encryption, secure connections for mobile employees, and protection of corporate data. The LANCOM VPN Option upgrades the VPN gateway to support 50 VPN channels. This makes it the ideal device for medium-sized VPN networking scenarios. By the way: Our VPN solutions are award winners! In the techconsult Professional User Rating 2017, they received the "Champion" award in the category "Virtual Private Networks".
Advanced Routing & Forwarding
The LANCOM 1900EF provides up to 64 securely isolated IP contexts, each of which has its own separate routing. This is an elegant way of operating IP applications with one central router and keeping the different communication channels securely separated from one another.
Radical simplification of the configuration with SD-LAN
In combination with the LANCOM Management Cloud, the LANCOM 1900EF opens the way for automated management. The software-defined WAN (SD-WAN) enables the automatic setup of secure VPN connections between sites, including network virtualization across the wide-area network: A few mouse clicks is all it takes to enable the VPN function and select the required VLANs for each site. The laborious configuration of individual tunnel endpoints is no longer required at all.
Premium full-metal housing
The LANCOM 1900EF comes in a high-quality full-metal housing with integrated 230V power supply. Thanks to the mounting system, it is easy to install in a 19" rack—with connection ports redirected to the front, it is quick and easy to work with.
What is load balancing?
Load balancing distributes the data traffic evenly across the network. This ensures that data connections are divided between at least two connections, so that even if one line fails, the other one acts as a backup.
Application szenario with two clients
The LANCOM 1900EF connects two clients to the Internet (via 2 external modems at any type of connection). Both clients are able to communicate with the Internet at the same speed as the load balancer integrated into the router evenly distributes the data load between the two Internet lines (1 & 2). This ensures the maximum utilization of the available bandwidths for a significant increase in network efficiency.
Application scenario: VPN load balancing
The integrated load balancer makes it easy to bundle multiple IKEv2 VPN connections into a load-balancing cluster. The traffic load more evenly distributed and the system is redundant. The combination significantly increases the VPN bandwidth available for multiple clients. You can find more information in our KB article.
Maximum agility with LANCOM SD-WAN
Get set with SD-WAN! Benefit from LANCOM SD-WAN and our holistic approach to gain even more agility in handling your site connectivity. Replace your traditional, static and manually configured network infrastructure by an automated, software-defined WAN.
Learn more here
Multi-WAN VPN gateway for 1x SFP/TP, 1x WAN Ethernet
Load balancing for the parallel operation of several Internet access connections and maximization of the available bandwidth
25 simultaneous IPSec VPN connections (50 optional)
Network virtualization with up to 64 networks on one device (ARF)
SD-WAN – automatic VPN and VLAN configuration via the LANCOM Management Cloud
Full-metal housing for mounting in a 19" rack and integrated 230V power supply
Inquiry
You have questions about our products or solutions, or are you looking for a LANCOM sales partner? Then let us know your wishes via contact form or feel free to contact us by phone.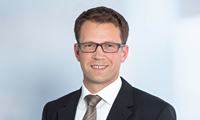 Your contact
Robert Beckmann
Inside Sales International
Telephone: +49 (0)2405 49936 276