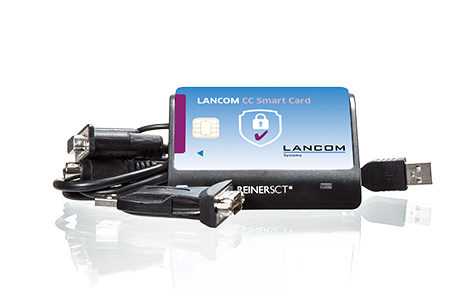 All-in-one package for the start-up and highly secure configuration of LANCOM CC products
Ideal for a certified start-up of LANCOM CC products according to CC EAL 4+
Generation and upload of highly secure random numbers
Manual configuration of LANCOM CC devices via the serial interface
Scope of delivery: Card reader for reading out contactless smart cards (BSI-certified), contactless
smart card (BSI-certified), serial configuration cable, USB-to-Serial adapter
Overview of all LANCOM CC products
The LANCOM CC Start-up Kit is an all-in-one package for the certified start-up and the highly secure configuration of LANCOM CC products. The scope of delivery contains all components that are required for a start-up and configuration in compliance with CC EAL 4+. The provided serial cable and the USB-to-Serial adapter constitute the interface between LANCOM CC products and the configuration computer. The generation of highly secure random numbers is established via the provided contactless card reader and smart card - each has been certified by the German Federal Office for Information Security (BSI). Multiple LANCOM CC products can be configured with only one LANCOM CC Start-up Kit.
Do you have further questions about this product or want a personal contact?
LANCOM Presales Team
Phone: +49 2405 / 49 93 6-260


Do you need help with the configuration of our products?
In our Knowledge Base you can find help and precise instructions on how to use all LANCOM products. For more professional assistance visit our Support portal: