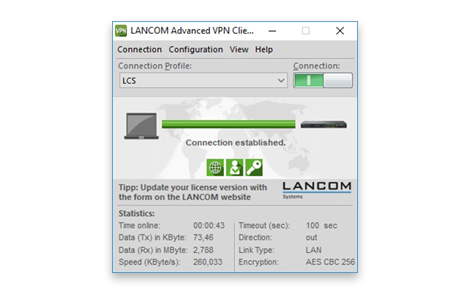 LANCOM Advanced VPN Client Windows
Universal VPN Software Client for secure corporate network access when traveling
The LANCOM Advanced VPN Client provides mobile employees with encrypted access to the company network, whether they are at their home office, on the road, or even abroad. The application is extremely easy to use; once VPN access (virtual private network) has been configured, a click of the mouse is all it takes to establish a secure VPN connection over the best available connection medium. Further data protection comes with the integrated stateful inspection firewall, support of all IPSec protocol extensions, and numerous other security features.
Note: The LANCOM Advanced VPN Client is compatible with the new Microsoft operating system Windows 11.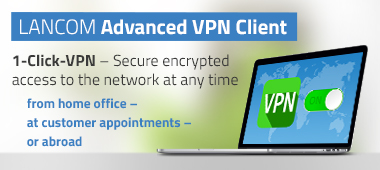 Secure company network access when traveling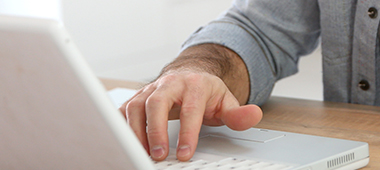 The LANCOM Advanced VPN Client for Windows provides users with a secure VPN tunnel to access the company network. No matter whether the user is mobile on the road, in the home office, or even abroad—the LANCOM Advanced VPN Client provides a secure channel to the company network, anytime and anywhere. And perfect when traveling: Seamless roaming maintains the channel even in case of a media change.
Maximum data security
Equipped with a stateful inspection firewall, the LANCOM Advanced VPN Client automatically detects secure and unsecure networks for protected communication at all times. Together with other security features such as the support of all current IPSec protocols, digital certificates, and many more, the client ensures that all data are securely transmitted at all times.
Full cost control
The Budget Manager integrated into the Mobile Network Dialer allows you to set time and volume quotas for full cost control. What's more, the option "No roaming allowed" disables data roaming to avoid additional costs. Also included: An automatic connection control with a range of cost-control functions provides a constant overview of charges, online time, and transfer volumes.
Fast and easy configuration thanks to the Setup Wizard and "1-Click-VPN"
The integrated Setup Wizard supports the user with fast and easy VPN configuration. Automatic media detection saves you having to define the connection type manually—it is selected automatically depending on the available medium. Once installed, the VPN connection is established intuitively with a single click.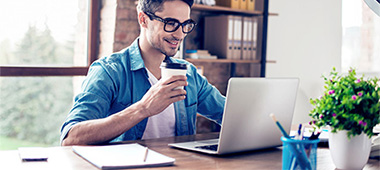 Home office – Working securely from home
Read in our Whitepaper how to connect to your company network securely, at any time, and from anywhere with the LANCOM Advanced VPN Client and how to work from your location as if you were right in your company's premises.
New features since version 5.20
DNS input for VPN bypass
This new configuration option ensures that for external VPN bypass targets, name resolution through the VPN tunnel is performed only by the two configured DNS servers.
Screen sharing via WLAN
Screen sharing via WLAN, e.g. for presentation via beamer via Miracast is now possible.
Various improvements and bugfixes
Further information is available in the Release Notes.
Further features since version 5.0
Quality of Service
Outgoing client data can now be prioritized within the VPN tunnel.
IPv4 / IPv6 dual stack support
Within the VPN tunnel, the IPv4- as well as the IPv6 protocol is supported. The split tunneling functionallity can be configured separately for IPv4 and IPv6.
Expert mode
An expert configuration mode has been added to the client configuration.
Extended support wizard
As from this version, the support wizard collects all available log files for passing on to the support.
Important licensing hint:
As of version 3.10, a license key of the same version is compulsory for the activation of the Advanced VPN Client. An activation, respectively the installation of an update with older license keys will no longer be possible. This applies from now on for every upcoming major version.
Purchase of the VPN Client Microsoft Windows
Please find the download link of the current LANCOM Advanced VPN Client Microsoft Windows software version and links to sources of supply of a full version license here:
IPSec VPN client for Windows 11, Windows 10, Windows 8.1, Windows 8, and Windows 7 (32 and 64 bit)*
Integrated stateful inspection firewall for secure Internet access
Integrated mobile dialer including Budget Manager for full cost control
Prioritization of Voice over IP data
IPSec-over-HTTPS (based on NCP VPN Path Finder technology)
Seamless roaming – VPN connections remain intact even with media changes
Support of IPv6 VPN
Check out which licensed version you currently work with here.
For further help with the activation process click here.
Please find a detailed compatibility list of the LANCOM Advanced VPN Client to Windows here.
* on intel x86-64 process architecture
Upgrade Advanced VPN Client
The upgrade version of the LANCOM Advanced VPN Client allows an upgrade of up to two major versions of the client:
| | | |
| --- | --- | --- |
| Existing VPN Client version: | Current version: | Needed: |
| None | V. 5.20 | New license |
| < V. 1.3 | V. 5.20 | New license |
| V. 1.3 | V. 5.20 | New license |
| V. 2.0 | V. 5.20 | New license |
| V. 2.1 | V. 5.20 | New license |
| V. 2.2 | V. 5.20 | New license |
| V. 2.3 | V. 5.20 | New license |
| V. 3.0 | V. 5.20 | New license |
| V. 3.1 | V. 5.20 | Upgrade license |
| V. 4.1 | V. 5.20 | Upgrade license |
| As from V. 5.0 | V. 5.20 | Free update |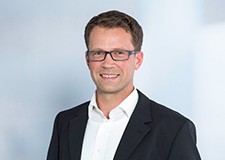 Inquiry
You have questions about our products or solutions, or are you looking for a LANCOM sales partner? Then let us know your wishes via contact form or feel free to contact us by phone.


Inside Sales International Team
Phone: +49 (0)2405 49936 122