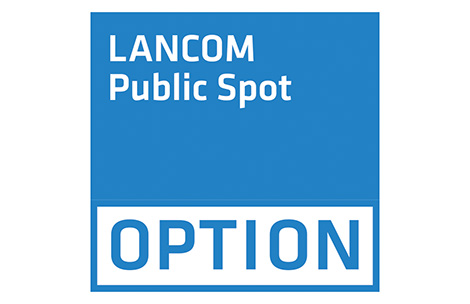 LANCOM Public Spot Option
Maximum freedom of design for guest Internet access
The LANCOM Public Spot Option provides reliable and secure Internet access for guests, visitors, partners or customers, all based on a common infrastructure. The guest network is at all times strictly and securely separated from the hotel's internal network. There is no need for any additional hardware components, which makes the LANCOM Public Spot Option the optimal solution for the provision of secure hotspots.
Secure separation of guest access from the company LAN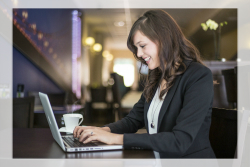 The LANCOM hotspot solution operates on a single network infrastructure. The company and guest networks are securely separated from one another, and company data remains securely protected from unauthorized access. Integrity of this type yields enormous cost savings not only because it upgrades your existing hardware, but also because managing just one infrastructure reduces the administrative overhead.
Click here for more information on the highlights of the LANCOM hotspot solution.
A choice of login procedures
The LANCOM Public Spot solution offers a variety of options for guest authentication, including self-authentication by e-mail or SMS, printed voucher, confirmation of the terms and conditions, and others. This gives hotspot operators the choice of access provision that best suits their solution.
Flexible online time and validity
The LANCOM Public Spot Option offers flexibility in the design of the hotspot, particularly with regard to the available online time and the validity period. You can issue vouchers for a few hours, for entire days, or even for weeks. You can also specify a data volume limit after which access expires or the bandwidth is reduced. This gives you maximum flexibility and control.
Voucher layout and login portal in your corporate design
The LANCOM Public Spot Option offers a huge variety of configurations to facilitate an individual design. For example, the hotspot login page can be adapted to the corporate design of the hotspot operator. You can create your own banners, greeting messages, or even your own customized login pages. Strong branding for your hotspot.
Flexible interface structure
The LANCOM Public Spot Option offers a wide range of interfaces (API) for combination with external server solutions. XML, RADIUS or FIAS are used to connect it to external servers or property management systems (PMS). For example, the hotel can bill Internet charges directly to the room, or user authentication can be based on the guest's room number.
Easy upgrades
The LANCOM software options turn a simple network into a customized and cost-efficient solution that meets your individual needs. Simply install them on your existing hardware and you upgrade your network with the desired feature. The advantage: No additional hardware components are required. The costs and the administration overhead of the entire network are reduced. Genuine added value comes in terms of the system's future viability, because the options transform a network into a customized and scalable networking solution.
Secure separation of guest access from the internal network
Flexible configuration of authentication at the hotspot
Choice of models for online time and validity period of the guest access accounts
Voucher and portal layout can be customized to the individual design of the company
Connection to external servers or property management systems via XML, FIAS or RADIUS interfaces
Available in two variants: Public Spot Option and Public Spot XL option
Upgradeable with the LANCOM Public Spot PMS Accounting Plus option for connection to hotel billing systems
Simply upgrade your existing device and save on hardware components
Depending on the size of the network and the operated devices, LANCOM offers to different Public Spot Options. Below you get an overview about which Public Spot Option is the right one for your device:
Supported devices
LANCOM Public Spot
LANCOM Public Spot XL
Number of supported users
LANCOM LN-17xx-series

✔

64²
LANCOM L(N)-8xx

✔

64²
LANCOM LN-630acn

✔

64²
LANCOM L-3xx-series

✔

64²
LANCOM OAP-8xx-series

✔

64²
LANCOM OAP-17xx-series

✔

64²
LANCOM IAP-4G+

✔

64²
LANCOM IAP-8xx-series

✔

64²
LANCOM 178x-series

✔

128²
LANCOM 179x-series

✔

128²
LANCOM 19xx-series

✔

256²
LANCOM ISG-4000

✔

2.500¹
LANCOM ISG-1000

✔

2.500¹
LANCOM WLC-1000

✔

*
2.500¹
LANCOM WLC-4006+

✔

*
256²
*LANCOM Public Spot Option included in the device ex factory
¹ Recommended number; Unlimited number of user accounts can be configured
² Simultaneously configured user accounts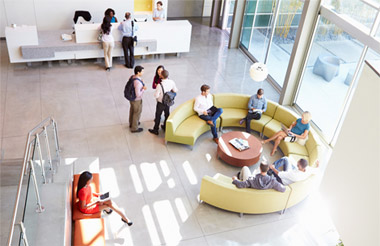 In order to be able to cover a wide range of Public Spot scenarios, the default authentication method of name and password is not sufficient by itself. Access and accounting models using social media, credit cards, and further methods often require additional access data, which the Public Spot in this form would be unable to manage.
The implemented XML interface connects the Public Spot and an external gateway. It directs the user data only to the gateway that handles the authentication and accounting, and it only sends information about the duration and limits of the user access to the Public Spot.
Inquiry
You have questions about our products or solutions, or are you looking for a LANCOM sales partner? Then let us know your wishes via contact form or feel free to contact us by phone.