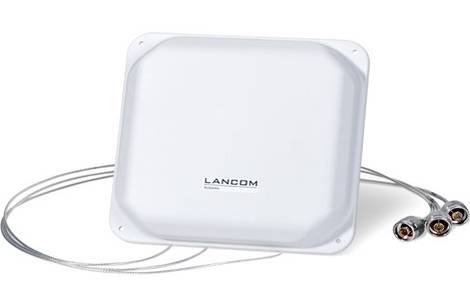 Dual-band WLAN sector antenna with 60° beam angle and 3x3 MIMO
The weatherproof AirLancer ON-T60ag sector antenna is ideal for WLAN coverage over larger areas, including warehouses and factories. With a beam angle of approx. 60° it is also suitable for connections to several surrounding buildings (point-to-multipoint). With 3x3 MIMO support, it ensures maximum performance for reliable WLAN client connectivity in difficult environments, especially where reflections and scattering occur. It is ideal in combination with dual-radio access points to offer parallel operation at 5 GHz with 2x2 MIMO and 2.4 GHz with 1x1 MIMO.
WLAN sector antenna with approx. 60° beam angle and +8 dBi gain (2.4- and 5-GHz frequency bands)
3x3 MIMO technology for reliable WLAN coverage in harsh environments with up to 1,300 Mbps
2x2 + 1x1 MIMO operation with LANCOM dual-radio access points for parallel operation at 2.4 and 5 GHz
Which antenna fits to which access point?
This system diagram shows the various connection option of our new antenna and accessory portfolio with LANCOM access points.


What´s special: The different LANCOM outdoor antennas can also be connected to LANCOM indoor access points with the adapter AirLancer AN-RPSMA-NJ.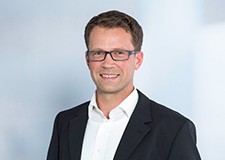 Inquiry
You have questions about our products or solutions, or are you looking for a LANCOM sales partner? Then let us know your wishes via contact form or feel free to contact us by phone.


Inside Sales International Team
Phone: +49 (0)2405 49936 122