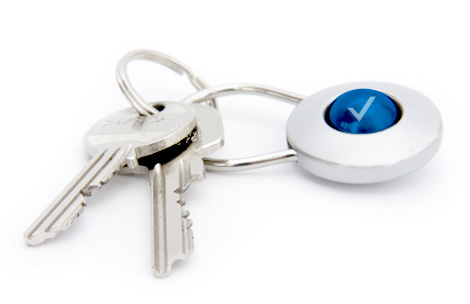 Updating the LANCOM Advanced VPN Client
This web page contains all the information you need about updating and upgrading your software. You can also perform a license upgrade for your LANCOM Advanced VPN Client.
As of version 5.0 for Windows
Quality of Service
Outgoing client data can now be prioritized within the VPN tunnel.
IPv4 / IPv6 dual stack support
Within the VPN tunnel, the IPv4- as well as the IPv6 protocol is supported. The split tunneling functionallity can be configured separately for IPv4 and IPv6.
Temporary home zone
A new option "Set home zone only temporarily" has been added.
Expert mode
An expert configuration mode has been added to the client configuration.
Extended support wizardAs from this version, the support wizard collects all available log files for passing on to the support.
Various detail improvements
Important licensing hint:
As of version 3.10, a license key of the same version is compulsory for the activation of the Advanced VPN Client. An activation, respectively the installation of an update with older license keys will no longer be possible. This applies from now on for every upcoming major version.
As of version 4.0 for macOS
Full support for macOS Catalina 10.15
Virtual network adapter
Connect/Disconnect menu in the dock Icon
Optimized handling of DNS requests
The following Apple macOS operating systems are supported by this version:
macOS Catalina 10.15
macOS Mojave 10.14
macOS High Sierra 10.13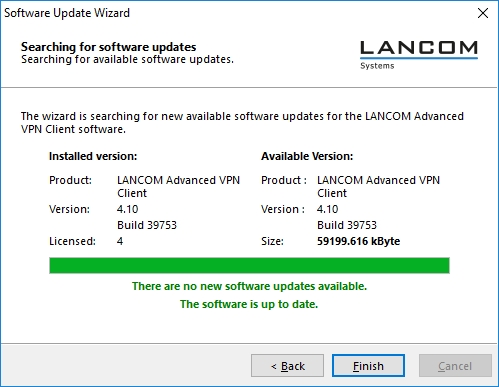 If you wish to benefit from the newly developed features of a major release in addition to the improvements and bugfixes from a software update, you need to perform a software upgrade, e.g. from version 3.0x to version 3.1x.
An update to a new version of your operating system, with which your licensed software version is incompatible, also means you have to perform a software upgrade. Information about the compatibility of the LANCOM Advanced VPN Client is available in the Release Notes.
Software upgrades are available at a cost, which means you will have to carry out a license upgrade.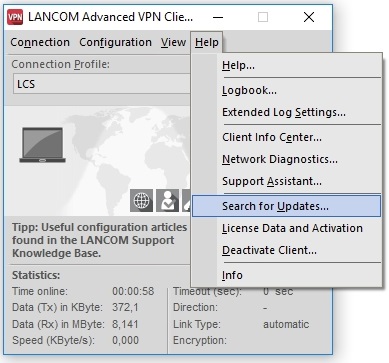 The provision of free software updates to each major release featuring improvements and bugfixes ensure that operating the LANCOM Advanced VPN Client remains convenient and reliable.
Software updates are performed without requiring any payments for upgrade license versions (e.g. software version update from 3.10 to 3.11).
You can find out whether a new software version is available for the LANCOM Advanced VPN Client by clicking the menu Help -> Search for updates and starting the Software update wizard.
Upgrading to a current license version allows users of an older version of the software to activate a new major release of the software.
The license upgrade is available at a cost and requires the user to purchase an upgrade license and to carry out a renewed activation of the LANCOM Advanced VPN Client.
The upgrade license comes with an upgrade key, which allows you to increase your license version by a maximum of two major software releases (e.g. from version 2.3x to version 3.1x).
In the case of licenses that no longer allow an update to the current version by means of an upgrade license, the most cost-effective way to license the latest version of the software is to purchase a new full license. Information is available on this page under License model.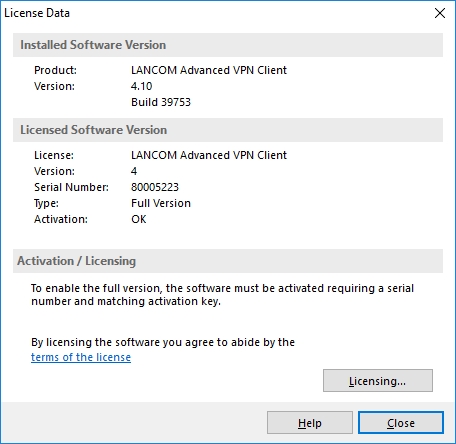 To find out the version of your current software license, navigate in your VPN client to Help -> License data and activation.
A license upgrade is performed using the following form. Enter the 8-digit serial number of your license along with the license key and the 15-character upgrade key into the text fields, and then click Send.
A guide to performing a license upgrade is available in this Knowledge-Base document.
LANCOM Advanced VPN Cient for Windows
| | | |
| --- | --- | --- |
| Existing software version: | Current software version: | Needed: |
| Bisher keine | V. 5.0 | New license |
| < V. 1.3 | V. 5.0 | New license |
| V. 1.3 | V. 5.0 | New license |
| V. 2.0 | V. 5.0 | New license |
| V. 2.1 | V. 5.0 | New license |
| V. 2.2 | V. 5.0 | New license |
| V. 2.3 | V. 5.0 | New license |
| V. 3.0 | V. 5.0 | New license |
| V. 3.1 | V. 5.0 | Upgrade license |
| As from V. 4.1 | V. 5.0 | Upgrade license |
LANCOM Advanced VPN Client for macOS
| | | |
| --- | --- | --- |
| Existing software version: | Current software version: | Needed: |
| None | V. 4.00 | New license |
| V. 1.0 | V. 4.00 | New license |
| V. 2.01 | V. 4.00 | Upgrade license |
| V. 2.02 | V. 4.00 | Upgrade license |
| V. 2.05 | V. 4.00 | Upgrade license |
| V. 3.00 | V. 4.00 | Upgrade license |
| V. 3.10 | V. 4.00 | Upgrade license |
| V. 3.20 | V. 4.00 | Upgrade license |