Networks made in Germany: a secure backbone for modern hospital IT
Optimized processes create space for what really matters: Treatment and care at the highest level. The digitalization of all workflows, from admission to discharge, is the key to boosting efficiency and cutting costs in hospitals.
With network infrastructures and security components from LANCOM, you can design your digitalization in the healthcare sector in a secure, high-performance, and sustainable way. Our solutions are developed in Germany according to the highest standards with regard to data protection and data security. Together with the services offered by our technology partners, these form the central nervous system for each and every modern hospital IT system.

Digital ward rounds, EHR, and patient monitoring
Seamless digital treatment documentation means greater efficiency and treatment security for clinical processes: physicians can securely access electronic health records (EHR) and findings in hospital information systems (HIS), picture archiving and communication systems (PACS) or radiological information systems (RIS) from anywhere via tablet and Wi-Fi and record examination results digitally directly at the patient's bedside—without having to perform time-consuming and error-prone transfers of data by hand. WLAN infrastructures from LANCOM integrate mobile patient monitors just as securely and reliably, ensuring seamless monitoring of vital data at any and all times, even for telemetry patients.
Tracking solutions and asset management
By simply expanding the LANCOM WLAN infrastructure, clinics and hospitals can lay the foundations for highly efficient tracking services: Medical equipment, beds, wheelchairs—everything can be located with pinpoint accuracy via RTLS. Time-consuming searches are a thing of the past, redundant purchases of hospital equipment can be avoided. Capacity utilization is increased and assets are effectively protected against theft by geofencing. Even app-based patient routing or sensor-based IoT applications such as the monitoring of medicine cabinets become possible. More transparency in reserving rooms and equipment is made possible by mobile Wireless ePaper Displays, displaying current occupancy and reservation information.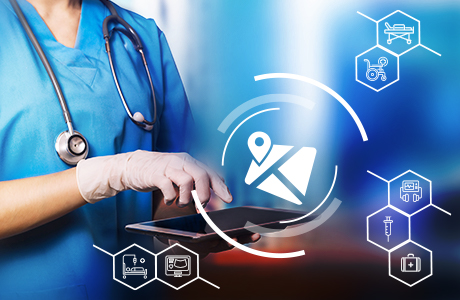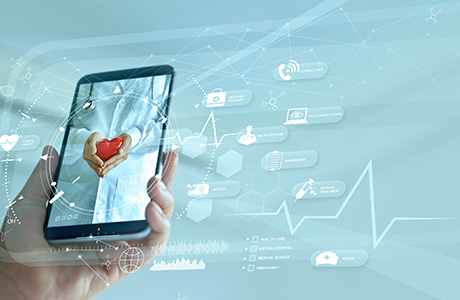 Telephony and alarms
Mobile phones are the first choice when it comes to fast internal hospital communication. These are networked with the hospital infrastructure via WLAN, providing nursing staff with access to telemetry data at any time and from anywhere while making possible phone calls (Voice over WLAN, VoWLAN) or triggering of alarms independently of a separate DECT infrastructure. Patients can also receive wristbands with integrated radio modules for identification, location, and triggering of alarms. Such modern location-based services (LBS) based on Bluetooth technology provide more security and at the same time ample freedom of movement for nursing care.
Wi-Fi hotspots and patient entertainment
The medical network infrastructure from LANCOM also offers the basis for a wide range of digital patient services that make hospital stays more pleasant: From Wi-Fi hotspots and online food ordering via tablet and mobile phone to multimedia applications such as TV, streaming, music or telephony. Patient systems are integrated—while being securely separated from other applications—into the hospital's LANCOM infrastructure. By adding Bluetooth-based real-time positioning (RTLS), indoor navigation solutions can be implemented to quickly and securely guide patients through even large hospital complexes.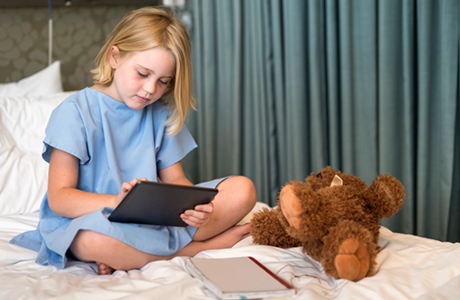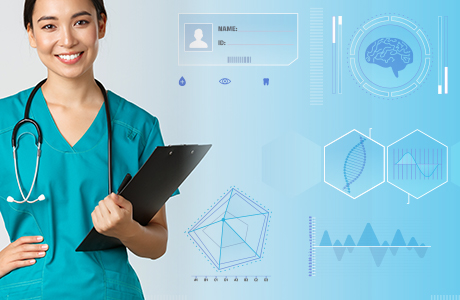 IT security & patient data sovereignty
Hospitals must meet strict IT security requirements. With state-of-the-art encryption, authentication, network access control (NAC), virtualization, and UTM, LANCOM solutions effectively protect against unauthorized access and attacks from within and without. They ensure the availability, integrity, authenticity, and confidentiality of sensitive patient data and, as an element of risk management, offer maximum security. With data protection "made in Germany", LANCOM meets the high compliance requirements laid down in the General Data Protection Regulation (GDPR) even in cloud-managed networks, while minimizing the risk of data protection breaches, fines, and risks to the reputation of the hospital.
Multi-site WAN networks and telemedicine
A modern IT infrastructure makes it possible to exchange diagnostic findings, X-ray or CT images and other health information at multiple locations in real time, to obtain second opinions and to offer telemedical services. Via a securely encrypted VPN connection with physicians and rehabilitation centres, hospitals construct holistic, patient-oriented healthcare services, ensuring cost-efficient and high-quality treatment. Likewise, thanks to encrypted communication in emergency medicine, correct decisions can already be made at the scene of an accident by medical specialists via remote diagnostics—thus saving lives.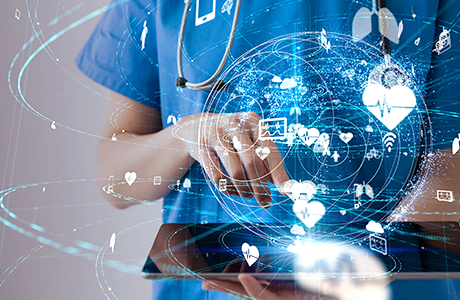 Tried-and-tested expertise
Network expertise and years of experience in the industry ensures that LANCOM customers in the healthcare sector receive perfectly tailored, secure, reliable, and future-proof solutions: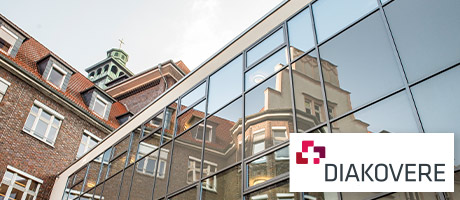 Optimized processes, optimal care
At Friederikenstift in Hanover, a hospital operated under the auspices of DIAKOVERE, a wirelesss network makes the electronic patient file an integral part of daily patient consultations, thus helping optimize processes. Updates are mapped in the database almost in real time and can be efficiently integrated into workflows. The staff in charge at DIAKOVERE rely on German network technology.
Streamlining processes and optimising services
Alice Hospital in Darmstadt uses a modern wireless network for medical applications and patient hotspot. Around 120 WLAN access points supply a total of 19,000 square metres of space. Via the controller-based network, electronic patient records are integrated into the daily mobile patient consultations, mobile diagnostic equipment is seamlessly integrated into the hospital network while making a high-performance patient and visitor hotspot available.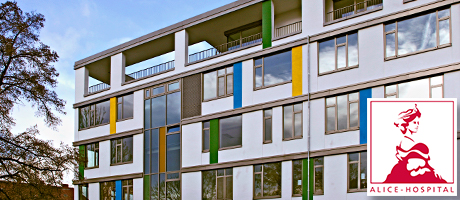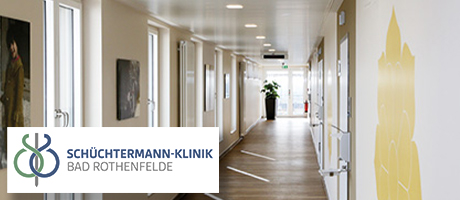 Modern WLAN at Schüchtermann-Klinik
Schüchtermann-Klinik, a hospital specializing in cardiovascular diseases located in Bad Rothenfelde, a suburb of Osnabrück, is optimizing its processes in all specialist departments based on mobile applications. IT managers are using a flexible and powerful WLAN to achieve this. The wireless network supports mobile patient monitoring and furnishes the WLAN hotspot while flexibly and securely integrating medical analysis devices into the network.
Complete portfolio for professional hospital networks
Our comprehensive LANCOM network and security portfolio guarantees a reliable, high-performance, and secure basis for the digitalization and future viability of your hospital IT.
Open interfaces & strong partnerships
With integrated Bluetooth and an open interface concept (APIs), WLAN infrastructures from LANCOM can be seamlessly expanded to include location-based services based on BLE (Bluetooth Low Energy) beacons: Asset-tracking, in-house navigation, theft protection (geo-fencing) & IoT. The NAC solution (network access control) from our technology partner macmon has been certified by the German Federal Office for Information Security (BSI) and effectively secures access to IT and medical networks. You can also learn more about our validations and certifications from leading manufacturers such as Dräger, Philips Healthcare, ascom and Spectralink, confirming the secure interaction with solutions for vital data monitoring, telephony, and alarming. Rohde & Schwarz Cybersecurity solutions also make it possible to cover all aspects of application security, secure access to healthcare applications and protection of healthcare-related data.
Why LANCOM? The safe-and-secure choice!
As the only German manufacturer of network and security solutions, we offer our customers a unique, trustworthy basis for the digitalization of even the most sensitive processes. The latest standards, strict data protection, and the utmost in IT security are part of our DNA. Our consistent and resolute lifecycle management keeps networks state-of-the-art for years while protecting valuable investments over the long haul.
The entire network (WLAN, LAN, WAN & UTM/firewall) from a single source
Bluetooth for seamless integration of location-based services (LBS) and real-time location services (RTLS)
Approval for use in the medical environment (EN 60 601-1-2)
Data protection & IT security made in Germany
Validated by Dräger, Philips, Ascom, macmon, Spectralink, and many more.
Certificate of compatibility with Philips Healthcare solutions
Optional: highly automated, cloud-based management of the entire hospital network
Inquiry
Would you like to learn more about the healthcare solutions from LANCOM?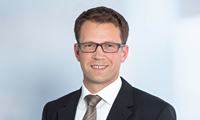 Your contact
Robert Beckmann
Inside Sales International
Phone: +49 2405 49936 276