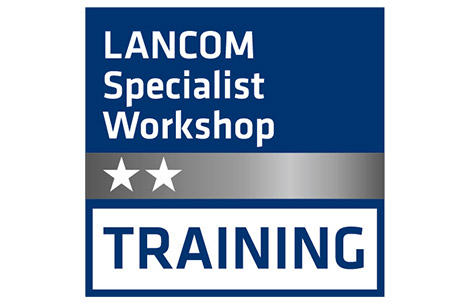 LANCOM Specialist Workshop
Planning, implementing, and managing networks
A LANCOM Specialist Workshop provides specialist resellers and end customers with advanced knowledge in dealing with LANCOM products. Based on the knowledge you gain in the Professional Workshop, you acquire additional knowledge for more complex network scenarios. Certification as a LANCOM Specialist is the minimum requirement for becoming a LANCOM Gold Partner.
Advanced knowledge of WAN and WLAN
Learn how to manage professional network infrastructures with LANCOM devices, and how to troubleshoot advanced and more complex errors without using wizards. The WLAN workshop now focuses on the LANCOM wireless portfolio and and all major technologies and functions, as LANCOM Public Spot or Content Filter. For more Information and individual Training, please use our contact form.
Implementing practical scenarios
Learn how to implement realistic use cases with LANCOM devices without using configuration wizards. You work on an individual workstation for the best possible learning success. At the end of the workshop, you will implement and apply what you have learned in a detailed scenario.
Certification as LANCOM Certified Specialist
Tell the outside world about your expertise by becoming a LANCOM Certified Specialist. Demonstrate your acquired knowledge in a practical exam (configuration task).
LANCOM certification remains valid for 24 months from the date of issue. A certificate attests to your successful completion.
Specialist Workshop WLAN (3 days)
Building and planning local Wi-Fi networks
P2P Connections
LANCOM Public Spot and Content Filter
Basics WLAN Controller
Tracing & Troubleshooting
LANCOM Management Cloud
LANCOM Certified Specialist WLAN examination can be optionally be deposited on the fourth day
Specialist Workshop WAN (3 days)
Redundant WAN connections
Firewall & LANCOM Content Filter
Tracing & troubleshooting
VPN with IPSec IKEv1, IKEv2 and certificates
VRRP
Examination for the LANCOM Certified Specialist WAN can optionally be taken on the fourth day
Target group & requirements
Resellers, consultants and administrators of networks in the SMB sector looking to successfully implement these complex technologies in projects
Descriptions for each workshop indicate the prior knowledge you are required to have
Knowledge of TCP/IP and networks is required
Practical experience with LANCOM products is necessary
Contact
For questions about the LANCOM workshops, as well as for advising individual trainings, feel free to contact us.
Your personal contact