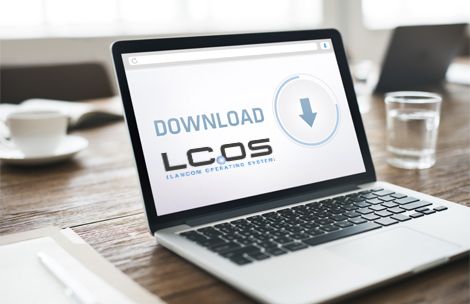 LCOS, LANCOM Switch OS, LANtools & documentation
The free operating system LCOS (LANCOM Operating System) is the in-house closed-source firmware for the entire core portfolio of products from LANCOM Systems. Here you find information on and free downloads of the current LCOS version, the LANCOM Switch OS, the latest LANtools, as well as further software and documentation.
A new milestone – LCOS 10.0
With LCOS 10.0 your LANCOM devices now support Software-defined Networking (SDN) technology, which brings you hyper-integrated network management with the LANCOM Management Cloud!

Feature-Highlights LCOS/LANtools 10.0
All LANCOM devices go "Cloud-ready"
Full transparency with layer-7 application detection
Bonjour proxy
LCOS 10.12 Release Candidate 1
Test the upcoming power package for high-performance networks!
Feature-Highlights LCOS/LANtools 10.12 RC1
More VPN performance and security – thanks to modern encryption mechanisms (AES-GCM) and elliptical Diffie-Hellmann groups (ECDH) for IKEv2
Maximum VPN availability – thanks to extended VPN backup mechanisms
Highest reliability in your LAN – thanks to virtual bundling of Ethernet ports (LACP)
Judder-free IPTV streaming in your Wi-Fi – thanks to the conversion from Multicast to Unicast datastreams.

Software Lifecycle Management
With LANCOM Systems you have a manufacturer at your side providing a matchless investment protection. The lifecycle policies from LANCOM provide full transparency and reliable planning with regard to the firmware updates and product support for your LANCOM infrastructure. To the Software Lifecycle Management
LCOS version overview
Keeping updated about our current LCOS versions can sometimes be difficult. For this reason we now offer a website with an LCOS version overview, which gives information on the current software maintenance, distinguishes the different versions, and offers recommendations for application: To the LCOS version overview
LANCOM's release procedure
We aim for the best possible preparation of our in-house operating system LCOS and other software for operation in practice, and to best meet our customers' needs. This is why we enter into an active dialog with our customers as early as in the development phase during the release procedure. Get to know more about LANCOM's release procedure
Management tools for small and mid-size networks
With LANCOM, you don't just buy a product—you get an all-round solution. An important part of this solution are the free-of-charge LANtools, which allow you an efficient configuration and monitoring of your network.
Contact us
You have further questions about this product or want a personal contact?
Your LANCOM Team
Phone: +49 2405 / 49 93 60